Over the last few years European Banks shares have been under extreme stress driven by macro headwinds, firstly because of the financial crisis during 2008-09 and secondly because of the recent European debt crisis. Since the top reached in 2007, the sector's index Eurostoxx Banks Price EUR tumbled around 80%, underperforming the Dow Jones Eurostoxx 50 index by 30%.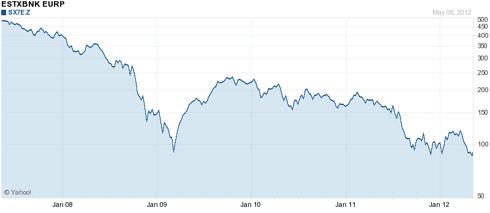 Source: YahooFinance.
The sector's price recovery seen from December to March was mainly induced by the ECB's LTROs operations and gave a false sense of security. Although the sector valuation looks cheap trading at a P/E of 6.7x, a P/BV of 0.39x, and offering a 4.86% yield, investors should be aware that it could be a potential value trap.
European banks' fundamentals remain negative and at least the six following reasons should be strong enough to play short European banks:
1. Macroeconomic Outlook: The macroeconomic outlook for Europe is weak, implying higher default rates in the next months and higher provisions for bad debt. The Eurozone economy much probably is already in recession and 2012 growth can be close to zero. This is especially negative for peripheral countries and its banking system, but even banks from core economies aren't immune to this economic weakness. This point affects large banks that have exposure across various European countries, like Barclays (NYSE:BCS) or Deutsche Bank (NYSE:DB).
2. Regulatory and Political Environment: The operating, regulatory and political environment remains hostile for European banks. The recent election victory of Francois Hollande in France raised concern that lenders will face higher taxes and may have to split off some of their riskier operations. With the austerity fatigue currently faced by European people, more negative bias from politicians to the banking system for sharing the crisis burden is expected. This is negative for Credit Agricole (OTCPK:CRARY), Societe Generale (OTCPK:SCGLY), BNP Paribas (OTCQX:BNPQY), RBS (NYSE:RBS) or Lloyds (LLG).
3. Peripheral Sovereign Exposure: The ongoing European sovereign debt crisis directly affects banks through their investments portfolios. ECB's LTRO's exacerbated this effect because banks used this money to buy domestic bonds, increasing even more the links between sovereign and banking risks. This was especially evident for Spanish and Italian banks such as Santander (STD), BBVA (NYSE:BBVA) or Unicredit (OTCPK:UNCFF).
4. Capital Requirements: Banks are required by Basel 3 to achieve higher capital ratios, but that has been extremely difficult or at very depressed prices over the last months. Instead of capital increases banks sold non-core stakes and bought back bonds below nominal value (liability management) to make profits and increase capital. In the future, that type of balance sheet management will be harder and give less flexibility to achieve the capital ratios.
5. Deleveraging: The balance sheet deleveraging goals of European banks are extremely negative for revenues and profitability. Earnings momentum and visibility should remain weak over the short to medium-term, implying that the current cheap valuations should remain so until the outlook improves significantly. This is more evident for countries under bailout programs such as Portugal, Ireland and Greece and its banking systems. National Bank of Greece (NBG), Bank of Ireland (NYSE:IRE) or Banco Comercial Português (OTCPK:BPCGY) are a few examples.
6. Spain: The Spanish real estate bubble of the last decade led to a high level of bad debts throughout the banking system. The non-performing loans are already above 8% and rising, and the provisioning level is probably too low for all the bad debt existing. Recent headlines said that Spain will order its banks to make further provisions to property developers to cover loans that are currently performing but could go sour as the economy weakens. If Spain has ultimately to bailout its banking system, similar to the Ireland experience, shareholders will be probably wiped-out. This will be especially negative for domestic banks with little foreign exposure like Banco Popular (OTCPK:BPESF), Sabadell (OTCPK:BNDSY) or Caixabank (OTC:CIXPF).
Conclusion
The outlook for European banks' shares is negative given the above mentioned reasons. The sovereign debt crisis is far from over and with the spotlight turned to Spain and the uncertainty provided by the recent French and Greek elections, this can be the short-term trigger to a renewed stress period where the banking system will lead the declines.
For more risk-taking investors, short positions on European banks shares can be very profitable over the following months. The main risk to play it short, is a new LTRO by the ECB in which case the increased liquidity will go towards losers and bid up some of these shares.
Disclosure: I have no positions in any stocks mentioned, and no plans to initiate any positions within the next 72 hours.