Shipping can undergo significant volume reductions and increases, and the shares of shippers are no different. In 2011, several shippers fell by as much as 80%, with most bottoming out along with the broader market at the beginning of the fourth quarter of 2011. Several subsequently appreciated at a far faster rate than the broader market, with many gaining more than 50% within the first quarter of 2012. Recently, though many shippers have given back much or all of these recent increases.
Many shippers expanded their fleets prior to the global financial crisis in 2008 and 2009. Shipping volumes declined and then stabilized, but the future is not clear and the industry must now face fears of potential Asian cooling and European failures. The industry is also still left with significant overcapacity, much of which was leveraged, many shippers with high levels of debt and underused, depreciating fleets.
These problems put a fear of looming bankruptcies into the shipping industry. The shipping business is highly fragmented and overcapacity could keep margins low for a while. Many other issues could also affect shipping, including further Middle East instability, among other risks.
Below are equity performance review statistics for six publicly-traded, high beta, low price shippers: DryShips (NASDAQ:DRYS), Eagle Bulk Shipping (NASDAQ:EGLE), Excel Maritime Carriers (NYSE:EXM), Genco Shipping (NYSE:GNK), Navios Maritime Holdings (NYSE:NM) and Overseas Shipholding (NYSE:OSG). Several other comparable shippers certainly do exist. I have included their 1-month, 3-month, 2012-to-date and 1-year equity performance rates.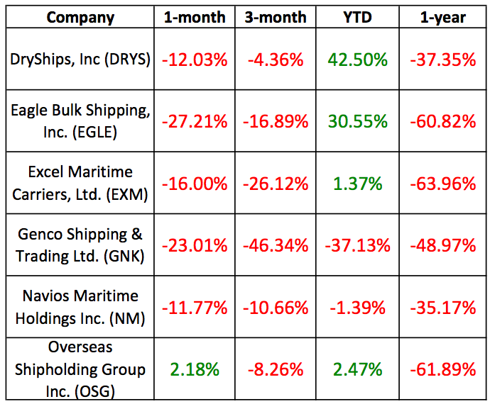 Over the last month, these above-listed shippers declined by an average of 19.56 percent. Additionally, the group is down 51.36 percent on average from one year ago. Nonetheless, these shippers have appreciated by an average rate of 9.32 percent so far in 2012, which is slightly better than the S&P 500.
Under Dow Theory, it is often the case that the transportation industries lead the broader market. Based on this premise, some may have concluded that the poor performance by these shippers over the last several weeks was a harbinger of the correction that has more recently affected the broader market. Similarly, individuals may look to transporter strength as a precursor to the broader market reversing and appreciating. Such strength is yet unseen.
The extreme moves by these shippers highlight the capricious valuations, low trading volumes, often high short positions that proliferate the industry. It can also be seen that some of these shippers are still doing quite well so far this year, and it is possible that performance rates in this group will continue to diverge based upon present performance, and investors assigning a higher likelihood of survivability to particular shippers over others.
These shippers offer the potential for both significant losses and gains. Their ownership should be limited, though exposure to shipping and transportation is generally considered appropriate in a broadly allocated portfolio.
Disclosure: I have no positions in any stocks mentioned, and no plans to initiate any positions within the next 72 hours.