The market sub-prime mortgage meltdown has affected many stocks. It has also hit real-estate investment trusts (REITs) where it hurts. In these times, when analysts call for investing your money overseas and real estate investing is frowned upon, why not look at a bargain right under your nose?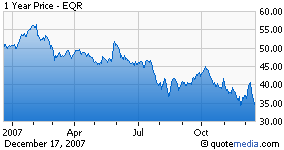 Equity Residential (NYSE:EQR) is an apartment REIT and it is one of the companies that has seen a pullback in market valuation since the beginning of 2007. EQR is down 40% from its 52 week high of $56.46. The company is currently trading around $34 with a dividend yield of 5%. The following is a partial company summary from Reuters:
Equity Residential (EQR) is a real estate investment trust [REIT]. EQR is focused on the acquisition, development and management of apartment properties in the United States markets. The Company is an owner of multi-family properties. EQR also operates approximately 35 property management offices throughout the United States. All of the Company's properties are located in developed areas that include other multi family properties.
Recent History
November 1, 2007: EQR announced that it had beaten FFO consensus estimates for the third Quarter by $0.02.
December 3, 2007: EQR said it would expand its previous $500 million buy-back program by another $500 million.
December 13, 2007: The company announced that the dividend was being raised 4.3% to $1.93.
Dividend History
EQR has had periods of steady growth in dividends, but there have also been periods of decline and stagnation.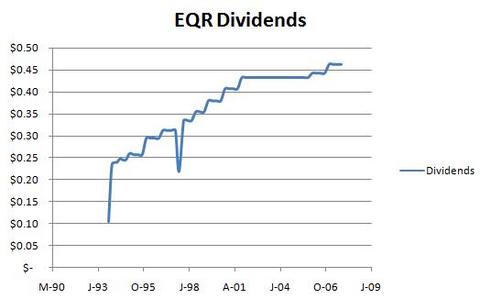 7–Year Yield On Cost
The primary reason dividend companies are a great investment is because the yield on the original principal grows as the dividend grows. If you had invested in EQR seven years ago, then today your yield on cost would be about 11.4%.
The Future
EQR has given higher FFO and guidance for the next year. The company is well positioned in strong apartment rental markets like Seattle and New York. These factors combined with the recent dividend hike, new share buy-back program, and EQR is down 40% from its 52 week high all seem to indicate the company is undervalued at the moment. One negative for the dividend growth investor is the stagnant period of dividend growth between 2001 and 2005. However, over the last two years it seems the company has begun to resume the dividend growth trend. With the current dividend yield hovering over 5%, EQR is worth a look.
Disclosure: none