I've gotten my hands on a December 12th research report from Morgan Stanley. In the report they highlight their 2008 economic forecast, and highlight their single best stock recommendations for each industry they cover, all-in-all about 45 different stock recommendations, some long ideas, some short ideas (you may have heard they called Citigroup (C) the single best short idea for 2008). Other notable shorts are JetBlue (JBLU) and American Express (AXP). They recommend shorting AXP and against a long position in MasterCard (MA).
I read the report and found some interesting things to note. First, their economic forecast takes a different view than I have seen elsewhere. A few highlights:
"US stocks may outperform and the dollar should rally. Those views are out of concensus and not in the price."
"The rising risk of the US falling into an outright recession is, ironically, positive for the dollar against most currencies (except the JPY and the CHF). It looks increasingly likely that the dollar will rally in 2008, much as in 2005. In 1H08, the dollar will likely be propelled by fear; in 2H08 it will likely be driven by greed."
"A more aggressive Fed, an earnings recession, healthy growth abroad, and a scramble for liquidity all will reinforce our longstanding calls for steeper yield curves, higher volatility, and challenges for risky assets. While many of these themes are in the price, economic uncertainty may extend them further. And markets are not priced for the weakness in either US capital spending or the coming deceleration in overseas growth. As our colleagues outline in separate pieces, despite the US downturn, those factors lead to two paradoxical and out-of-consensus market conclusions: Outperformance in US stocks and a stronger US dollar."
Out of all of their stock picks, I've picked the top 5 long ideas in some of my favorite industries (in my opinion) to highlight here:
Agricultural Products
Monsanto (MON): They claim the R&D pipeline is underanalyzed and undervalued by the Street. They value the company by separating their core business and analyzing it separately from their pipeline, and then use a sum-of-the parts analysis. They assign a 20X multiple to their core business' 2008 earnings, yielding a $78 value, and value the pipeline with a 12.5% discount rate and 16.5X terminal cash flow multiple to projected pipeline cashflows, which yields a base case value of $46. So, their base case price target is $124. Their bull case target is $144 and the bear case is $80 (roughly 42% upside, 21% downside from Monday's closing price).
Clean Energy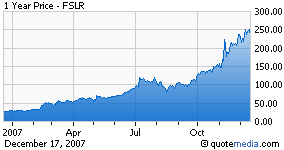 First Solar (FSLR): They cite capacity expansion continuing to drive the stock price. 83% and 71% of 2008 and 2009 projected sales are pre-sold at fixed prices. They state they are relatively insulated from recession since nearly all of FSLR's sales are from Europe. They don't expect US sales to exceed 20% of revenues until 2010, at which point capex spending should be back in business. They also expect limited competition in 2008.
Biotechnology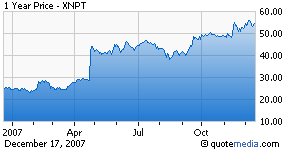 Xenoport (XNPT): Xenoport is a biotech company currently valued around $1.4 billion market cap with a strong pipeline. Their report goes into the specifics about their pipeline which is currently focused on improving the absorption and bioavailability of drugs, in multi-billion dollar markets. Their drugs are focused on Restless Leg Syndrome [RLS], GERD, Parkinson's disease, Migraines, Nausea, and Muscle Spacticity. They see several 1H08 catalysts that could drive the stock higher. Surprisingly, the likelihood of a being a potential takeover candidate was not mentioned --- but another report I read from Argus does mention this and this is part of the reason I like them. Consolidation is likely to continue as Big Pharma continues to fight weak pipelines and huge infrastructures.
Internet & Consumer Software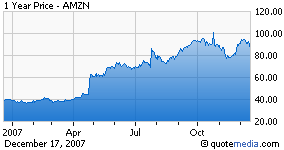 Amazon (AMZN): In spite of the slowing economy, they believe Amazon's impressive execution could continue throughout 2008. They think AMZN has been "gaining share in online retail for good reason: high customer satisfaction built on selection, convenience, reliability, low prices, Amazon Prime, free shipping, a powerful recommendation engine based on data and best-in-class user experience, and lastly, network effects." They also think Kindle has the "ability to join the ranks of recent killer internet/interactive devices like Apples iPod and Nintendo Wii in driving razor-and-blade financial dynamics and shareholder value. User and revenue per user growth has been solid and long-term margin prospects should be assisted by third party sales and opex leverage. They note a relatively high short interest in AMZN, and have a 12 month price target of $125 for base case, $165 for their bull case, and $70 for their bear case.
Cable/Satellite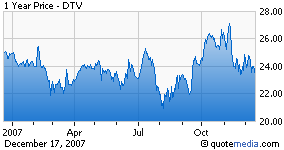 DirecTv Group (DTV): They cite superior pricing and subscriber growth and have a 2008 year-end price target of $33. They state their leadership position in the HD space should fuel subscriber growth and effectively weather weaker macroeconomic conditions. They like the Latin American business consolidation and believe attractive market dynamics and their attempts at providing greater transparency into DTV-LA will lead to an increased valuation. They also think the Liberty (LCAPA) /News Corp. (NWS) swap will be a positive catalyst for the stock via special dividends or buybacks.
Disclosure: Long MON, AMZN; Short FSLR (short term trade)