It has been an interesting quarter for Bakken stock picks of 2012. The Bakken had been thought to be out of favor towards the end of 2011. Widening differentials have negatively impacted the price of Bakken crude with respect to WTI, and rising cost continue to chip away at the bottom line. Oasis (NYSE:OAS) and Kodiak (NYSE:KOG) had better quarters than I had expected, while Northern Oil and Gas (NYSEMKT:NOG) missed on the top line, but the bottom line was only a slight miss. GeoResources (NASDAQ:GEOI) was purchased by Halcon Resources (NYSE:HK) before it had earnings, but provided a nice profit for those invested in the name.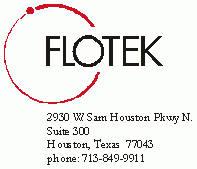 Flotek (NYSE:FTK) is not thought of as a pure Bakken play, but is an oil service company that provides chemical technologies, drilling technologies and artificial lift to oil and gas production companies. Initial reports at the close of trading on Wednesday seemed to point to a big miss on the bottom line for the first quarter of 2012. It reported revenues of $79.195 million (49.7% increase for the quarter year over year) and $3.606 million in net income.
This equates to an EPS of 7 cents versus the Street's estimate of 18 cents. It beat revenue estimates by a little under $5 million. In response, Flotek sold off to $13 or 2.18% in after hours trading. It had a $9.3 million non-cash expense related to change in fair value of the warrant liability associated with the warrants in August of 2009 preferred stock offering ($3.9 million), and a loss related to the early retirement of certain company convertible notes ($5.4 million). Excluding non-cash items, Flotek reported an EPS of 25 cents on a fully diluted basis. In the first quarter, Flotek used cash on hand to purchase $36 million of senior convertible notes. It also made a $1.9 million semi-annual interest payment on remaining $70.5 million of convertible notes outstanding.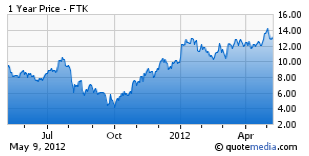 Chemicals revenue was $47.7 million. This was a 76.9% increase for the first quarter of 2011. The Bakken and Niobrara were noted as positive contributors to this increase. Chemicals gross margin was $9.6 million, or 85.1%, and 1.9% as a percentage of revenue when compared to the first quarter of 2011. Drilling revenue for the first quarter of 2012 was $29 million, an increase of $6.4 million or 28.1% when compared to the first quarter of 2011.
Gross margins increased $2.6 million, or 28.7% when compared to the first quarter of 2011. Artificial lift revenue decreased $.8 million to $2.6 million, or 23.3% when compared to the same quarter in 2011. Artificial lift is driven by demand in the coal bed methane market. Given the softness of natural gas, this portion of the business has been soft. This revenue miss was partially offset by an international customer, producing $.4 million.
In summary, this was a big quarter for Flotek. It continues to increase margins, while beating on the top and bottom lines. Flotek continues to pay down debt, and seems to be increasing this ability by every quarter as it drives EPS. With all the media attention on fraccing, companies are being pushed towards green fraccing fluids. Demand has been seen domestically and internationally, and there is no reason to believe this demand will decrease anytime in the near future.
Disclosure: I am long KOG, OAS, FTK.
Additional disclosure: This is not a buy recommendation.