InterContinental Exchange (NYSE:ICE) has emerged from a sound area of consolidation that could be viewed as an O'Neil "double bottom." This technical formation was coined by William J. O'Neil in his seminal book, How to Make Money in Stocks. O'Neil is the founder and chairman of Investors Business Daily.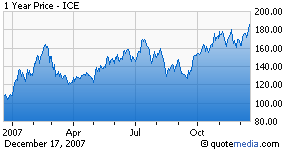 ICE is a strong company sporting strong earnings and sales growth. Future EPS growth is estimated to be above 25% by wall street. It has a reasonable amount of debt and return on equity of 25%.
On its own, ICE looks poised to continue to new highs. However, when viewed in the context of the general market, ICE's breakout is suspect.
The NASDAQ, S&P500 and Dow Jones Industrial Average appear to be failing at a recent rally attempt. I make use of a general market signal also developed by O'Neil that he has called a "follow through day."
O'Neil defines this as: three to ten days off a closing low the major averages rise more than 1.5% on volume heavier, preferably much heavier, than the previous session.
Rallies following follow through days are identified by strong leadership.
This signal has been correct 80% of the time. The major averages had produced these follow through days in late November. Any signal that is right 80% of the time is wrong 20% of the time.
Follow through days which fail typically see major averages break down in the fashion we are currently witnessing. Furthermore, failed follow throughs are not supported by leading names.
Leading speculative growth and glamor names like Apple (NASDAQ:AAPL), Research in Motion (RIMM), Google (NASDAQ:GOOG), Baidu (NASDAQ:BIDU), and Intuitive Surgical (NASDAQ:ISRG) are not joining ICE at new highs. During healthy rallies, large groups of glamor names break to new highs together.
Disclosure: Author is long 1 ISRG call option from its previous breakout attempt.