Wednesday morning, the home carbonated beverage maker SodaStream (NASDAQ:SODA) reported its fiscal first quarter earnings. The report was very good, and shares were up nicely in the pre-market. During the conference call, the company announced its plans to get its products into Wal-Mart (NYSE:WMT), a move that some say has the potential to be a blockbuster. SodaStream shares rose more than 26% on Wednesday, so should you buy into this rally?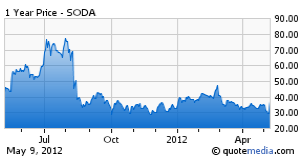 Before I get into the numbers, I need to mention the following fact when it comes to SodaStream. Prior to this quarter, the company was reporting its financials in euros. Starting this quarter, they changed to US dollars. However, not all analysts have made the change, and if you go to the Yahoo Finance Estimates page for SodaStream, the values are still in euros. For comparison purposes to previous periods, SodaStream used a euro to US dollar rate of 1 euro to 1.2971 US dollars. For the rest of this article, I will use that conversion factor for all numbers.
First Quarter Results:
Let's look at the results. SodaStream reported first quarter revenues of $87.9 million. Analyst estimates called for 56.82 million euros, which using the above mentioned exchange rate, equals $73.7 million. No matter what exchange rate you use (mine or today's actual), SodaStream beat, and by a wide margin. In terms of earnings per share, analysts were looking for 0.35 euros, or $0.454. SodaStream announced diluted EPS of $0.48 and adjusted EPS of $0.55.
The following is the financial review the company included it its report: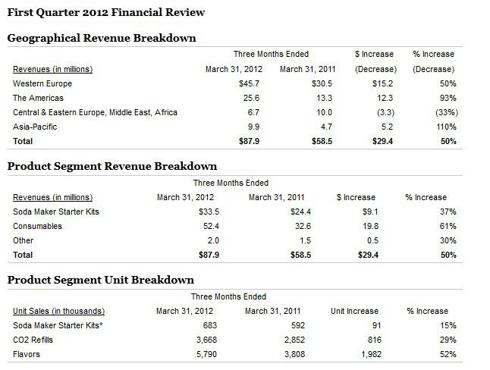 *As discussed on the company's fourth quarter 2011 earnings call, the Czech Republic distributor purchased a disproportionate amount of soda makers during the first quarter of 2011. Excluding sales to the Czech Republic from the first quarter of 2011 and 2012, soda maker starter kit unit sales increased 54% year over year.
Overall, it was a nice quarter for SodaStream, and they were able to increase all three primary margins, which I've detailed below.
| | | |
| --- | --- | --- |
| Q1 Margins | 2011 | 2012 |
| Gross | 53.48% | 55.04% |
| Operating | 11.42% | 13.08% |
| Profit | 9.38% | 11.51% |
The main reason for the increase in gross margin was a shift to more consumables sales, which are higher margin products. Consumables represented 55.8% of revenues in Q1 of 2011, and that number increased to 59.7% in the recently reported quarter. SodaStream was able to have that margin impact flow through to operating margins by keeping their general and administrative costs low. While sales and marketing costs were up 59.1% overall, general and administrative costs only rose 28.3%. The company also saw a lower tax rate, which declined from 15.6% in the prior year period to 11.97% in this year's period. That helped increase net profit margins.
Overall, the quarter was good. However, there were a few balance sheet items that worried me. SodaStream saw its cash and equivalents balance (including bank deposits) decline from $74.3 million to $52 million during the quarter, primarily due to their acquisition of the Nordic distribution business. However, only about half of that decline was due to the acquisition. The dollar value of SodaStream's current assets actually declined during the quarter from $230.55 million to $229.53 million.
Combine that with an increase in current liabilities from $82 million to $89 million, and the company's current ratio declined from 2.81 to 2.575. That continues the decline from the end of the third quarter, where the ratio ended at 2.99. It is something to watch going forward. The company is going to need a very flexible and liquid balance sheet, especially if it is making a huge move into Wal-Mart (more on that later).
The company also issued the following full year guidance for 2012, which was another reason why shares rose:
The company now expects 2012 revenues to increase approximately 33% over 2011 revenues of $289.0 million, up from its previous guidance of 28%.
The company now expects 2012 net income to increase approximately 50% over 2011 net income of $27.5 million, up from its previous guidance of 42%. This guidance includes a share-based expense of approximately $5.5 million.
Analysts were only expecting a revenue increase of 27% this year, and earnings per share increase of 30%, so both were ahead of estimates.
My take on SodaStream as a company:
I must first give you access to my two SodaStream articles published in the past, so you can evaluate where I am coming from:
Now, the main issue regarding SodaStream is its attempt to take on the big soda giants of Coca-Cola (NYSE:KO) and Pepsi (NYSE:PEP). Many soda drinkers like their brand name sodas, such as Sprite, Mountain Dew, Dr. Pepper, and others. For a lot of soda drinkers, they don't want to leave their brand names for a product they've never tried. In addition, to try SodaStream's products at home you have to buy the soda maker, which can cost upwards of $50, $100, or even more. Many consumers are afraid to buy it, knowing that if they don't like the product, they've wasted a bit of money. I've never tried SodaStream's products, but another issue involved is that some people just don't like the taste. Again, they'd prefer to stick with their name brands.
The second issue is the value proposition. According to SodaStream's website, and I have mentioned this in the past, SodaStream soda costs about 25 cents per can. That is for the basic soda mixes, and with some of the more expensive ones, you are talking about 30 to 35 cents per can or more. The cost can also vary, depending on how much syrup you put in. If you put more syrup in, you get less servings, and the cost is more.
Now, based on the 25 cents per can price, a 12-pack of soda would cost $3 and a 2-liter bottle would cost $1.41. If you can get either of those cheaper, the value proposition of SodaStream is not there. For instance, my local grocery stores run 2-liter sales every few weeks for $1 or less, making the name brands much cheaper. You can get SodaStream's products cheaper with coupons from certain retailers, like Bed Bath and Beyond (NASDAQ:BBBY), but even the 15% or 20% coupons don't make it a value when a 2-liter is $1. Also, I'm only considering the price of the mixes and CO2 refills. That doesn't include the price of the machine, which depending on usage, adds more cost over time.
If SodaStream was able to make prices more competitive, or even cheaper, I might be willing to take a chance. But for now, I'm not.
The Wal-Mart Expansion:
I've talked to many bullish investors on SodaStream over the past 6-9 months, and they all said that getting into Wal-Mart would be key for the name. Wednesday on the conference call, SodaStream said it is getting into Wal-Mart. On the flip side, doubters say that Wal-Mart shelves are full of of stories of broken growth dreams.
I'm not a fan of the Wal-Mart deal, but mainly due to the timing. As 2011 ended, SodaStream products could be found in more than 10,000 US locations, including Target (NYSE:TGT), Staples (NASDAQ:SPLS), Best Buy (NYSE:BBY), Costco (NASDAQ:COST), JC Penney (NYSE:JCP), Bed Bath and Beyond, Sears (NASDAQ:SHLD), Macy's (NYSE:M), Kohl's (NYSE:KSS), and many others. Within about 15 minutes of my house, there are more than 2 dozen locations I can get SodaStream products, and I can also get them online if I wanted.
I just feel that the Wal-Mart deal is too early. SodaStream already has a huge presence in the US, and I feel that it is going to over saturate the market. Just a few weeks ago, I was in my local Kohl's, which had three full shelves of product, including more than 30 soda machines. They didn't seem to be selling.
Once SodaStream gets into Wal-Mart, how many of these other locations might drop them? It is quite possible that some do, as they might not be selling their products, and don't want to compete with Wal-Mart. Also, SodaStream executives said on the conference call that expanding into Wal-Mart would have no impact on margins. I find this extremely hard to believe, knowing how Wal-Mart tries to squeeze every penny out of the products it sells.
It's not that I'm against SodaStream entering Wal-Mart, I just think it was too soon. They have already found a nice spot in the US market, and they added 5 major retailers in 2011. I'm afraid that SodaStream is making too much of a US push, and that might come back to haunt them in the long run.
SodaStream As An Investment:
SodaStream is a high growth company. Investors are 100% reliant on this company growing the brand, sales, and earnings for stock price appreciation. When it comes to Coca-Cola and Pepsi, those two names offer dividends and are buying back stock. That difference alone keeps a large number of investors out of SodaStream. Many investors are also scared of the volatility in SodaStream, which saw shares crash more than once in 2011. Shares nearly hit $80 last year, but were under $30 yesterday. Many are afraid of a blowup, something that is definitely possible in a name like this.
If we look at a price to sales valuation, SodaStream is trading at 1.93 times this year's expected revenues (given their revenue guidance on Wednesday). Coca-Cola trades at 3.57 times currently expected revenues (analyst estimates) and Pepsi trades at 1.53 times.
Now, when we get to price to earnings, the numbers get extremely tricky. Coca-Cola is trading at 18.73 times this year's expected earnings, and Pepsi trades at 16.04 times.
But here is the issue when it comes to SodaStream. First, SodaStream as a growth company is not buying back shares. That means the diluted share count is rising almost every quarter, thanks to executive options being exercised. Thus, even when the company guided to 50% net income growth in 2012, the added shares mean that earnings per share will not rise that much.
Second, SodaStream reports earnings per share and adjusted earnings per share. Based on their guidance and my estimated share count, I estimate that SodaStream will have earnings per share of $1.94 this year and $2.20 of adjusted earnings per share. That means SodaStream is currently trading at 19 times unadjusted and 16.8 times adjusted earnings.
You would think that SodaStream, a company growing much faster than Coca-Cola and Pepsi would trade at a premium in terms of price to earnings and even price to sales. But it really doesn't. That is because investors are not quite sold on the company, meaning they are not willing to pay up for it. There are plenty of people that think this product is a fad, and others say this means the stock is undervalued. I'm not going to start either of those debates here. I'm just stating what I have heard from both sides.
Conclusion - Great Quarter, Big Jump:
SodaStream reported a great quarter, and they are expanding into Wal-Mart. However, there are those out there that believe this product is a fad, and there are plenty of short sellers surrounding the name. I think we could go slightly higher in the next few days, but I think this stock will get knocked down again into the low $30s. It has just had a very hard time keeping gains in recent months.
Bad news out of Europe could knock it down, and we even saw it drop when Green Mountain Coffee Roasters (NASDAQ:GMCR) reported a bad quarter. If you missed the initial move, I wouldn't try to rush in the name after such a jump. Perhaps you could short it around $40, let it get knocked down to the low $30s, cover your short and go long there.
Disclosure: I have no positions in any stocks mentioned, but may initiate a short position in SODA over the next 72 hours.