There have been some interesting developments in the uWink (Nasdaq: UWKI.OB) story that I wanted to update you on. The most intriguing of these is a deal that uWink recently announced with Volanté Systems, a leading hospitality technology provider, whereby uWink will team up with Volanté to co-develop and co-market innovative technology solutions for the hospitality industry.
Recent Developments
I'll break down the latest uWink developments into 4 sections:
Wedbush Securities Presentation
the recent deal with Volanté Systems
uWink's new micro-transaction software system
uWink's pay-at-the-table technology implementation
Wedbush Securities Conference Presentation
uWink CEO Nolan Bushnell and CFO Peter Wilkness just delivered a presentation at the 8th Annual California Dreamin' Conference on December 11th.
This was a very informative and interesting presentation where the CEO and CFO talked about the business, growth strategies, and answered some questions from the audience.
If you are starting your uWink investigation, I would recommend listening to this presentation, and reading my initial buy recommendation on uWink here.
You can listen to the presentation and see the accompanying slide-show by clicking here.
Some quick highlights include:
uWink currently has about $9 million in cash and no debt.
uWink will be opening their platform to 3rd parties to develop games and software for them. This cuts down on internal expenses for R&D, and keeps the games available fresh and up-to-date.
The casual gaming category, which is what uWink will be after, is expected to grow from a $500 million industry to a $2.0 Billion industry by 2010, according to Wall Street Research.
Initially uWink was targeting a younger demographic of 18-34 year-olds, but they have found that over the year that their concept store has been open, they are getting all ages of customers including stay-at-home moms that are bringing their kids to play the games, and older adults over 60 using the games and restaurant as a social interactive experience. This broadly diversifies uWink's original demographic and pretty much opens the uWink concept for anyone.
The average customer plays 15 games per visit.
Unique revenue drivers to the company: Higher margin digital media revenue (targeted at 15% of total revenue), private party demand ($200 for birthdays up to $27,500 for 6 hour restaurant "buy-out"), unique merchandising opportunities and future potential for in-restaurant advertising.
uWink Inks Deal With Volanté Systems
This is probably the biggest development for the longer term prospects of the uWink concept and business model.
Volanté Systems creates Point Of Sale [POS] software for the hospitality industry.
This software can be implemented either via computer systems, or as in uWink's case, custom designed architecture and software terminals to streamline everything that goes into running a business.
Some of the things that the Volanté Systems software does:
Point of Sale: This includes things like real-time table status updates, check splitting by seat or item, table and tab access from any terminal, price level configurations, menu item countdown, and more.
Customer Relationship Management: This includes things like customer loyalty rewards programs, customer transaction history including id (uWink will allow you to have a customized user-name for future visits and affinity programs), gift cards, meal plans, coupons and more.
Reporting: This includes detailed reporting that ties into a company's bookkeeping and accounting to make the process both seamless and real-time.
Additional Capabilities: This includes everything from liquor inventory control, to pool table management, credit/debit authorization, and much more.
This is a huge announcement for uWink because essentially what they are doing is using Volanté System's POS software and implementing their gaming software on-top of it, and then turning around and licensing this software to other hospitality vendors.
uWink is calling this the "uV Hospitality Solution". The uWink system is fully integrated with Volanté's POS system allowing for seamless transaction billing, processing and accounting.
What the heck is a "hospitality" business? It's essentially any business that directly deals with customers in person and wants to make their lives easier, and squeeze higher margins out of their own business via the cost savings that streamlining POS data can accomplish.
Some hospitality businesses include: hotels, universities, stadiums, theme parks, casinos, casual/fast food chains, and golf and ski resorts.
According to CEO Nolan Bushnell:

The licensing of our technology into other hospitality markets is a logical expansion. We see a huge opportunity to leverage our software solution and offer it to other hospitality and public-space markets as an integral component of our growth strategy.
Further comments in the press release state that:

"The uWink restaurant has proven that the "uV Hospitality Solution" is a smashing success, showing that the public, across all demographics, is ready to embrace self-serve technology, and that the technology can in fact deliver major benefits to the industry, including higher average checks, labor savings, increased customer loyalty, increased transaction speed and accuracy, and reduced lines," said A. Ennamorato, vice president of operations, Volanté Systems.

"Many of our hospitality clients…are keenly interested in self-service technology solutions. The combination of uWink's proven customer-facing self-order, self-pay and digital entertainment delivery and monetization capabilities seamlessly combined with Volanté's innovative java-based, peer-to-peer point-of-sale enterprise software, represents the end-to-end solution the hospitality industry has been waiting for."
The "uV Hospitality Solution" software also allows for the delivery of digital advertising and the monetization of customer game play via a unique "micro-transaction" game credit purchasing and redemption system that is also tied directly into the Volanté POS system for billing and processing.
So What Does This Mean?
As noted above, uWink is targeting about 15% of their sales from this type of software revenue/licensing. I don't have to tell you how important it is to have a diversified income stream for any business, but more-so for a restaurant concept that is just getting off the ground.
Just imagine all the restaurants, pool halls, bars, and other venues that could benefit from a cost-effective and tightly integrated software POS system that ads value to their business. Think about the corner dive bar that can recoup revenue via the table-top games that uWink's interface will deliver, while making a cut of each transaction on their machines AND streamlining their checkout and ordering process to increase their average ticket, and encourage more repeat business.
For uWink, the high margins that these licenses can garner will add incremental revenue to their business and not only cushion them as they expand their restaurant concept, but allow them to reach profitability faster because the revenue they get from the gaming and licensing will be all profit with little to no overhead and expenses.
This is just one more reason to invest in the uWink concept going forward.
uWink's New Micro-Transaction Software System
Now we get into more details as to how uWink plans to make money from their gaming platform.
With the new software, customers self-purchase virtual game "credits" on uWink's tabletop terminals, purchased credits are stored in a virtual account, and then automatically deducted from that account as customers spend those credits on games offered on the terminals. The system offers discounts for bulk game credit purchases and allows for portability and redemption of purchased game credits during future visits, encouraging return visits.
Here's a screenshot of what this will look like: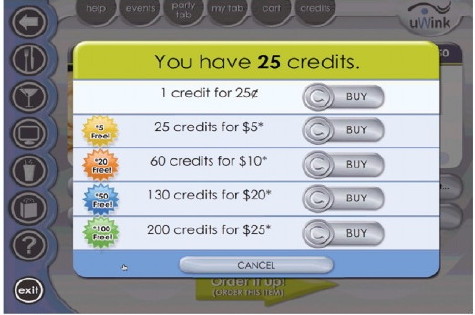 The game credit software also integrates directly with uWink's restaurant point-of-sale system allowing for game credit purchases to be charged on the customer's bill, along with food, drink and merchandise purchases. The game credit sales revenue is also captured directly into uWink's accounting system.
Now we can fully see how the uWink concept will differentiate itself from other restaurant chains. You can simply purchase your game credits from the table, with no interaction with a server, or special booth or register, add those credits to your food bill, and then check out in a nice and clean fashion when you are all done eating.
If you've got some credits left over, uWink's system allows you to keep those credits and use them next time!
uWink's pay-at-the-table technology implementation
This brings me to the final piece of news that uWink has delivered lately: the ability to pay at your table, without ever having to give your credit card to anyone, wait for the bill, or otherwise be inconvenienced when you are ready to check out.
All you have to do is checkout via uWink's proprietary table top system, swipe your card at the table, and then sign your name with your finger!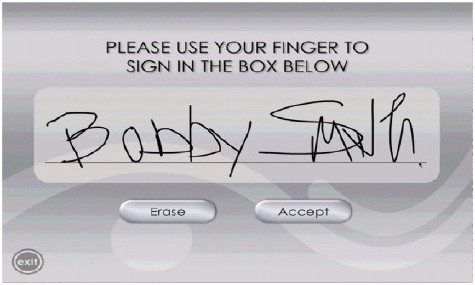 This couldn't be simpler!
Want a receipt? Not a problem. The system also offers the ability to email transaction receipts.
Bottom Line
Just in the last week or so, uWink has expanded their offerings, improved the software and systems that they already had in place, and made a potentially very lucrative deal to license that software that will add high margin revenue and expand the uWink concept and brand.
I want to reiterate that anyone who hasn't bought shares of uWink at this point, should at least purchase 1/4 position for a long term very speculative investment.
The news just keeps getting better and better from the folks at uWink and my confidence is increasing by the day that even if the restaurant concept fizzles out (which I highly doubt), the software and licensing side of the business could reap huge rewards going forward.
You owe it to yourself to at least check out the uWink story and do your own due diligence and homework on this company and consider a purchase of their shares.
Disclosure: Author has a long position in UWKI.OB