The E-Mini S&P 500 trended lower Wednesday as the contagion fears overflowed from the Euro Zone and then reversed off of our Weekly Trading Zone and staged a powerful rally. Or was is simply a bounce? Stay flexible and be ready to trade in either direction as the market dictates.
US Monthly Wholesale Trade Sales for March 2012 were $411.1 billion up 0.5% from the revised February level. March sales of durable goods were down 0.6% from last month. Nondurable goods sales were up 1.5% from February. Farm product raw materials were up 4.3% from last month. Petroleum products were up 2.7%. US Wholesale Inventories were up to $480.4 billion a 0.3% increase from February. Inventories of durable goods were up 1.0%. Inventories of construction material such as lumber were up 2.1% from last month. Inventories of nondurable goods were down 0.6%. Inventories of petroleum products were down 5.9% from February. The March inventories/sales ratio was 1.17.
Out of 434 S&P 500 companies reporting earnings to date, 66.8% have exceeded expectations. While the US data may be hitting its stride, the euro strain is still draining the global economic community.
Greece again was front and center and not in a good way yesterday as elections have further exasperated the crisis in the Euro Zone. Greece was the focus of a parliament wondering whether to abide by reforms or risk the possibility that they may not qualify for the rescue funds necessary to keep their government running. They were supposed to be out of money by June. Without the funding, they ran the risk of being ousted by the European Union. The market sauntered back with a close off the highs as the European Financial Stability Facility had stepped up to advance $5.2 billion euros in emergency funding to Greece.
Somehow, this is deja vu as the bailout funds just seem to keep coming. It is doubtful that this would be the last of the bailout funds going to Greece. Nicolas Sarkozy has been voted out and replaced by French President-elect Francois Hollande who has opposed some of the austerity measures advocated by Germany and prefers to work on growth for the country. It is a controversy on the balance between reforms and growth. Typically, the reforms necessary to cut spending and build revenue through taxation will impede the growth of a country.
The ten-year Spanish bonds are back up over 6% considered a non-sustainable level leaving investors nervous about the larger economy of Spain. Spain has proposed a plan to have banks put up an additional $35 billion euros against loans to the construction sector. It is feared that Spain may be next for a bailout. Spain has proposed to reduce the public deficit to 5.3% of the GDP in 2012 from last year's 8.5%. Spain is not expected to meet its targets and is still vulnerable for a potential bailout. The election poses a slight disruption in the order of fiscal targets and policies but over time, the task of putting their house in order remains even with the change of players.
This could possibly be the beginning of a bear market unless the Federal Open Market Committee finds it necessary to introduce another round of stimulus or QE3 in June. Operation Twist ends in June. It is not the function of the Federal Reserve to control the markets, but to bring stabilization, growth and job creation to the US. The market would then be reactionary and only a product of the state of economy. The retracement area to maintain would be about $1300.00. The next significant level is $1288.00 and the 50 % retracement level is about $1245.00. The difference between retracement and a potential bear market may be the level of the price drop and the time of downtrend. In this case, so far retracement is the great white hope.
On the stock side: JP Morgan Chase and Co. (NYSE:JPM) was down 2.08 % to $40.52. Citigroup Inc. (NYSE:C) was down 3.13 % to $30.34. Bank of America (NYSE:BAC) was down 1.28 % to $7.70. Alcoa Inc. (NYSE:AA) was down 0.65 % to $9.15. Boeing Co. (NYSE:BA) was down 1.25 % to $74.02. Caterpillar Inc. (NYSE:CAT) was down 0.90 % to $95.62. General Electric Co. (NYSE:GE) was down 2.03 % to $18.86. Halliburton Co. (NYSE:HAL) was down 0.83 % to $32.42. Hewlett Packard Co. (NYSE:HPQ) was down 1.46 % to $22.98. SPDR Select Sector Fund - Financial (NYSEARCA:XLF) was down 1.43 % to $14.87.
E- Mini S&P 500 Chart.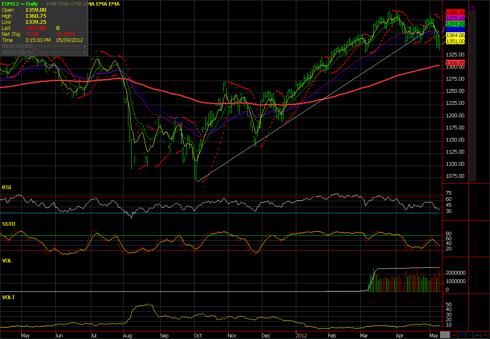 Thursday, what to expect: We maintain a bearish bias unless the E-Mini S&P 500 penetrates $1401.50. Today, we anticipate an inside to lower to outside day. Wednesday's range was $1360.75 - $1339.25. The market settled at $1351.00. Our comfort zone or point of control for this market is $1352.00. Our anticipated range for Thursday's trading is $1357.50 - $1334.50. The anticipated correction is upon us.
Disclosure: I have no positions in any stocks mentioned, and no plans to initiate any positions within the next 72 hours.