What a great use of cash for Harley (NYSE:HOG). They announced a 20 million share repurchase plan Monday morning. With $1.7 billion in cash on the books, Harley can easily complete the repurchase without any additional debt.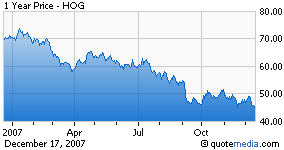 Since they already increased the dividend 20% in September, shareholders are getting rewarded at both ends.
I have wrote about my desire to own Harley shares in the past, the only thing holding me back was the price of shares. Currently trading at $44 and yielding 2.5%, Harley is becoming very enticing with this news....
Just wait a little longer, we may get this around $40.