It is May again and there still appears to be absolutely no shortage of Chicken Littles out there predicting the end of the financial world as we know it as they have been consistently doing do ever since the Global Financial Crisis in late 2008. This unrelenting fear mongering by the press of popular opinion and commentators in general has created a sense of despair among everyday mom and pop investors which has effectively blocked them from entering equity markets and driven them into the perceived safety of treasury markets. This process continues today. But how risky can a market be if relatively few own it and how safe can a market be when it is widely held?
Significant downside in a market usually only occurs when there are lots of marginal sellers. This only occurs when a market is widely held by the general public. As the months tick by it is becoming increasingly apparent that large cap US stocks are not widely held by the general public and in fact this is probably the most under-owned that they have been since the early 1990s. This is because over the last three years there has been an almost continuous outflow of funds from equity mutual funds and inflows into bond funds.
April was no exception to equity fund outflows; it seems like investors are preparing for the "sell in May and go away" thing a month early as this Bloomberg article suggests: Equity Fund Redemptions in April Are Largest in 17 Years.
Global investors this month pulled the most money from stock funds in any April in at least 17 years amid escalating concerns that Europe's economy is faltering. Equity funds had net redemptions of $18.6 billion through April 25, according to data from EPFR Global, a research firm based in Cambridge, Massachusetts. The April withdrawals were the largest since at least 1996, the first year for which comparable data is available.
We can see US equity fund outflows and bond fund inflows in the table below:
ICI Estimated Long-Term Mutual Fund Flows
click to enlarge

Click to enlarge
With the heavy equity mutual fund outflows in April it would seem that investors are preparing for the "sell in May and go away" thing a month early. It often happens that when an event in the market is widely anticipated it rarely happens. Perhaps we will not see any material weakness this May because the "sell in May and go away" event has become too popular and well anticipated.
From a longer time perspective we must not lose sight of the fact that equity market valuations both from a relative and absolute perspective remain at extreme levels.
Relative to treasuries US equity markets are as cheap as they were in Mid October 2008 just after the big crash. The only other time in history (since 1960 at least) that the yield of the S&P 500 has exceeded the yield if the US 10yr by 5% was at the end of the bear market of 1974. However, this is the longest period of time in modern history (again, since 1960 because this is only as far back as Bloomberg's records appear to go) that the earnings yield differential has exceeded 5% - some 9 months.
Earnings Yield Differential of S&P 500 and US 10yr Treasury

Click to enlarge
If we look at the absolute valuation of the S&P 500 it has the same EV/EBITDA level as it had in mid-October 2008. The current level is still materially lower than registered at the start of the 2011.
S&P 500 Enterprise Value to EBITDA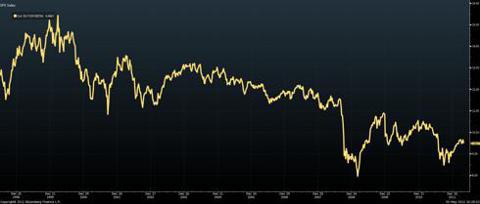 Click to enlarge
Although we have seen the S&P 500 rally strongly since the start of October, last year valuations have not changed much. This is because earnings have continued to rise over the last three quarters, as they have done so for every quarter since the 1st quarter of 2009.
It was an interesting start to the reporting season this month. In the lead up to earnings kicking off the commentary was rather bearish. Few commentators had anything positive to say about what to expect from earnings reports. Yet this quarter has proved to be one of the best in the last two years with earnings in the S&P 100 coming in about 6.6% above expectations.
S&P 100 - Reported Percentage EPS and Sales Surprises Quarterly

Click to enlarge
Companies beating earnings expectations isn't just a large cap phenomenon. It is broad based. Earnings of midcap stocks (using the S&P 400 as a proxy) earnings for the quarter so far have come in about 6% ahead of analysts' expectations.
S&P 400 - Reported Percentage EPS and Sales Surprises Quarterly

Click to enlarge
It is interesting to note the large discrepancy between the degree to which company earnings have been coming in ahead of analysts' expectations vs. sales. Analysts have not been too far off the mark in estimating sales but have been way off in their earnings estimates. To me this highlights the degree to which analysts have failed to appreciate the impact of the GFC on cost cutting at the operational level of corporate America.
A massive transformation of corporate America has occurred and as a result US companies are now far more competitive than they were prior to the GFC in 2008. The long term impact of this should not be underestimated but as you can see from the two graphs above it has been and continues to be underestimated.
So stocks in the US are cheap. But there is a big proviso here - they will only remain cheap if earnings continue to grow or at least do not fall materially. Even if earnings do not grow stock will remain cheap. Yet if analysts' expectations are anything to go by (as conservative as they are likely to remain) estimates for earnings continue to trend higher.
S&P 100 - 12 Month Forward EPS Forecasts

Click to enlarge
And the uptrend in earnings looks even stronger when one looks outside large cap companies. So much for the recent argument that the US equity market's earnings only being driven higher by Apple (NASDAQ:AAPL).
S&P 400 - 12 Month Forward EPS Forecasts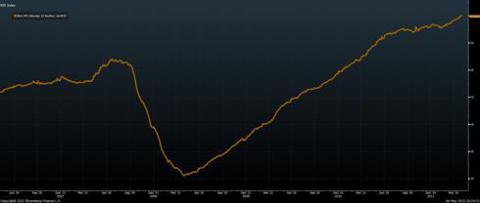 Click to enlarge
There has been plenty of talk as of late about the US economy slowing and of course if it does then corporate earnings are likely to be affected. Yet there isn't much in the way of evidence to support the notion that economic growth in the US is slowing. Leading indicators continue to suggest that the US economy is growing. Granted, it has grown faster before but the fact is that it is still continuing to grow but equity and treasury markets are priced as if it is contracting.
Conference Board Index of 10 Leading Economic Indicators

Click to enlarge
US equity markets remain at extreme low valuations so much so that very few times in modern history have they been this cheap. However, investors remain paranoid in their belief that the sky is falling or at least is about to fall soon. They continue to abandon equity markets in favor of treasuries as aggressively as they have ever done so in the last 3 years. There is little to suggest that equities will not get cheaper over the coming months as earnings momentum remains strong.
The start of every long term bull market in equities is characterized by stocks being concentrated in the ownership of a relative few and a general disbelief in the sustainability of earnings. We have both conditions right now which suggests that the next big move for equities in the US is to the upside. Accordingly, investors should continue to see any weakness in large cap US stocks as a buying opportunity rather than reason to sell.
Disclosure: I am long DIA.