With reports of retail spending up this year, even in the face of so much bad news about housing and mortgages, my inner contrarian awakens. I'm terrible at picking specific retail trends in terms of what brands are in fashion. I do not trust myself to pick the next American Apparel (APP) ($14.90) or Abercrombie and Fitch (NYSE:ANF) ($81.25) so I narrowed my search to broad based retailers and then looked for the ones trading with the cheapest valuations. I also looked for retailers with a history of growth that are trading on the low end of their historical p/e ratios.
I came up with two retailers, one at each end of the spectrum: high end department store Nordstrom (NYSE:JWN) ($35.12) and box retailer Target (NYSE:TGT) ($51.85). I bought them both but did so at less than half of a full position.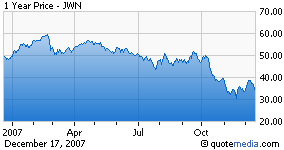 Nordstrom, which normally trades at a premium to other retailers, can be bought for 12 times earnings. The fear is that this department store for the wealthy will stumble during any recession when the upper middle class goes down market. I don't think Nordstrom will, and if they do it will just mean their shares are on sale. After all, Nordstrom is not everywhere in the country and is still a brand with expansion potential.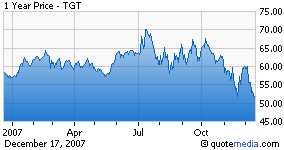 Although trading on a higher P/E (15 times next years earnings) than Nordstrom, Target looks cheap as well. I recently went Christmas shopping on the target.com website and found it easier to use than even Amazon.com (NASDAQ:AMZN) ($85.09).
Disclosure: I own JWN. I bought it yesterday and have bought at prices between 39 and 31. I have also traded JWN put options but do not currently have any options positions. I may buy more JWN or sell out of the money calls against my position in the near future. I own TGT. I bought TGT at 51.95 last week. I also sold short July 2008 60 Calls (TGTGL - $3.80) and July 2008 45 Puts (TGTSI -$3.60) on TGT.
Do not short options unless you are an expert and can afford to lose MORE than your initial investment.