On May 9th, Cisco (NASDAQ:CSCO) released its earnings and had a conference call after the market closed. It subsequently fell in the after hours, when the company guided results lower than expected. Now, a price target has been reached from a "Head & Shoulders" pattern, which can be seen on CSCO's daily chart.
CSCO gave a "technical" sell signal when it broke the "neckline" of $19.30 on May 4th. This pattern was an area of research by the Federal Reserve Bank of New York in a 1995 paper, Head and Shoulders: Not Just a Flaky Pattern, which determined "significant profits" could be found in foreign exchange markets (page 38).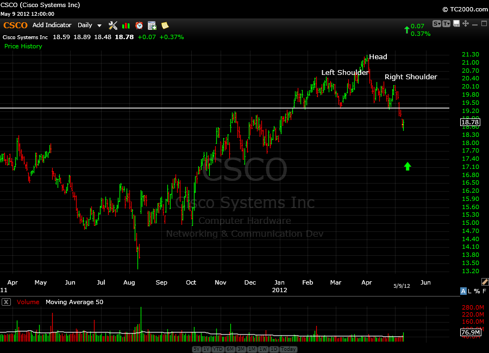 One can see insiders having large share sales, with hardly any buying, when this pattern was developing in the chart below: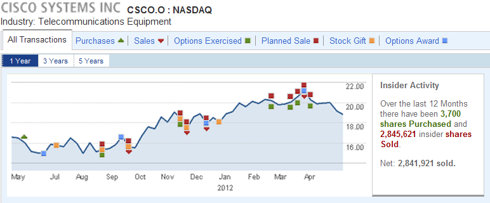 Source: CNBC
The "traditional" way to measure the price objective of a Head and Shoulders pattern in technical analysis is to measure the distance from the top of the head to the "neckline", and subtract this amount from the "neckline". With CSCO, this would be from $21.30 to $19.30. Then subtract this difference from the neckline $19.30 - $2.00 = $17.30.
This number is very close to the stock price low of December 2011 at $17.22. The green arrow on the first price chart shows this price target level. In after hours trading CSCO is below both these price levels:

Source: Yahoo Finance
Reaching this level means shorts should at least take partial profits, especially if one is long put options. It is very likely implied volatility of options in CSCO will fall in the days after the earnings release.
Shorts -- don't get greedy. Take something off the table and move up trailing stop orders on the rest of the position. One observation is that market makers will usually open a stock up as low as possible, when there is an order imbalance, which is likely to happen tomorrow on the open in CSCO. This is not a guarantee, by any means, but if you are forced to provide "liquidity" -- as market makers are, you usually put yourself in the best position to buy.
Unfortunately for longs, this is usually just a "dead cat bounce" off of a new lower range for a few days. Fundamentals need to improve compared to expectations. Keep watching what insiders do and not what they say, since they gave an indication of the underlying fundamentals weakening in their share sales over the last few months.
Disclosure: I have no positions in any stocks mentioned, and no plans to initiate any positions within the next 72 hours.