About a month ago the Wall Street Journal ran an article on Jarden Corp. ("JAH" or the "Company") by Herb Greenberg. The article is available here and discussed the short view on JAH with insight from Jim Chanos, founder of Kynikos Associates and perhaps the best short seller around. I wanted to write a quick follow up to that article because I have followed JAH off and on over the past 14 months and recent announcements by various leisure/sporting goods retailers like Gander Mountain (GMTN), coupled with evident consumer slowdowns at mass retailers like Target (NYSE:TGT),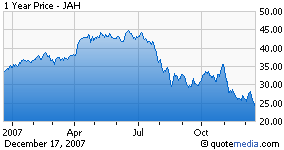 strongly reinforced my view that JAH still remains a compelling short opportunity despite trading at its 52 week low. However, what actually prompted me to complete this write up was the announcement this week that CEO Martin Franklin raised $1B in another blank check IPO - Liberty Acquisition Holdings.
JAH has been an EPS scheme for the past five years where the Street and investors have turned a blind eye to the Company's increasing leverage and low returns on capital to focus solely on pro forma EPS growth. Since management is compensated based on achieving high EPS growth, its been incentivized to buy anything at any price. The "strategy" that's been sold to the Street is that JAH emulates the typical private equity consumer products "platform" where a variety of synergies are realized through outsourcing manufacturing and streamlining distribution. That's the strategy on paper, but when one looks at JAH's historical figures it's clear that few efficiencies have been realized. The reality is that JAH has acquired low value sales growth for exorbitant prices reflected in the massive level of intangible assets and heavy debt load on JAH's balance sheet as presented in Table I.
TABLE I: JAH SUMMARY BALANCE SHEET Q3 2007 (USD MM) - click to enlarge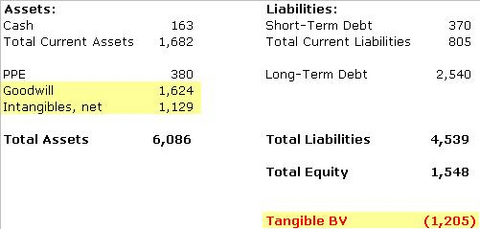 The level of intangible assets including Goodwill exceeds JAH's book equity by over $1.2B. In isolation this isn't a reason to be concerned but in JAH's case it becomes a significant issue due to the Company's heavy debt load. There's basically no asset floor in the event of any credit or cash flow problems the Company may face. Further, the few real assets include about $2B in accounts receivable and inventory, which consists of various consumer products items ranging from coffee makers, blenders, playing cards, fishing poles, and skis.
This weak balance sheet provides no asset floor but what can really drive JAH down further in a slowing retail environment is its increased debt levels. As I previously stated, JAH has basically been an EPS scheme, and a pro-forma EPS scheme at that, with little tangible evidence of efficiencies materializing. JAH bought a variety of busineses with cheap debt and the Street (investors, sellside research, and lenders) bought into the potential EPS growth and got sold on the efficiencies that potentially could be realized. The sellside has been in the back pocket of JAH management for years and is willingly spoon-fed by the Company which is why the Street constantly ignores the recurring "one-time" charges and expenses along with the high leverage levels and declining returns on invested capital ("ROIC"). Table II provides some basic historical financial figures for JAH and I even adjusted it to exclude some of the constant "one-time" charges to present the Company in a good light.
Table II: HISTORICAL JAH FIGURES (USD MM) - click to enlarge

The figures from 2002-2006, GAAP YTD (yellow shading), and pro forma YTD (green shading) figures are from JAH's filings. The pro forma YTD figures are presented solely to show that JAH gained just 5.5% in comparable period growth when including K2 for the entire periods, not very impressive considering the additional debt taken on by the Company. The LTM GAAP figures are self-explanatory while the pro forma 2007 estimates are my own estimates.
This will be much higher than the actual figure because the K2 deal closed during the summer but I'm sure this pro forma estimate, which basically says "let's assume for 2007 K2 results were a part of JAH for the entire year," is what the Street has been sold on. My pro forma estimate for 2007 was based on both company's revenue growth rates and margins. In addition, I ignored any of the "one-time" charges that would likely be the result of M&A and restructuring costs to give JAH the full pro forma benefit.
So now that I've explained what I did, let's look at what we can discern from Table II. Basically, JAH's sales have been on fire but it's been entirely due to M&A which is represented by the massive growth in JAH's debt. In addition, the Company has chased lower margin products and/or has had to lower product price points to produce sales growth as gross profit margins have declined from 39% in 2002 down to 24.7% LTM 2007. There's been little evidence of JAH's ability to leverage SG&A as EBITDA margins have declined to under 9%. So over the past few years, JAH has used its friendly bankers to borrow as much as it can to pay up for mediocre consumer products companies, increasing the firm's risk profile through leverage, lower margin businesses, and declining returns on invested capital ("ROIC").
Table III: JAH HISTORICAL ROIC - click to enlarge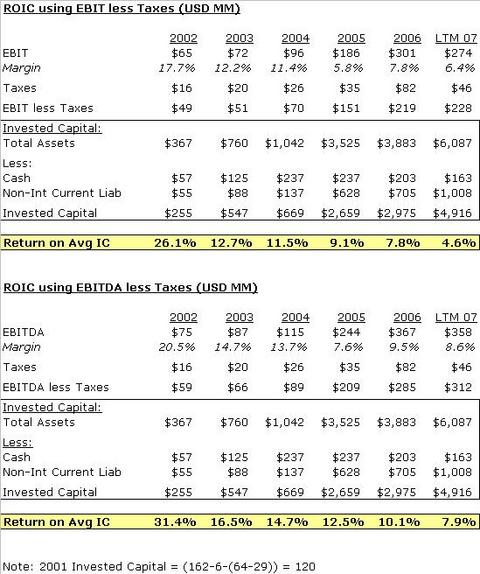 Table III presents the Company's historical returns on invested capital using both EBIT less Taxes and EBITDA less Taxes. I presented both because some people feel that ROIC generated by EBITDA less Taxes is a better figure since D&A is a non-cash expense. I prefer using EBIT less Taxes mainly because I feel D&A, while non-cash, is accounted for in ROIC through reducing the book value of property, plant, and equipment ("PPE") by the D&A expense. As a result, ROIC based on EBITDA less Taxes overstates ROICs because the numerator is inflated through including the D&A charge while the asset base still shrinks from the recognition of D&A in the PPE line item, essentially double-counting D&A. Nonetheless, all that really matters is the absolute figures and trend, both of which are horrid in JAH's case. It's likely firm value is being destroyed since ROICs are clearly below JAH's cost of capital over the past 2 years.
Despite these growing problems, JAH's stock has "worked" for the past few years and one may question why continue shorting a stock close to its 52 week low when it's historically rebounded. The reason I feel that JAH is still a compelling short is because it's now tapped out in terms of liquidity and the Company has only been able to grow by having the Street focus on its next acquisition. Some analysts have tried to defend JAH and cited organic growth of 5% in 2006, as if that mundane performance offsets weak organic growth in 2007 and a history of weak organic growth prior to 2006. The Street's attraction to JAH has been the deal junky mentality of its management team which results in advisory and financing fees to the Street as well.
Looking at the 2007 pro forma estimate can help show why JAH really can't grow via M&A any time soon. That estimate paints JAH in a very favorable light yet the Company is still levered at 4.6x net debt/EBITDA. In addition, this is a capital intensive business and capital expenditures have generally matched depreciation expense. In the current environment, bankers will need more than pro forma results to lend and the reality, as opposed to pro forma scenario, is JAH is currently levered at 7.7x LTM EBITDA. Even at 4.6x the pro forma EBITDA estimate, that type of leverage for a company like JAH is at LBO levels from the heydays of 2004-2006.
So what this means is that JAH investors will have to now depend on its management team to grow sales organically and actually demonstrate an ability to streamline operations as opposed to just going to the credit markets to borrow and buy another target. Given the horrid track record of generating organic sales, a history of declining margins, poor ROIC, and slowdowns across sporting goods and mass retail, I'm skeptical of JAH's ability to crank out even nominal sales growth. Further, without any acquisition to "distract" the Street with, I expect the Street's stance to JAH (especially without any potential fees from M&A or financing) to start changing.
And finally, JAH investors should question what the Company's managers really think about JAH's prospects. Rather than focus exclusively on JAH, CEO Martin Franklin co-founded Freedom Acquisition Holdings earlier this year which subsequently combined with U.K.-based hedge fund GLG Partners ("GLG"). Franklin owns approximately 4.1% of GLG based on GLG's most recent S-1, which amounts to about $184MM based on page 1 of GLG's presentation at the Credit Suisse Insurance and Asset Management Conference in November 2007. To top it off, Franklin was also a key backer of Liberty Acqusition Holdings ("LIA-U") which raised $1B this past week. As a 10% owner, Franklin's value in LIA-U is worth $100MM, which combind with his GLG stake is worth in aggregate about $284MM.
That's news to me when one considers that Franklin is entitled to about 5.6MM shares of JAH through various stock options and stock awards which equates to about $135MM in JAH equity. I can understand diversification but I have to wonder if any investors in say a hedge fund would tolerate their manager having material interests outside of the fund, particularly when those interests were significantly larger than the manager's stake in his/her main job. What's laughable is that given Franklin's wealth, JAH felt compelled to issue a press release this summer stating Franklin and the rest of management purchased a grand total of...$2MM worth of JAH shares.
A total of $2MM shares purchased across JAH management when Franklin's total compensation for one year was nearly $5MM, let alone the various equity interests in JAH and the other entities seems like empty marketing. This is something that has nagged at me with this Company because JAH is a leveraged abomination that's been slickly disguised by management. The press release was one item that reinforced that view but also minor details such as this exchange with Granview Capital Analyst Justine Ho and Franklin during the Q3 2007 conference call:
Justine Ho - Grandview Capital - Analyst: Hi. I just wanted to ask if you have pro forma data, pro forma EBITDA possibly, or if not that, then perhaps what was the adjusted EBITDA coming from K2 and Pure Fishing in the third quarter?

Martin Franklin - Jarden Corporation - Chairman & CEO: No, we don't have, and we don't give out, pro forma information. The SEC doesn't particularly like it and we've been consistent on that for the last five years.
What irked me about this was that I had the sense that the information may have not been released because it could have been viewed negatively. The reason I was skeptical is because this 8-K broke out pro forma financial information related to the JAH/K2 merger so it would seem very strange that JAH would not provide that information during its conference call, particularly when pro forma revenues and net income for JAH/K2 were in the Q3 10-Q which was released a few days after the call. At any rate, I may be nitpicking but in my opinion JAH has issues across the board ranging from excessive leverage, poor operating margins, pressure in retail, and conflicted/distracted management.
DISCLOSURE: AUTHOR MANAGES A HEDGE FUND THAT IS SHORT JAH