If you are looking for a good infrastructure play, maybe cement stocks could be a solid foundation for you portfolio. Did you know that many thousands of years ago,cement was made out of cow dung, along with lime and mud. This cement was called 'daub.'
All of the following have market caps above $1 billion:
JHX vs. CX vs. EXP vs. CRH vs. TXI 1-yr chart: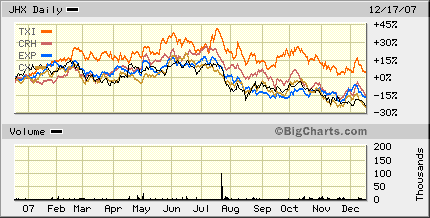 Disclosure: The author does not own any of the above.