Keep an eye on Santarus, Inc. (NASDAQ:SNTS). This week the specialty biopharmaceutical reported financial results for the quarter ended March 31, 2012, beating analyst estimates by $.02.
This good news followed a new SEC Form SC 13G filing by SAC Capital indicating that it held 3.2 million or 5.2% of outstanding shares os SNTS. This is a new position for it since the end of Q4 2011 and it certainly appears that billionaire star fund manager Stephen Cohen's hedge fund is bullish on the stock.
The company, which is focused on acquiring, developing and commercializing products addressing diabetes, high cholesterol, ulcerative colitis and others stated that it had total revenues of $45.9 million compared with $22.8 million in the first quarter of 2011. It also indicated that it had cash, cash equivalents and short-term investments of $65.5 million as of March 31, 2012 compared with $58.6 million at December 31, 2011
After starting 2012 on a strong note by doubling total revenues doubled from the prior year period thanks to a significant contribution from net sales of GLUMETZA®, higher sales of CYCLOSET® and an encouraging start of FENOGLIDE®.
Gerald T. Proehl, president and chief executive officer of Santarus said they:
continue to advance our clinical programs and we anticipate reporting top-line results from [two] Phase III studies for RHUCIN® and rifamycin SV MMX® during the second half of the year.
Our research shows that they are also expecting that the FDA will complete its review or otherwise respond to their Uceris 9 mg for the induction of remission of mild to moderate active ulcerative colitis NDA by mid-October, 2012. That could include an Advisory Committee meeting and we all know how much biotech traders live to trade those events.
A look at this chart is another bullish vote of confidence for the stock so long as it breaks past resistance at $6.50: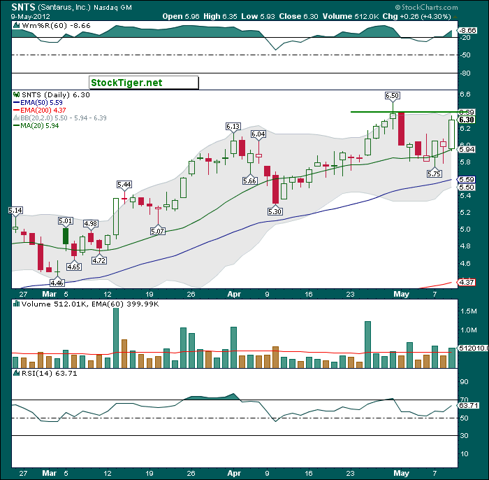 Speaking of Advisory Committees, shares of Arena Pharmaceuticals (NASDAQ:ARNA) jumped after the FDA posted its briefing documents and rigorous evaluation of data supporting the firm's weight loss drug Lorcaserin. The documents implied that sufficient new data was given to the FDA, to alleviate worries about the risk of tumors and heart problems from the obesity drug.
A 2010 advisory committee voted 9 to 5 that Lorcaserin should not be approved but the FDA followed their advice, and asked Arena for more data in order to look at those concerns specifically. As others have recently pointed out, despite bear raids which really deflated the stock's price needlessly, a positive recommendation by the expert Advisory Committee on Thursday should pave the way for a final review of the modestly effective weight loss drug in June 2012.
There was a huge sigh of relief after two FDA reviewers just about dismissed concerns that tumors caused by Lorcaserin in rats would lead to cancers in people, an issue that was one of the major points of discussion in 2010.
BMO Capital upgraded Arena Pharma from Market Perform to Outperform and raised their price target from $1 to $7 and shares have reacted accordingly, gapping up and moving higher the past two sessions.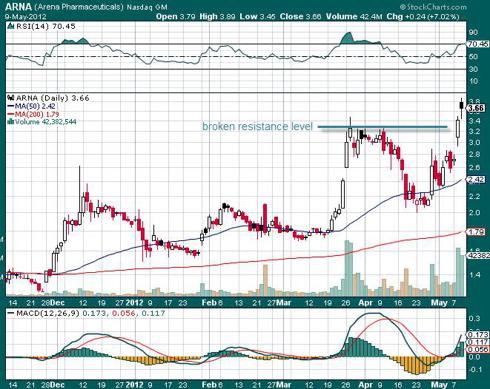 For those of you who prefer speculative biotech penny stocks, there are plenty of big board listed bargains out there, but not many in late-stage trials like this one. Be warned, however, this one has been attacked for taking way too long to get through the FDA approval process, but it has been building value and fans among biotech traders. I'm taking a hard look at CEL-SCI (NYSEMKT:CVM).
Yes, that firm that has been working for over twenty years to bring a new first line therapy for head and neck cancer to market, and now that the firm has finally reached PHASE III, speculators are picking up cheap shares and taking the stock up one leg at a time.
There appears to be some forward-looking trading going on here as investors are looking for dosing info or news about the progress of the Phase III study. They're hoping it could come at the Cancer Vaccines and Cancer Immunotherapy & Immunomodulation conference next week. Eyal Talor, PhD of CEL-SCI Corporation will take the stage along with Francesco Marincola, MD of the National Institutes of Health and John S. Yu, MD of Cedars-Sinai Medical Center and OTC listed market mover Immunocellular Therapeutics (NYSEMKT:IMUC). All are expected to speak to an audience at The New York Academy of Sciences.
Biotech traders also feel it bodes well for stocks like CVM that experimental drugs which have shown a big effect early in development for treating serious or life-threatening diseases may get a faster path to U.S. approval under a proposal likely to become law this year.
CEL-SCI has taken forever to get through the FDA approval process, but it doesn't quite seem to be "an ATM Machine" as some have suggested.
First, the company was stuck in their development path with good PHASE II study results unable to move forward until they built a custom $25 million cold-fill lab which has been cranking out and shipping the PHASE III drug doses around the world since.
A close examination of filings shows that there were many times along the way when executives of the company had to self-fund the company to keep it alive. Why not just give up? After all, Cel-Sci management has had to raise money during the past couple of years, some of the toughest times for biotech investing. I would think that they have succeeded in doing so because they have data and a plan which could push them through the FDA approval process, shortened or not.
Finally, the PHASE III trial is a world-wide trial and is expected to be the largest of its kind. Why go through all this trouble in order to fool retail and institutional investors? There are far easier ways to make money in the market - even as a scam.
As some have recently pointed out, the longer the PHASE III trial goes on without any negative events, the higher the share price goes. Ditto for getting closer to the finish line. Biotech traders know that moving through PHASE III and closer to results provides an excuse to trade higher. That is precisely what shares have been doing here: slowly and quietly moving, consolidating and then building one month after another. I agree with others that it is very much possible that CVM could inch higher still as the Multikine trial progresses. MLV has a $2 price target on this one.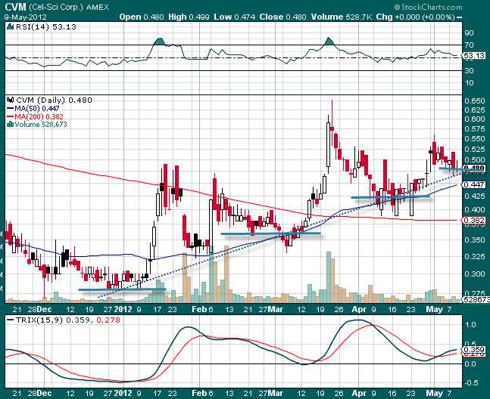 Disclosure: I have no positions in any stocks mentioned, and no plans to initiate any positions within the next 72 hours.