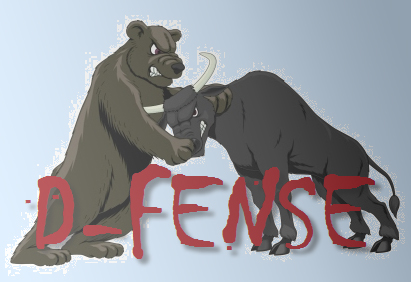 Greece is at a political impasse (as if you care now). Spain saw most bank stocks getting trashed (Santander down 6%) while sovereign debt exceeded 6% for the first time since November 2011-and that wasn't a great period. Moody's is set to cut ratings on over 100 banks but recently most investors don't seem to regard credit ratings with much concern. (Well, they did shoot themselves in the foot, right?)
Chinese stocks fell sharply after Cosco (NASDAQ:COST) holdings dropped more than 4% on fears of a slowdown in shipping. And, SAIC Motor slid 2.9% after the Chinese government banned state-owned companies from buying expensive vehicles for executives. (What would GM do?) Also, according to Nomura securities sales, heavy construction machinery was declining.
Once again stocks opened sharply lower only to see some buying later in the trading day. This action is either from those wishing to defend their positions or the usual crowd of dip buyers. Perhaps all this late day buying is wasted buying power. After all, despite repeated selling or distribution the VIX has remained oddly relatively low making bulls rather complacent.
Perhaps they believe the Fed has their backs with more QE. It's not a silly thought on their part given how far down the QE road the Bernank & Co has already gone. ("In for a penny, in for a pound"?) But even Fed Governor Kocherlakota was off the official "talking points" today stating the Fed needs to set the ZIRP exit date. And, Goldman Sachs reduced GDP estimates to 1.9% which is way off the Fed's more cheerful outlook.
There wasn't much in the way of economic news but earnings news from stalwarts like Macy's (NYSE:M) disappointed investors. The company stated the outlook would only be $3.30 vs $3.39 analysts were looking for.
The rout in commodity (NYSEARCA:DBC) markets continued but did slow on some late day buying. Gold (NYSEARCA:GLD) continued to see selling as did crude oil (NYSEARCA:USO) and base metals like copper (NYSEARCA:JJC). The dollar (NYSEARCA:UUP) was higher most of the day but didn't close on the highs of the day. Some stories were circulating the PBOC (People's Bank of China) was intervening in the open market supporting the euro (NYSEARCA:FXE) in the open market. That would explain the higher than expected levels for the beleaguered eurozone. The Treasury auctioned 10 year bonds (NYSEARCA:IEF) to yield 1.85% which is below the prevailing (rigged?) rate of inflation. There are institutions that "must" own bonds but you don't have to.
Volume was once again heavier as distribution continues. Breadth per the WSJ was negative once again-and, yes, we're quickly getting short-term oversold.
click to enlarge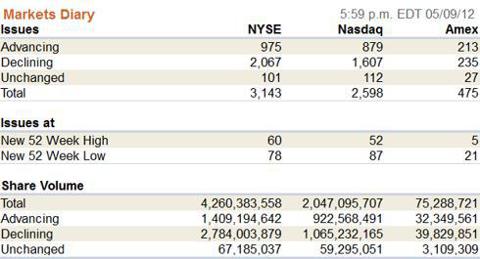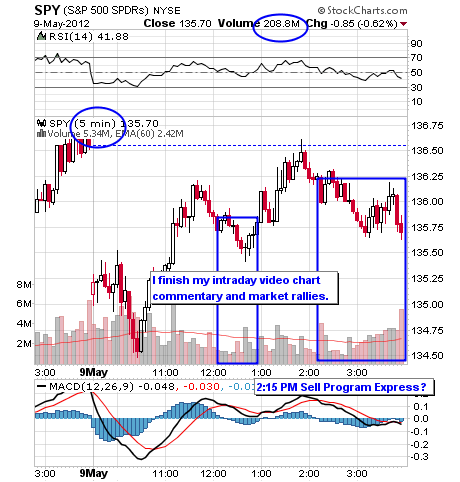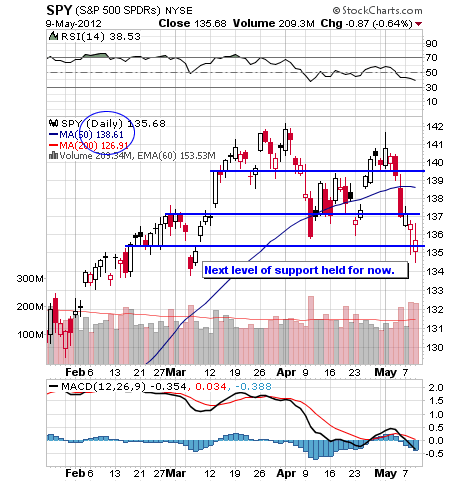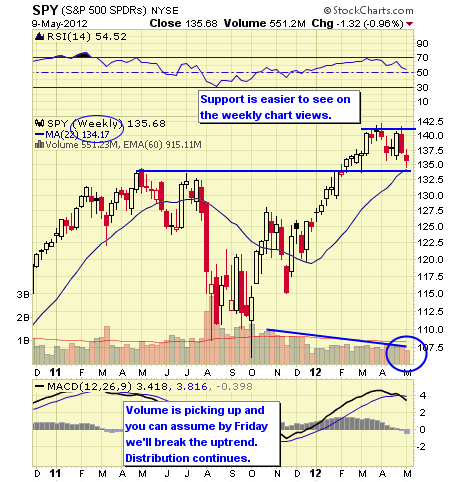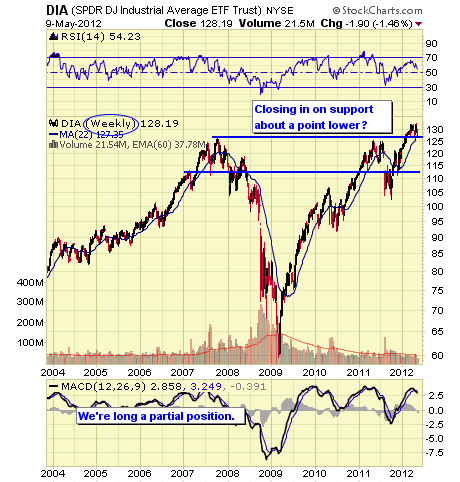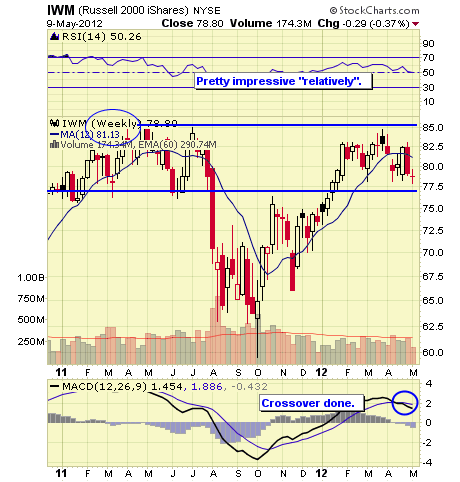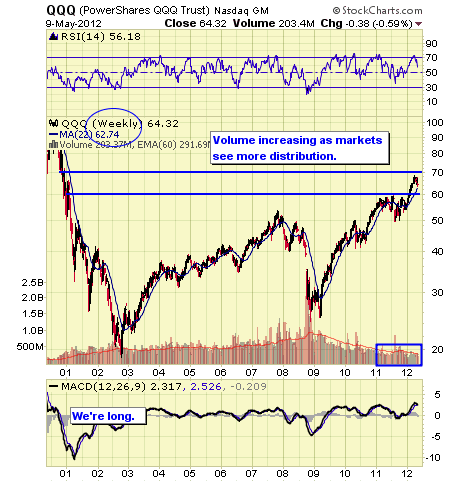 U.S. Sector, Stocks & Bond ETFs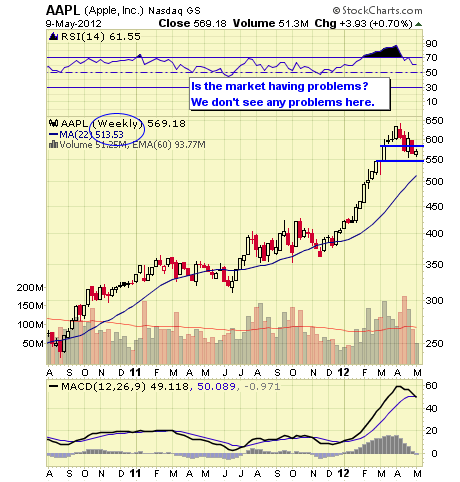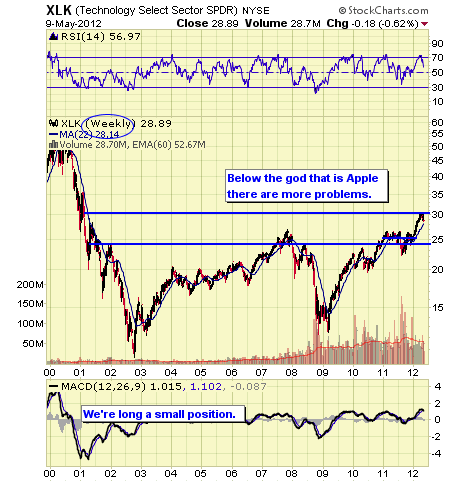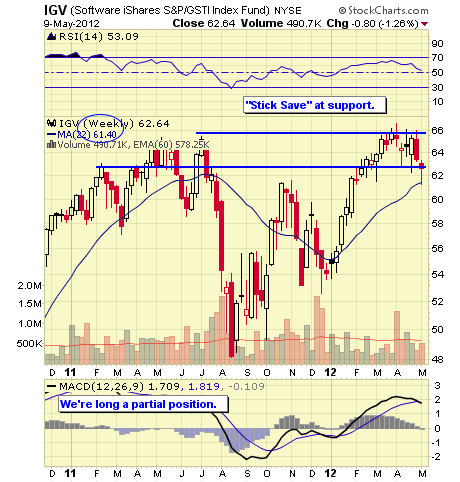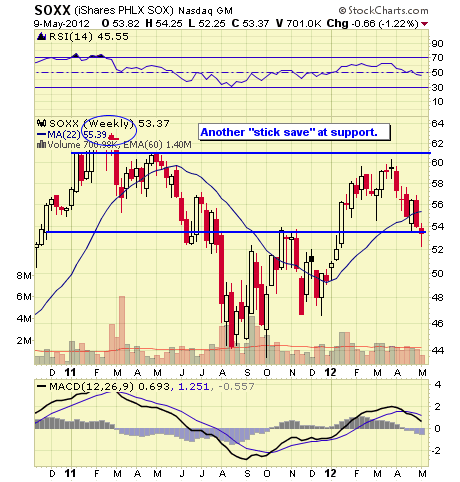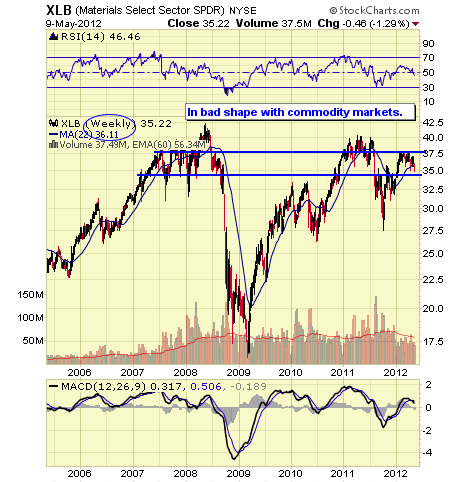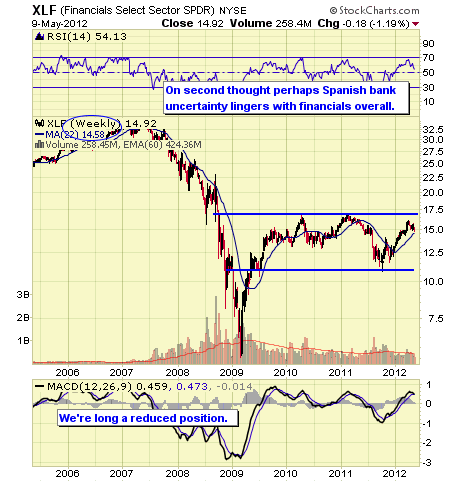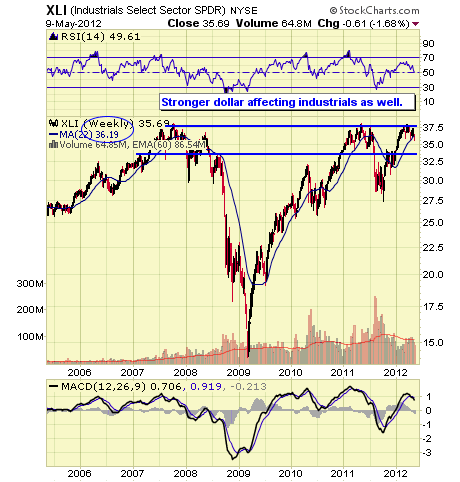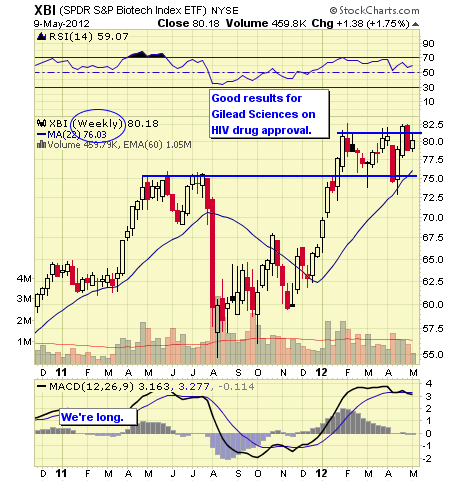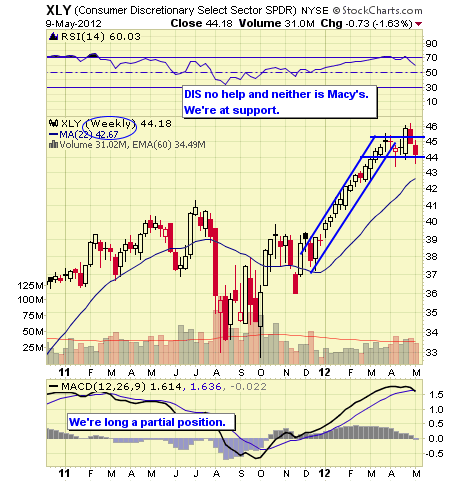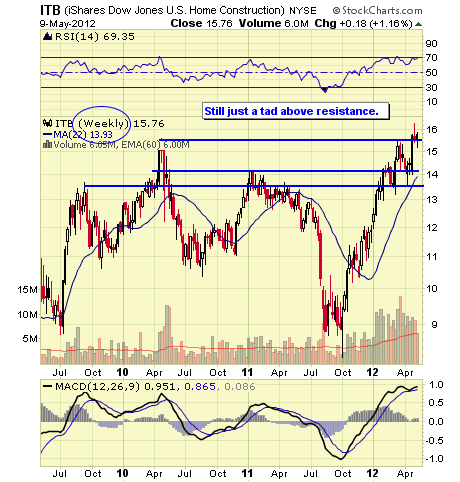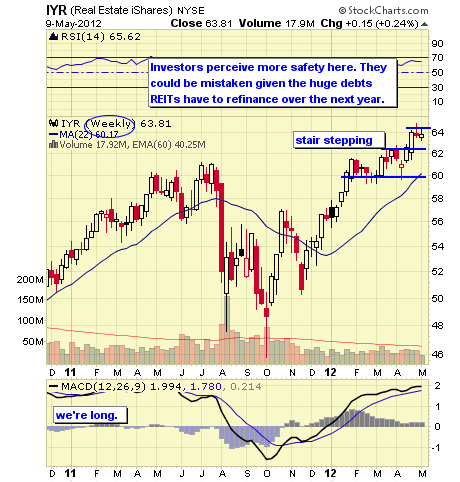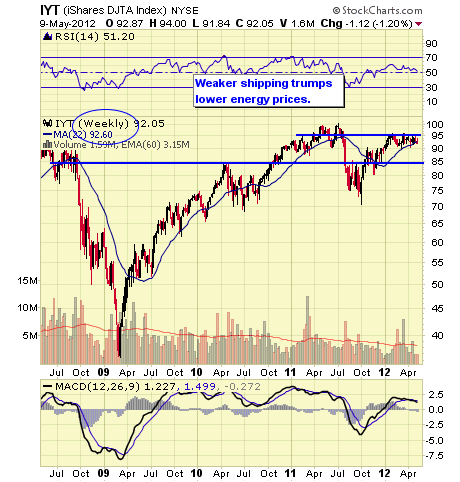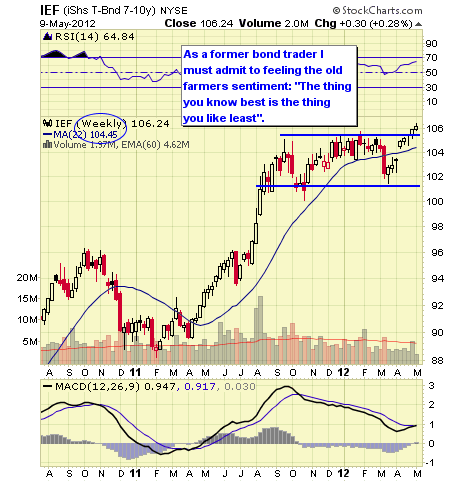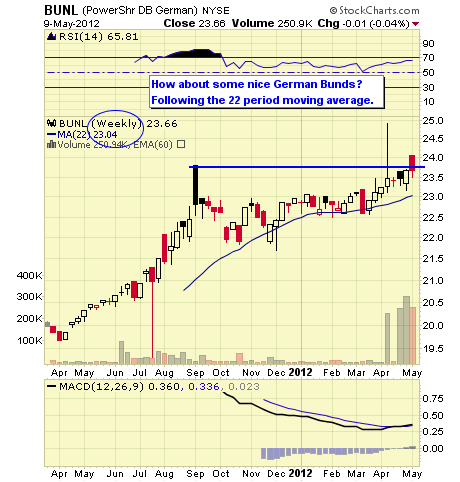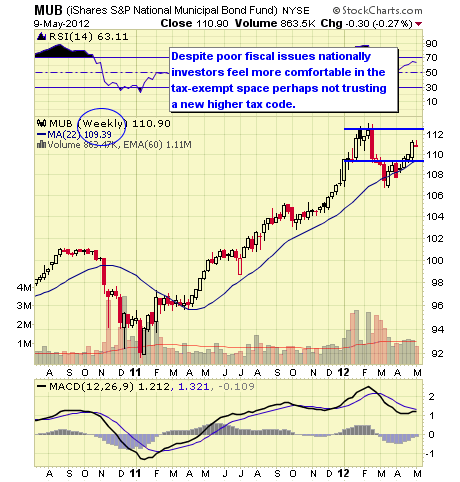 Currency & Commodity Market ETFs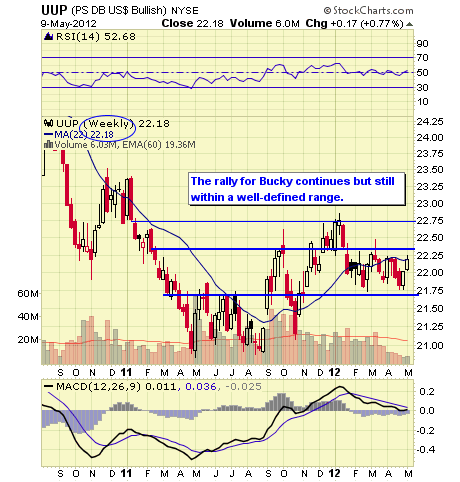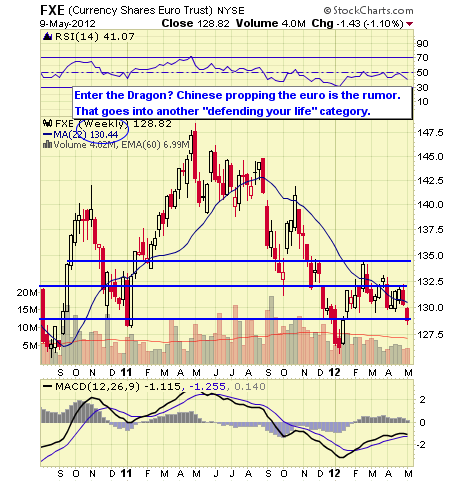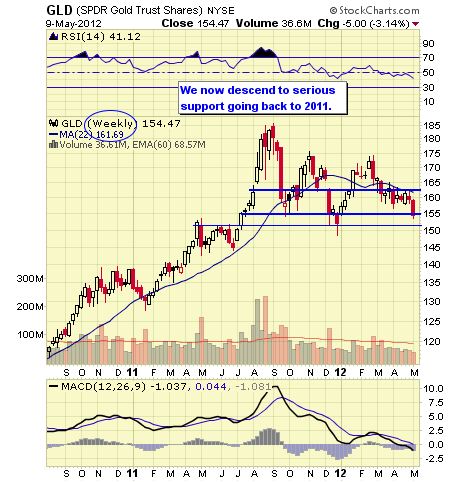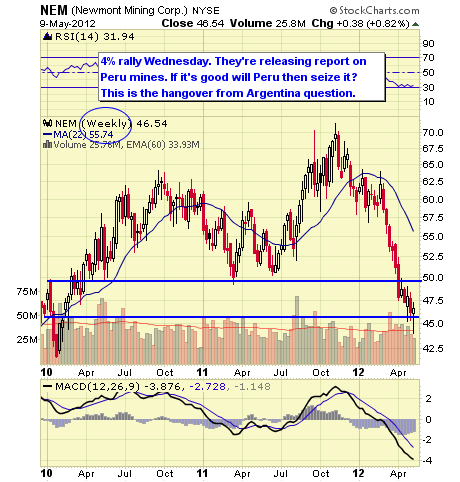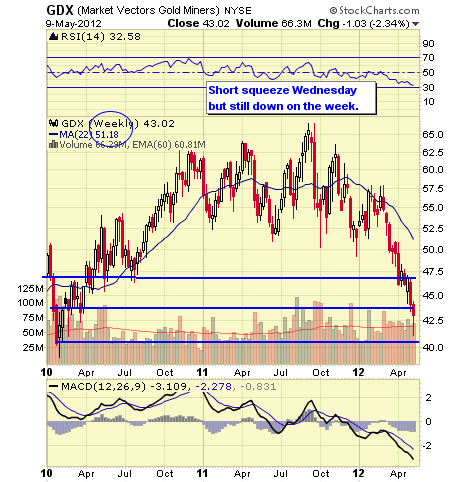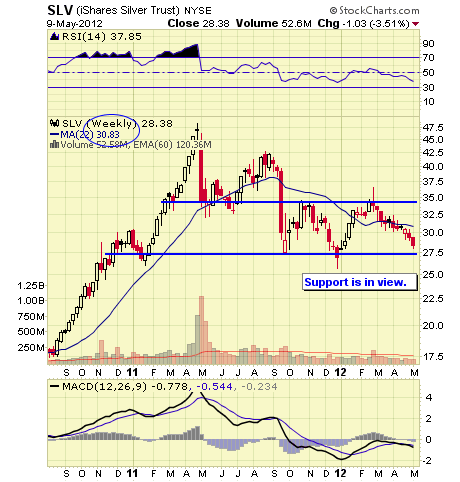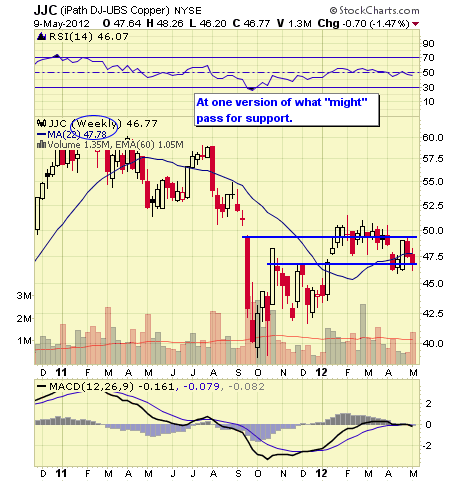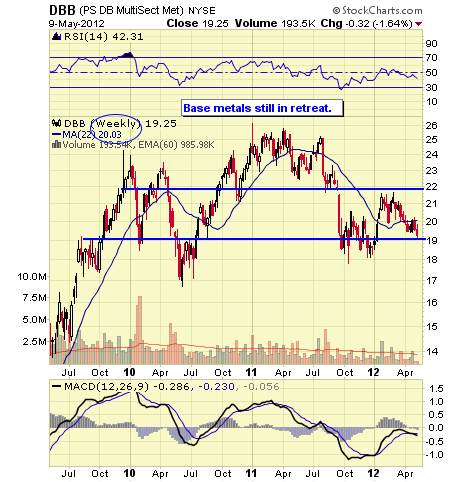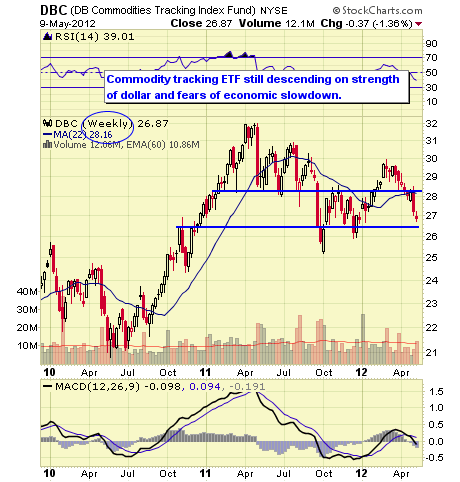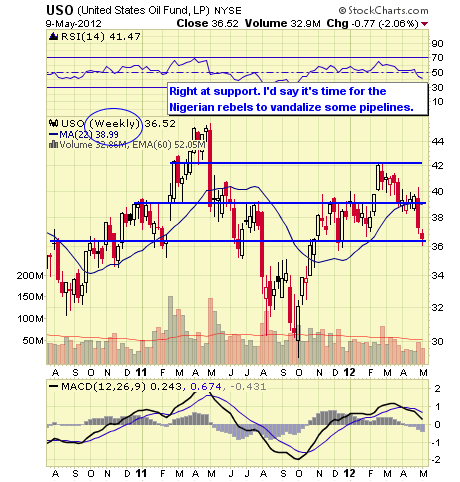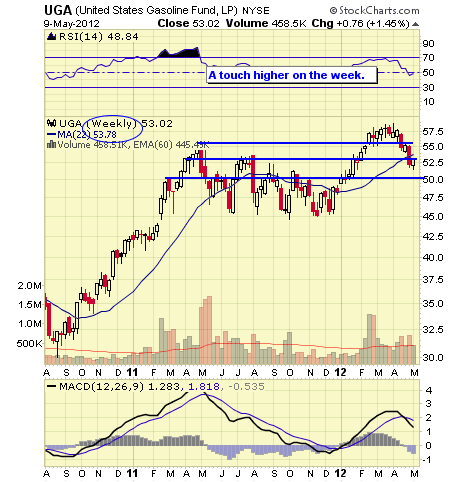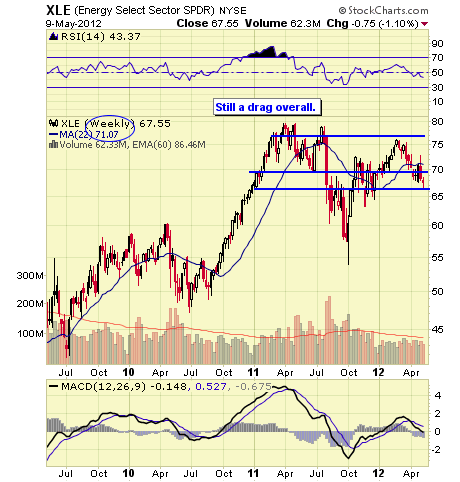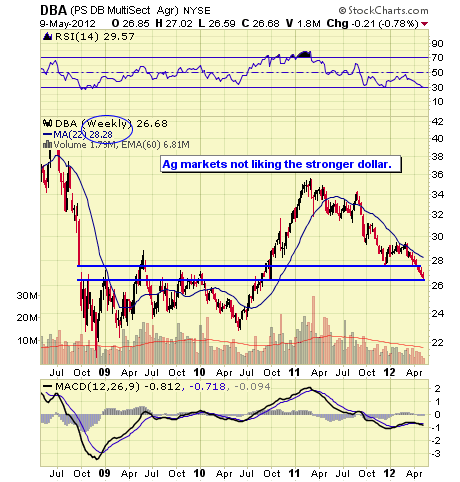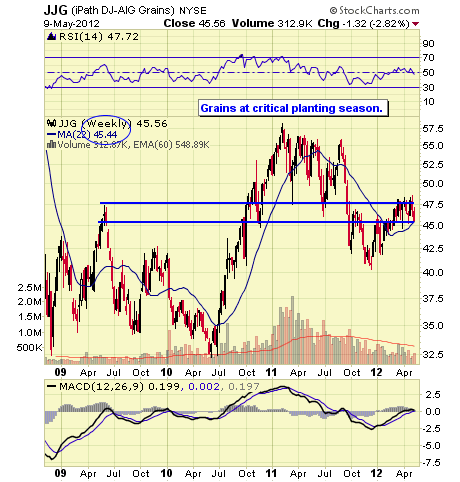 Overseas Sectors & ETFs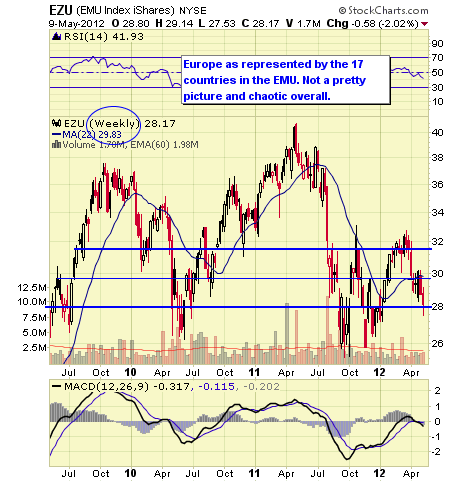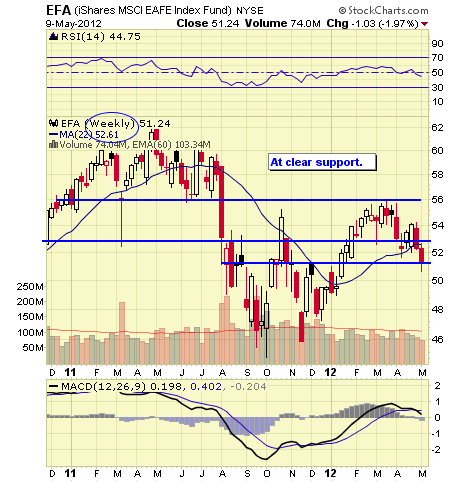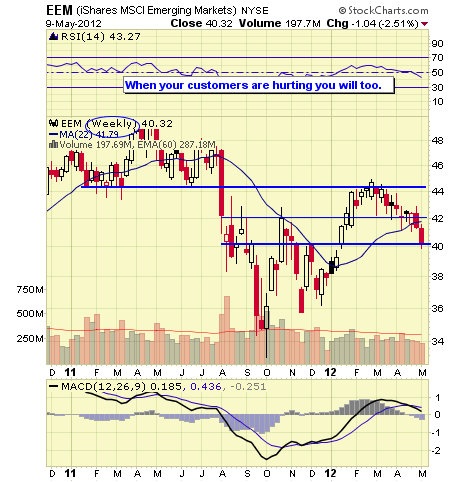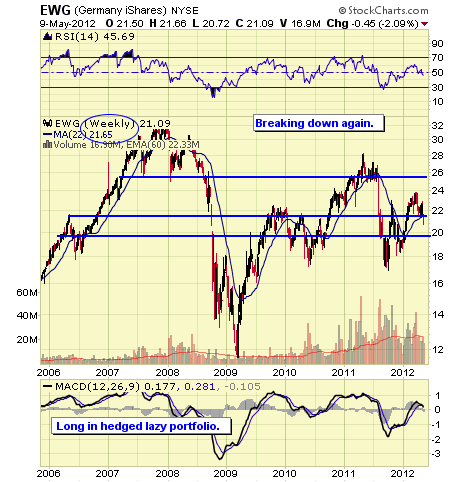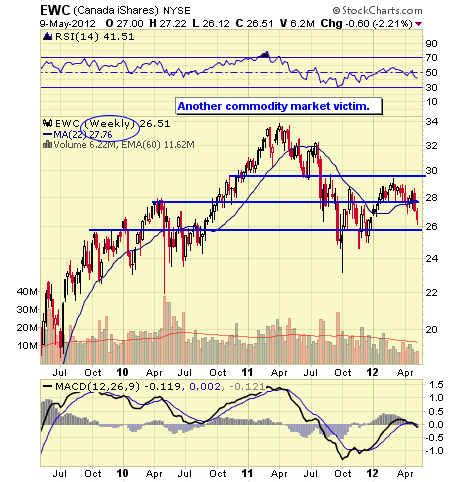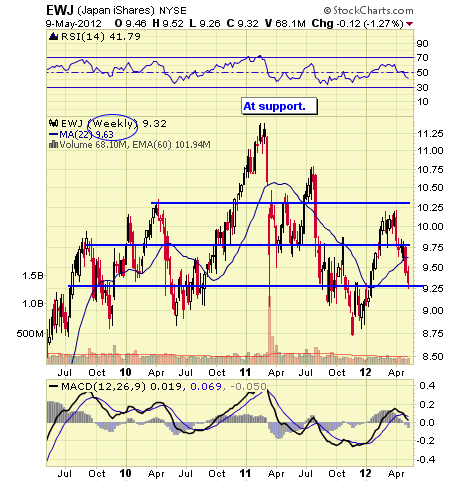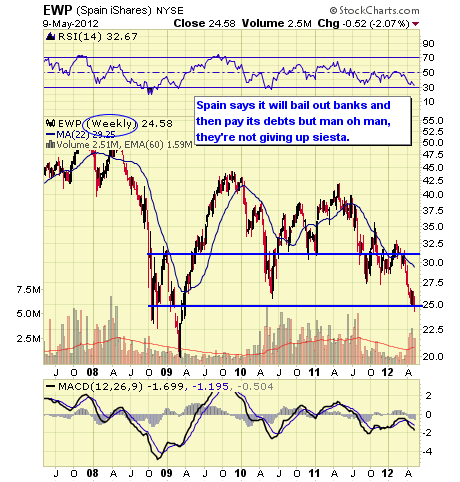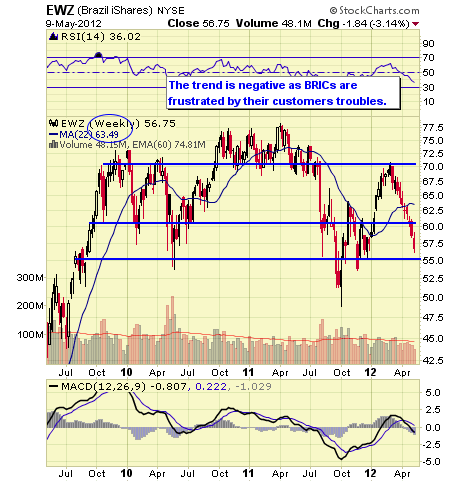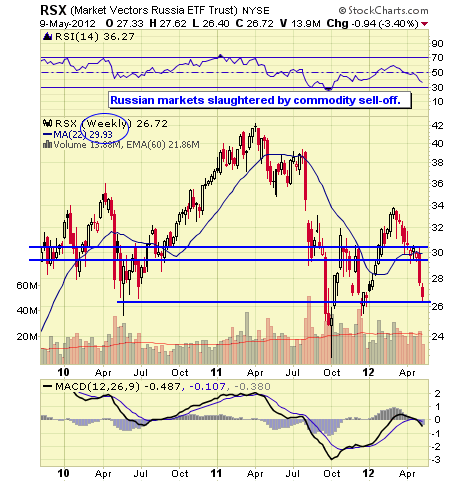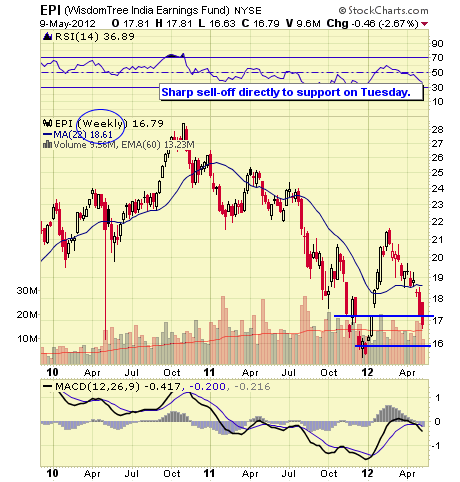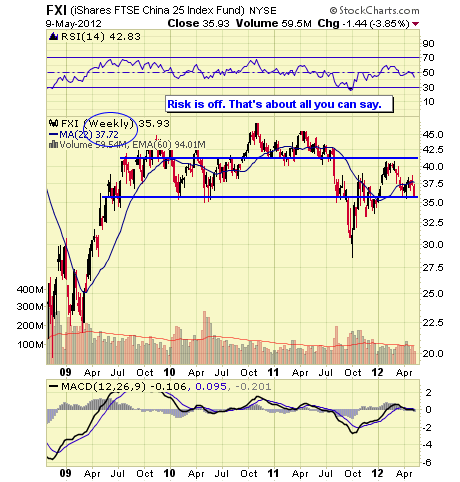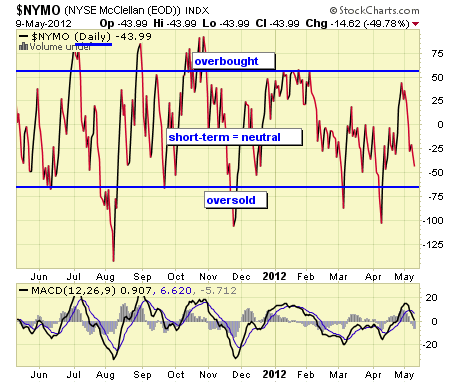 The NYMO is a market breadth indicator that is based on the difference between the number of advancing and declining issues on the NYSE. When readings are +60/-60 markets are extended short-term.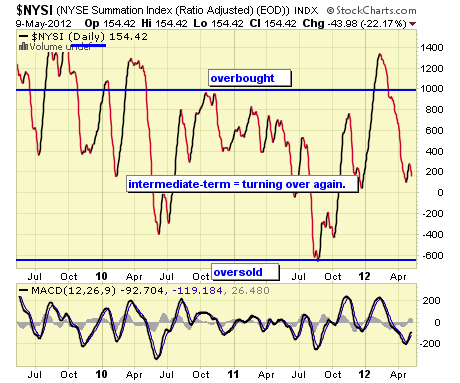 The McClellan Summation Index is a long-term version of the McClellan Oscillator. It is a market breadth indicator, and interpretation is similar to that of the McClellan Oscillator, except that it is more suited to major trends. I believe readings of +1000/-1000 reveal markets as much extended.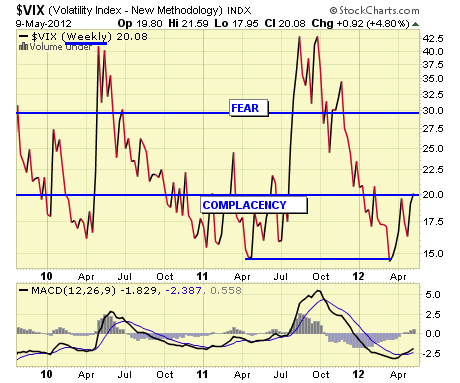 The VIX is a widely used measure of market risk and is often referred to as the "investor fear gauge". Our own interpretation is highlighted in the chart above. The VIX measures the level of put option activity over a 30-day period. Greater buying of put options (protection) causes the index to rise.
Conclusion
The VIX finally hit 20 as bulls got a wake-up call. But this may just be getting started. The distribution over the past month has been ongoing with heavy volume sell days followed by light volume melt-ups. It's really that simple.
I have a sense of denial by the always bullishly conflicted financial media. But if the selling keeps up they'll have to invite a few bearish guests.
Anyway bulls await Thursday's speech by Bernanke where they'll be looking for a clue about more stimulus (aka, QE). He may just repeat, "all tools are on the table" and that may cause a rally.
Let's see what happens.
Disclosure: I am long MGV, BND, BSV, VGT, VWO, VNO, IAU, DJCI, DJP, VMBS, VIG, ILF, EWA, IEV, EWC, EWJ, EWG, EWU.