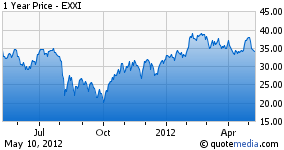 During the last six years, Energy XXI (EXXI) has completed five major acquisitions, making EXXI the third largest producer on the Gulf of Mexico shelf. The company's historic core strategy is to acquire and exploit producing oil properties; however, more recently, EXXI has been unlocking additional production value and reserve growth through its organic drilling programs.
Recently, Energy XXI announced fiscal Q3'12 operating and financial results for period ended March 31, 2012. The company reported fiscal Q3'12 net income of $82.5 million, or earnings per share of $1.04, compared to fiscal Q3'11 net income of $14.0 million, or earnings per share of $0.19, an increase of 487%. Revenues during the quarter totaled $336 million, an increase of 30% from the same quarter last year. Production reached record highs and increased 9.4% year-over year to average 45,300 BOEPD during the fiscal Q3'12 quarter. Current production reported at the time of the news release on May 2, 2012, was 52,350 BOEPD (70% oil). The company's realized oil price was $109.49 per barrel.
Click here for the news release.
Oil, Oil, and More Oil - Ramping up Drilling Activity for the Remainder of 2012
The company continues to focus its operational programs on crude to organically grow production. Over the last two years, EXXI has increased oil-weighted production by approximately 80%. During the fiscal Q3'12 quarter, Energy XXI increased its rig count to five operated rigs and four non-operated rigs to keep the positive momentum moving forward. On its conference call, EXXI said the company expects to have an additional six well coming on line during this quarter which could reflect an additional 10,000 BOEPD which could push Energy XXI's production over 60,000 BOEPD as they exit fiscal 2012. With this additional activity comes the need for raising CAPEX which is not an issue if the company achieves their stated production expectations which then generates additional free cash flow. Total capital expenditures for fiscal 2012 ending June 30, 2012 are expected to be between $500 million and $550 million, an increase from between $450 million to $500 million.
"Record production and strong crude oil price realizations made this another excellent quarter," Energy XXI Chairman and CEO John Schiller said in the news r. "Oil continues to dominate our production profile, even with the significant increase in natural gas volumes at Grand Isle. Our average realized oil price rose to $109.49 per barrel, which generated free cash flow that continued strengthening the balance sheet, as net debt dropped to 43 percent of total capitalization. Our drilling and re-completion programs have achieved outstanding results, positioning Energy XXI for future production growth. Current production is 52,350 BOE/d, of which approximately 70 percent is crude oil."
Legacy Property Production on the Upward Trend
At the Main Pass 73 field (100% WI), Energy XXI was able to increase the Onyx well's production volumes to nearly 4,750 BOEPD net, an increase of 68% from previous production levels. Keep in mind, 96% of this well's production stream is oil. In the same reservoir, the nearby C-2 and C-12 wells were re-completed adding an additional 2,917 BOEPD net to the company. These wells require relatively little capital to increase oil production - and that is Energy XXI's key strategy - take over old oil fields, invest relatively minimal capital, and reap the increased volume benefits. OAG360 notes that the Onyx and C-12 wells are the two largest producing oil wells on the Gulf of Mexico shelf and have cumulative production of 600,000 barrels of oil since June 2011.
Reinstating Dividend Foreshadowing Solid Future Cash Flows?
EXXI's board of directors declared a regular quarterly cash dividend of $0.07 per share of common stock, to be paid on June 15, 2012 to shareholders of record on June 1, 2012. The company said on its conference call that the company wouldn't be doing a dividend if they didn't feel comfortable that they had some great cash flows coming. OAG360 notes that Energy XXI's net cash from operating activities in the last nine months of fiscal 2012 increased 153% to $566.2 million, compared to the same period in fiscal 2011. Click here for the dividend release.
Disclosure: I am long EXXI.
Disclaimer: Oil & Gas 360® did not receive compensation for the publishing of this company note. Professionals associated with Oil & Gas 360® hold a long investment position in Energy XXI, but do not intend to buy or sell company shares over the next five business days. Although Energy XXI pays Oil & Gas 360® a monthly fee to be a profiled company on the website, Oil & Gas 360® reserves the right to publish notes and observations on any company that is sees fit to distribute.