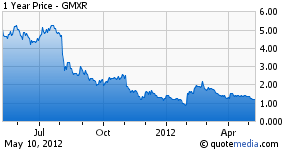 GMX Resources (GMXR) is an oil and natural gas exploration and production company currently targeting oil prospects in the Williston Basin Bakken/Three Forks, and the DJ Basin Niobrara. GMXR also operates in the Haynesville/Bossier Formation and the Cotton Valley Sand Formation in the East Texas Basin.
Last year, GMXR initiated a significant ongoing transition from its natural gas weighted assets in East Texas to an oil focus through its entrance into the Bakken and Niobrara. In one year, GMXR has gone from producing no oil in North Dakota to operating and participating in a total of 12 Bakken wells. OAG360 notes this will be slow transition to oil - the company has stopped drilling its Haynesville/Bossier acreage and put in place a 1.2 Bcfe Volumetric Production Payment (VPP) to focus its efforts on oil opportunities in the Williston Basin. This will have an increasing impact in coming quarters on production volumes and revenues.
Recent Financial Results
During Q1'12, GMXR reported a net loss of $40.6 million, or a loss of $0.66 per share, compared to a net loss of $54.5 million, or a loss of $1.29 per share during the first quarter last year. Oil and natural gas sales during Q1'12 decreased 41% to $17.4 million compared to $29.4 million during Q1'11. OAG360 notes that readers should be aware that 21% of the 41% decrease in oil and natural gas sales is attributable to GMXR's Haynesville/Bossier natural gas production suspension, and 20% of the 41% decrease is attributable to its 1.2 Bcfe VPP agreement. As mentioned earlier, oil volumes need to steadily increase for GMXR over coming quarters. During Q1'12, oil production increased 41% to 31 MBbls (341 BOPD), from 22 MBbls last year as a result of the company's new Bakken production. In addition, the company expects to add as many as six additional wells during Q2'12 which should help the company achieve its 80 MBbls guidance. Approximately $68 million of GMXR's $97 million CAPEX budget will be allocated to its drilling and development initiatives in the Bakken.
Click here for the news release.
Strong Well Performance Coming out of the Bakken
On May 7, 2012, GMXR reported results from its fifth operated well in McKenzie County. The Akovenko 24-34-1H (66% WI), achieved a peak rate of 1,483 BOEPD. GMXR is still awaiting the completion of the fracture stimulation job on its sixth operated well in McKenzie County, North Dakota. As we mentioned in our previous write-up, "GMX Resources "Walking-the-Walk" - Company Delivers Positive Oil Well Results out of the Bakken/Three Forks Formations," GMXR's fourth operated well, the Lange 11-30-1H (89% WI), achieved a company record peak production rate of 2,549 BOEPD. All together, these four operated wells place GMXR's average peak flow rate for its McKenzie County wells at 1,855 BOEPD. On the non-operated side, the company achieved strong completions on its first two non-operated Bakken wells as well with the Marsh 21-16TFH (Whiting-operated; 2% WI) and Taboo 1-25-36H (Slawson-operated; 25% WI), which flowed back at average IP rates of 2,694 BOEPD gross and 1,436 BOEPD gross, respectively.
The company did mention on its Q1'12 conference call they are seeing operational synergies emerging in the Williston Basin. GMXR has reduced completed well costs to $8.0 million from $8.5 million per well by drilling wells faster (30 days per well), more efficiently. Further, third party completion costs continue to decline. With the improvement of well costs coming down and better well results, GMX said its projected IRR is now in the range of 50% to 60%.
Click here for the news release on GMXR's fifth operated well.
We note the investment community is often much too impatient with transitions on the order of what GMXR is trying to achieve: finding acreage and drilling producing oil wells in the small cap space takes time, but we believe investors should focus squarely on the resource, rather than the timeline. In GMXR's case, questions are still in the air regarding the company's acreage quality and its ability to fund its future wells at a drilling pace required to address capital issues in 2013 and beyond. Given recent results, GMX Resources is making progress in the right direction. In the NFL, an effective running game which moves the ball downfield can often be just as successful as the quick-paced aerial passing attack in terms of delivering wins, although one may produce more compelling plays for the spectator. We'll just have to wait and see how effectively GMXR continues to move the ball downfield.
Disclosure: I have no positions in any stocks mentioned, and no plans to initiate any positions within the next 72 hours.
Disclaimer: Oil & Gas 360® did not receive compensation for the publishing of this company note. None of the professionals associated with Oil & Gas 360® hold any investment position in GMX Resources, nor does it intend to in the course of the next five business days. Although GMX Resources pays Oil & Gas 360® a monthly fee to be a profiled company on the website, Oil & Gas 360® reserves the right to publish notes and observations on any company that is sees fit to distribute.