Phillips 66 (NYSE:PSX) is the refiner that was spun off from ConocoPhillips (NYSE:COP) recently. It has received a number of analyst upgrades. There is reason for this. First PSX is not just a refiner. It also has a chemicals arm and a midstream arm. Now that it is no longer part of COP, management is planning a clear cut move to greater emphasis on these latter two businesses. In 2011 the split was 84% Refining and Marketing, 11% Chemicals, and 5% Midstream. New management's long term plan is to move to 50% Refining and Marketing, 25% Chemicals, and 25% Midstream. These latter two businesses have a much higher ROCE (return on capital employed) for PSX. From 2009-2011 PSX's businesses had a combined ROCE of about 8%. Per PSX's long term plan that figure should rise to 15%+ on average. I note the 2011 figures are actually much higher than the three year average figure cited. The annualized GAAP ROCE for PSX was 18% for 2011 (12% on an adjusted basis). By comparison, the 2011 ROCE on a GAAP and an adjusted basis was 30% for PSX's Chemical business alone.
Why is the Chemical business doing so much better? First it has access to extremely cheap US natural gas, which it uses in the manufacturing process. With approximately 80% of its Chemical manufacturing capacity in the US, this is an important factor. Second, the margins on certain chemicals, such as ethylene, are much higher when they are manufactured from NGLs versus naphtha (oil derived). Ethane derived ethylene has a cash margin of more than $600/ton currently. Naptha derived (oil derived) ethylene has a cash margin of only $100-$200 per ton. You don't have to be a rocket scientist to figure out that NGLs are the better base. PSX has a great supply of cheap NGLs (ethane among them) in the US. Third, the US is producing more of its own oil. Plus it is building the infrastructure to transport this oil within the US to where it is needed.
The Seaway Pipeline reversal is now scheduled to go online on May 17, 2012. This will pump 150,000 barrels/day of light sweet crude from Cushing, Oklahoma to the Gulf Coast. It will be the first of many pipelines that will soon bring the price of Brent Crude back into line with WTI Crude. There are currently plans by the Seaway Pipeline owners, Enterprise Products Partners LP (NYSE:EPD) and Enbridge (NYSE:ENB) to expand this pipeline to approximately 400,000 barrels/day and then to 850,000 barrels/day. The first expansion is scheduled to be ready in early 2013, The second is scheduled to be ready in early 2014. In addition to this there is the Keystone XL Pipeline by TransCanada (NYSE:TRP) that will move crude from Cushing, Oklahoma to the Texas Gulf Coast. There is the new Flanagan South Pipeline that will move another 585,000 barrels/day from Illinois to Cushing. There is the Bakken Express Pipeline from Oneok (NYSE:OKE). It will move 200,000 barrels/day from the Bakken to Cushing, Oklahoma. There are many others I have not mentioned. The point is that the starting material for many refineries will soon become relatively cheaper. This will be a trend that should benefit big refiners for the next several years. Notably PSX does have three Gulf coast refineries with a total capacity of 733 MMbpd. PSX has total refining capacity of 2,231 MMbpd. PSX stands to benefit from the extra crude that will be piped from Cushing to the Gulf Coast increasingly over time.
In the shorter term, refiners may be due for an up move on just a technical basis. They have been hurt recently by a falling 321Crack Spread caused at least partially by the relatively high oil prices. The fact that many refineries have had to pay effectively Brent Crude prices has been a factor. The Seaway Pipeline coming online on May 17, 2012 should help drop Brent prices relative to WTI prices. The global economic slowdown should help to drop oil prices in general. In fact they have recently fallen to approximately $97/barrel for WTI. This may account for the recent rise in the Crack Spread. The chart below shows the recent little improvement. If investors are lucky this Crack Spread rise will become a bigger trend. Regardless, the summer driving season is almost upon us. Refineries operate at a higher capacity utilization during this time period. They are more efficient in this mode, which means they make more money due to both increased volume and increased margins. I see no reason to think this year will be greatly different. The one year WTI 321Crack Spread chart is below: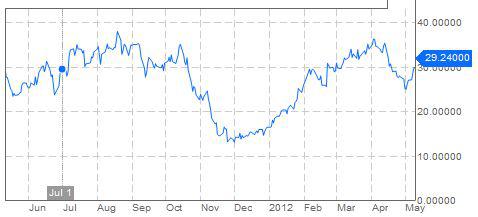 Regardless of the Crack Spread, the price of oil, and the summer driving season, the refiners are beaten down. Yet they are still good stocks with good potential. PSX has not paid a dividend yet, so it is hard to say exactly what the dividend is. However, other big refiners such as Valero (NYSE:VLO) and Marathon Petroleum Corp (NYSE:MPC) pay good dividends of 2.70% and 2.60% respectively. I would expect PSX's to initially be in this range. If anything, I might expect it to be higher as ConocoPhillips currently pays a 4.90% dividend. I did find indications that PSX does plan to pay a dividend, but I did not find mention of the exact amount. PSX management may not have decided yet. The spin off from COP has been very recent.
In addition to the expansion of the Chemicals business PSX also plans to expand its Midstream business. It has approximately $4B of growth projects in the execution phase. It has an additional $2B in opportunities. It is adding 500Mbpd in NGL logistics capacity.
I have left out many of PSX's projects. I was impressed by all. However, the bottom line is that this is a newly smaller company with great assets. It was a slower, more lumbering entity when it was a part of the bigger company . With its newly reduced size, its growth should accelerate. Plus its huge inherent value remains. That will be added to. On top of this many people love to buy IPO's, especially when they are sure they are high value ones. This should be true of PSX. It should get some positive investor sentiment from being a smaller and more nimble newly IPO'd company. This should help the price of the stock appreciate. It may be a good place to put some of your money for the next few years. It is bound to benefit from the increasingly greater availability of cheaper US oil and from the shift in its business model. It has been in business for less than 3 months on its own, so it has no real PE. However, the figures from its business when it was a part of COP indicate that it was a very profitable business in 2011. TDameritrade shows the following fundamental data for PSX:
Price/Earnings (NYSE:TTM) = 4.73
Price/Sales = 0.1
Price/Book (MRQ) = 0.9
Price/Cash Flow = 3.61
It is hard to imagine figures for a refiner that would be much better.
The chart below indicates that PSX is showing strength even in the face of adversity -- the recent downturn of the overall market.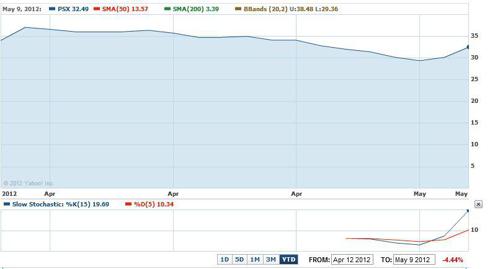 The slow stochastic sub chart shows that PSX is near over bought levels even in the face of a downturn. This is impressive. Many of the indicators on the main chart do not show up because PSX has been in business such a short time. However, the recent up tick in the last couple of days does indicate strength. PSX might be worth some of your money.
Good Luck Trading.
Disclosure: I have no positions in any stocks mentioned, but may initiate a long position in PSX over the next 72 hours.