NeoStem (NBS) is a diversified stem cell technology company that is focusing its broad expertise and resources on the development of high-value cellular therapies aimed at impacting outcomes of serious diseases with an unmet medical need. The company expanded its core expertise in stem cell technologies into manufacturing and therapeutics through acquisitions over the past 18 months. The company also has a profitable pharmaceutical subsidiary in China, of which it holds 51% ownership, the divestiture of which is currently being explored.
What are Stem Cells?
Stem cells have the ability to grow into different cell types in the body and when a stem cell divides, each new cell can either remain a stem cell or become another type of cell with a more specialized function, such as a muscle cell, a red blood cell, or a brain cell.
The two types of stem cells, embryonic and non-embryonic (also called adult stem cells), differ in their origins. Embryonic stem cells are derived from in vitro fertilized eggs. Because of their early-stage development, they are theoretically more capable of differentiating into any required cell type. The drawbacks to embryonic stem cells are potential for tumors or teratomas (tumorigenicity) as well as the moral and ethical issues surrounding the source.
In contrast, NeoStem utilizes non-embryonic stem cells (adult stem cells), which are undifferentiated cells within tissue or organs that can renew and differentiate into some, or all, of the major specialized cell types of the tissue or organ. The primary roles of adult stem cells are to maintain and repair the tissue in which they are found.
In addition, adult stem cells can be either the patient's own (autologous) or donated from someone else (allogeneic). NeoStem utilizes autologous adult stem cells which eliminates the risk of immune system attack or Graft vs. Host Disease (GvHD).
I see at least 5 reasons to buy NeoStem currently:
1. Promising pipeline
Amorcyte, which the company acquired in October 2011, is developing a cell therapy for the treatment of cardiovascular disease. Amorcyte's lead compound, AMR-001, represents NeoStem's most clinically advanced therapeutic and has commenced enrollment for a Phase II trial to investigate AMR-001's efficacy in preserving heart function after a heart attack. The company also expects to begin a Phase I clinical trial by 2013 to investigate AMR-001's utility in arresting the progression of congestive heart failure and the associated comorbidities of that disease. Athelos Corporation, which is approximately 80%-owned by NeoStem's subsidiary, PCT, is engaged in collaboration with Becton-Dickinson (NYSE:BDX), a company that is exploring the earlier stage clinical development of a T-cell therapy for autoimmune conditions. In addition, NeoStem's pre-clinical assets include their VSEL technology platform as well as our MSC (mesenchymal stem cells) product candidate for regenerative medicine.
2. PreSERVE study Phase II data expected at H2 2013
In January 2012, NeoStem's Amorcyte division enrolled the first patient in their PreSERVE Phase II trial, a 160 patient multicenter, randomized, double-blind, placebo-controlled U.S. clinical trial to evaluate the efficacy and safety of a single intra-coronary infusion of a minimum of 10 million cells of AMR-001 post acute myocardial infarction (AMI) in subjects with ejection fractions of 48% or less. To date, 10 clinical trial sites have been activated. The objective of the Phase II study is to determine the safety and the effect of cell infusion of CD34+ cells containing a subpopulation of biologically active CD34+/CXCR4+ cells, on cardiac function and outcomes of patients after AMI. The primary assessment for the effect of AMR-001 on cardiac function will be improvement in cardiac perfusion. The company also intends to evaluate the impact of AMR-001 on cardiac function and adverse events post-myocardial infarction as defined by reduction in cumulative major adverse cardiac events (OTCPK:MACE) at 6, 12, 18, 24 and 36 months, premature death, recurrent heart attack, congestive heart failure, significant arrhythmias, and acute coronary syndrome. Enrollment is expected to be completed after approximately one year with the first data readout in the second half of 2013.
If successful in Phase II, the company plans to proceed with a later stage trial(s) needed to demonstrate meaningful clinical benefit and, if successful, seek approval to commercialize AMR-001 to prevent the adverse consequences of AMI.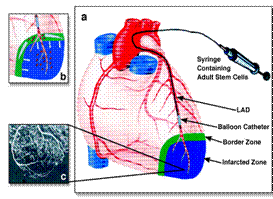 AMR-001 works by increasing microvascular blood flow in the myocardium via neoangiogenesis, thereby reversing post-infarct ischemia and rescuing tissue from hibernation and preventing eventual death (apoptosis).
There was a story on myFOXOrlando on April 27th 2012 how this treatment possibly saved one young man's life. Vijaykumar S. Kasi, M.D., Ph.D., an interventional cardiologist at Orlando Regional Medical Center was able to unclog the artery that caused the patient's heart attack, which was 100 percent blocked, but by then, the damage was already done.
"When the blood supply to a heart is blocked, the whole area of the myocardium does not get enough oxygen and enough nutrition and within a small period of time, the portion of the heart starts to die," Dr. Kasi explains.
There's currently no way to reverse heart damage. The only option is taking medication to prevent it from getting worse. That's why the patient opted to enroll in a clinical trial that's testing whether stem cells taken from his body can regenerate new heart cells.
"The overall goal is to restore function and we see that with the administration of stem cells, the function in that area does recover," Dr. Kasi says.
3. Baxter (NYSE:BAX) Phase III initiation provides further scientific and technical validation for NeoStem's technologies
On February 28, 2012 Baxter International announced that it has initiated a Phase III pivotal clinical trial to evaluate the efficacy and safety of adult autologous (an individual's own) CD34+ stem cells to increase exercise capacity in patients with chronic myocardial ischemia (CMI).
Chronic myocardial ischemia is one of the most severe forms of coronary artery disease, causing significant long-term damage to the heart muscle and disability to the patient. It is often diagnosed based on symptoms of severe, refractory angina, which is severe chest discomfort that does not respond to conventional medical management or surgical interventions.
"The prospect of using a person's own adult stem cells to restore and repair blood flow in CMI is a very exciting concept based on a biological regenerative approach," said Norbert Riedel, Ph.D., Baxter's chief science and innovation officer. "The goals of this Phase III trial are aligned with Baxter's overall mission to develop life-saving and life-sustaining therapies and it will help us determine if the therapy can make a meaningful difference for CMI patients."
The trial will enroll approximately 450 patients across 50 clinical sites in the United States, who will be randomized to one of three arms: treatment with their own autologous CD34+ stem cells, treatment with placebo (control), or unblinded standard of care. The primary objective is to evaluate the efficacy of treatment with CD34+ stem cells to improve the functional capacity of patients with CMI, as measured by a change in total exercise capacity at 12 months following treatment. Secondary objectives include reduced frequency of angina episodes at 12 months after treatment and the safety of targeted delivery of the cells.
After stem cell mobilization, apheresis (collecting the cells from the body) and cell processing, participants will receive CD34+ stem cells or placebo in a single treatment via 10 intramyocardial injections into targeted areas of the heart tissue. Efficacy will be measured by a change in total exercise capacity during the first year following treatment and safety data will be collected for two years. Stem cell processing will be conducted in GMP facilities in the United States by Progenitor Cell Therapy (PCT), a subsidiary of NeoStem.
Baxter's continued commitment to develop CD34+ cells in cardiac indications provides external validation of the scientific and mechanistic rationale for NeoStem's CD34+/CXCR4+ candidate therapeutic, AMR-001.
4. The company is pursuing the divestiture of the majority of its China operations and anticipates they will have been exited by the close of 2012
The company has a 51% ownership interest in Suzhou Erye Pharmaceutical Company Ltd. Erye was founded more than 50 years ago and represents an established, vertically-integrated pharmaceutical business. Historically, Erye has concentrated its efforts on manufacturing and distributing of generic antibiotic products. It has received more than 160 production certificates from the State Food and Drug Administration of China, or SFDA, covering both antibiotic prescription drugs and active pharmaceutical intermediates (APIs). Our current senior executive management team at Erye, Mr. Shi Mingsheng, Chairman, and Madame Zhang Jian, General Manager, joined Erye in 1998 and in conjunction with others, bought it from the PRC government in 2003.
As part of NeoStem's plan to focus their business on the cell therapy industry, the company is pursuing strategic alternatives with respect to Erye. In June 2011 the company engaged a financial advisor to lead the effort to pursue the possible divestiture of their 51% interest in Erye. Marketing efforts have led to a few nonbinding letters of intent. However it is too early to determine whether these or other proposals will lead to definitive agreements.
The business generated $63 million in revenue during 2011. I believe the business could be sold for 0.51 X $63 million = $32 million.
5. There are two analyst firms covering the company with buy ratings
LifeTech Capital is maintaining their strong buy rating and 12-18 month price target of $4.00 based on a 35x multiple on projected 2017 earnings and discounted 30% to adjust for risk.
JMP Securities has a market outperform rating with $3 price target.
Conclusion
I believe the analyst price targets of $3-$4 are achievable in 2H 2013 if the Phase II PreSERVE trial is successful. Additional catalyst could be the divestiture of the company's China business by the end of 2012. The stock is currently trading at its 52 week low which could be a good entry point for a speculative investor.
Disclosure: I am long NBS.