It appears that $560 is the new $360 for Apple (NASDAQ:AAPL).
Apple reported earnings on April 24, 2012 after the market closed and easily beat street expectations. The stock popped $49.72 the following day to $610 but has now traded all the way back down to its pre-earnings level of $565.
The most recent easy money run with Apple occurred from late December to late April. Over the next few months it is going to be much tougher to make outsized gains in Apple. The stock has a history of moving sideways for a prolonged period of time after big gains. After last year's run-up from $320 to $400 into the July 19 earnings report the stock traded sideways for five months- between $360 and $420 -before breaking out to the upside on January 25, 2012.
We could now see Apple trade in a $60 range - between $560 to $620 - until the next positive catalyst catapults the stock above this trading range. During these consolidation phases it is common to get whipsawed in and out of trades on Apple.
A look at a one-year chart for Apple shows how $360 acted as a very strong support level for the stock during sell-offs; it now appears that $560 may have become the new ultra support level for Apple trading.
In the second half of 2011 the $360 support level held on four separate occasions from August to November: August 8, August 19, October 4, and November 25.
For whatever the reason (fundamental, technical, psychological or a combination of all three) whenever the stock dipped to $360 the buyers stepped in and the stock stopped falling in price.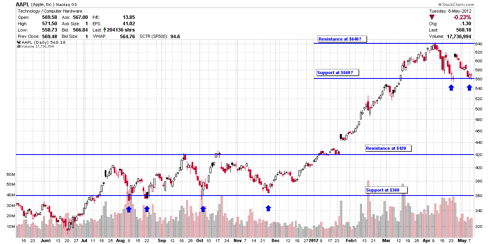 So far the $560 level has been tested once: on April 24. It is currently being tested a second time as this article is being written.
Will $560 become the new $360 for the Apple?
If we see a bounce from the stock's current level to above $600 this price action would confirm $560 as a strong support level for the stock. But it is difficult to know how many times the stock will fall back to $560 before breaking out above the current trading range. In 2011 the $360 support level was tested four times before the $420 resistance level was overcome.
In 2011 it took the stock five months to break above it's $360/$420 range. The catalyst for the breakout was the stellar Q1 earnings results reported on January 24.
We will need a new positive catalyst to catapult Apple out of its current trading range of $560/$620. Below are a few possible events that could act as the required catalyst:
iTV - Apple will hold their 2012 Worldwide Developers Conference on June 11-15. This conference is usually software-focused but on the invitations for the conference Apple wrote: "It's the week we've all been waiting for." This tagline has sparked much speculation as to what surprise might be revealed at the conference, possibly a new iOS for iTV.
7-inch iPad - Although Steve Jobs was opposed to a 7-inch version of the iPad, Tim Cook may have realized that if Apple releases a smaller version of the iPad at a price of $299 they could completely wipe out the competition in the tablet market. Rumours continue to swirl around the possibility of this new product and potential release dates.
Patent Royalties - It appears that Apple and Samsung are now more open to ratcheting down their patent wars. If Apple comes out on top, and this is still a big IF, they could settle for a royalty on every Samsung smartphone sold.
Stock-split - A year ago an Apple dividend seemed like an impossibility. Now the company will pay a dividend. Could a stock-split be next? Although stock-splits do nothing for the fundamentals of a company they do change the psychology of the stock: investors are less hesitant to buy a $60 stock then they are to buy a $600 stock. It is also much easier for a stock to climb from $60 to $100 than it is for a stock to climb from $600 to $1,000. If the fundamentals continue to improve for Apple, a stock-split would simply increase the rate of wealth creation for Apple shareholders (including Apple employees and executives). There has also been some discussion about Apple being added to the Dow Jones Industrial Average - in order for this to occur the stock would have to be split at least 5 to 1.
iPhone5 - The consensus rumor is that Apple will launch the next version of the iPhone in September. Whatever the date one thing is certain: the new iPhone has to be revolutionary,and not just evolutionary. Consumers, and the markets, would not welcome a "new" iPhone with the same form factor and functions of the current iPhone with much joy. The 'wow factor' has to be reintroduced into the DNA of the iPhone. I don't think Apple will disappoint.
So we will watch the $560 support level with much interest. If the stock continues to hold and bounce off this price level it would point to another consolidation phase for the stock to be followed by yet another bullish breakout.
But if the $560 level does not hold - if the stock closes below this price point for more than three trading days - then this would point to a bearish trend in the stock, and a possible decline to the $500/$520 range.
Disclosure: I have no positions in any stocks mentioned, but may initiate a long position in AAPL over the next 72 hours.