Armstrong World Industries (NYSE:AWI) is my single favorite idea at the moment.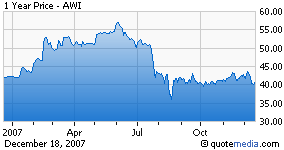 Armstrong is an industrial company that specializes in flooring and ceiling products. If you've ever seen hardwood flooring at Home Depot (NYSE:HD), you've seen the Armstrong brand. Armstrong came out of bankruptcy late last year after settling asbestos litigation. As a condition to re-emerge, the company gave 37 million shares, or 65% of the float, of its new stock to the asbestos trust that would be paying asbestos claims. In addition, Armstrong emerged from bankruptcy with 1.6 billions dollars of NOLs and a pension that was overfunded by 600mm dollars. And to top it all off, at the end of q42007, AWI will be in a zero net debt position. The company has stated in the past that 2-3x EBIDTA is a comfortable amount of debt to take on.
The company is split approximately 50/50 in residential and commercial end-markets. The worries about their residential business are somewhat overblown because about 65% of their residential business is replacement vs. new construction. So, essentially, you're talking about 5-6% exposure to new home construction. Meanwhile, despite the turmoil in the housing market, the company has managed to improve their operating results by improving manufacturing efficiencies and instituting price increases.
In the early part of this year, the company announced that they were going to be conducting a strategic review. The stock rocketed to $57 over the next couple weeks amidst the LBO boom and then July hit. This stock, along with all the other stocks that were trading at 30-40% premiums on LBO speculation, got crushed. AWI was quadruply-cursed: a housing related stock, a management that does not openly promote itself, a possible LBO candidate, and supremely illiquid. It traded down to the mid-$30s, at which point, if you were smart enough, you would have purchased a company trading at near 8x cash flow.
Today, at $40, it is one of my favorite ideas. The company is still pursuing its strategic review - a complex process in their case as they have many options including selling some assets to a strategic buyer with an underfunded pension, doing a leverage recap, purchasing stock from the trust, or all of the above. In my opinion, the company is still trading at close to an 11% FCF yield without accounting for a present value of 180mm in NOLs and the 600mm in pension overfunding. In a best case scenario, the company makes a deal with the asbestos trust to purchase stock back from them - allowing them to buy back half the market cap of the company without being overleveraged (I think this gets you a stock in the high $50s/ low $60s). In a worst case scenario, I think you end up with a company that continues going about business as usual with minimal downside and continuing to provide over 200mm in FCF each year.
Disclosure: I am long AWI. Please do your own research before acting.