In the late 1990s, the tech world scoffed at the notion that corporate America would ever accept the concept of paying to download software from the Internet. But today, a growing number of small and medium-sized businesses are using on-demand software, or software-as-a-service (SaaS), for convenience and as an effective way to trim IT costs.
Market researcher IDC predicts that SaaS, which currently accounts for less than 2% of the global software market, will grow 25% annually and become a $14.5 billion industry by 2011. The popularity of on-demand software is growing so fast, in fact, that it is beginning to transform the business software industry. The rise of the SaaS delivery model has software giants Microsoft Corporation (NASDAQ:MSFT), Oracle Corporation (NASDAQ:ORCL) and SAP AG (NYSE:SAP) a little nervous; all are plowing billions into efforts to respond to the emerging SaaS threat.
The emergence of the on-demand software trend reflects companies' growing desire for less cumbersome and more economical means of using information technology (particularly, Web-based systems) to their advantage. For example, a new generation of Tech-savvy workers and global talent shortfalls have changed the face of human resources, which has become a hot segment for on-demand software specialists at a time when even a tiny company may have a tangled mess of disjointed IT.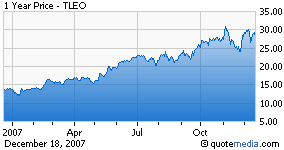 San Francisco, Calif.-based Taleo Corporation (NASDAQ:TLEO) is a developer of on-demand software that helps companies manage their human resources operations. HR is an area that is often challenging for smaller companies with less manpower dedicated to the department and inefficient ad hoc systems — often based on Excel spreadsheets and emails. Taleo software, which is easy to install, manage and integrate with existing software, helps growing businesses bring their human-resources functions up to snuff by simplifying recruitment, screening and tracking chores. The company sells its software directly to customers and through HR outsourcers with which it has established partnerships.
While Taleo has some legitimate competition in the form of other publicly traded on-demand HR rivals like Salesforce.com, Inc. (NYSE:CRM), The Ultimate Software Group, Inc. (NASDAQ:ULTI) and Kenexa Corporation (KNXA), with over a million users already under its belt, Taleo is solidifying its reputation as a preferred human capital management software maker in the small-to-medium-size business [SMB] market, which Taleo estimates to be worth about $1.4 billion.
The firm has an impressive roster of about 1,400 clients that would be the envy of any business, including Hewlett-Packard Company (NYSE:HPQ), The Dow Chemical Company (NYSE:DOW), Honeywell International Inc. (NYSE:HON), Wachovia Corporation (NASDAQ:WB), Aramark and Hyatt Hotels. In all, it counts three-dozen Fortune 500 companies and more than 60 members of Standard & Poor's 500-stock index as customers.
After beating all Wall Street expectations in the third quarter, including posting revenue of $3.7 million, a 35% year-over-year increase, and adding a couple hundred new clients, analysts reiterated their bullish sentiments and raised target prices and fourth-quarter estimates. KeyBanc Capital upgraded Taleo shares to "aggressive buy" from "buy" and adjusted its price target up to $34 from $31. The brokerage also increased its fourth-quarter EPS estimate by $0.01 to $0.14, raised its 2007 EPS estimate to $0.47 on revenue of $127 million, from $0.43 on revenue of $126 million, and upped its 2008 estimate to $0.67 on revenue of $158 million, from $0.65 on revenue of $156 million.
Analyst Steven Koenig said the SaaS model is "gaining mainstream acceptance and rapid adoption" in key markets. He noted that attracting and retaining job talent is a top priority for companies in a fiercely competitive global environment. The analyst, who believes Taleo is "best positioned" to be the market leader for SaaS talent-management applications, sees "significant upside to consensus expectations going forward."
Taleo is forging ties with some major players in the human resources industry. The company has recently partnered with Paychex, Inc. (NASDAQ:PAYX), the payroll and administrative HR services provider, who will market Taleo's online recruiting and hiring management tools to its customers.
The firm also signed a deal with AIRS, an online recruitment training, technology and outsourcing leader, to offer a complete set of HR solutions under the name Taleo TalentReach powered by AIRS. The comprehensive set tools will give companies and organizations the ability to locate suitable candidates, develop a worldwide talent pipeline and gauge their sourcing program effectiveness. The partnership will also give Taleo access to AIRS' database of 40 million passive candidates.
In late November, Taleo announced an agreement with Hutchison Telecoms, an Australian communications company, to provide a HR management system for its 3 Mobile subsidiary, which has 1.4 million customers in Australia and more than 15.9 million globally.

Shares closed at $28.80 on Monday. The stock has traded between $11.94 and $32.41 in the past 52 weeks. The median one-year target estimate is $33.54. Analysts, who feel the human resources market is especially ripe for on-demand software, forecast Taleo (TLEO) will grow 40% over the next year and a further 20% annually through 2012.
Disclosure: none