Did you hear the Crocs (NASDAQ:CROX) news? Have you read about the new shareholder who is buying most of the stock? You haven't? Well don't fire Reuters just yet. This is not a highly publicized event, but it is very important for investors to be aware of.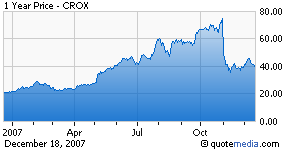 Up to this point, the stock has been primarily owned by momentum traders. These investors look for stocks that are going higher and buy them in hopes that the stock continue to go higher. I've got nothing against momentum investors - heck, I've been known to play many momentum names myself; but the one main weakness in this investment style is that it is very difficult to make sure you have a chair when the music stops playing. For CROX players, the music stopped promptly on November first (well actually October 31 after the close) and there was no chance for damage control. The party was over and it was time for momentum players to find another name to trade.
The issue causing so much trouble for shareholders was the third quarter earnings announcement. While earnings beat estimates yet again, and management raised their guidance for the full year 2007, a large mis-step by management caught most investors attention. It seems that while transitioning to a new distribution center in Europe, shipments were delayed costing the company roughly $20 million in sales. This accounts for a bit less than 10% of the quarters sales (no small matter) but more importantly erodes some of the confidence in managements ability to cope with the "hockey-stick" type growth. Although the new distribution center is now online and operational, the confidence factor caused the stock to drop 27 points or 36% in the first day of November trading. Since that day, the stock has dropped another 8 points and is trying to work into a more stable pattern.
While the negative news took front and center stage, there were some hidden gems that should eventually create more optimism for Crocs. For the first time in the company's history, International sales outpaced domestic sales to the tune of 51%. Specifically, strength was seen in Europe and Japan as the release cited $58.1m in sales from Europe and 53.9m from Asia (of which Japan is the majority). Brazil and China are expected to be the upcoming highlights as expansion into these countries has just begun. Finally, management is optimistic about adding India to its geographical footprint in 2008.
With all the expansion overseas, Crocs is benefiting from the relative weakness in the dollar. With the US being its reporting currency, but sales coming from countries with stronger currencies, revenue figures are beefed up as the translation effect means more dollars are being collected for each Euro or Yen sale. While the dollar has recently bounced off its low, the fundamental forces should continue to pressure the dollar as Fed officials continue to use lower rates and higher monetary supply to combat the liquidity issues in the financial arena.
Crocs continues to diversify its product offering by adding new more conventional looking footwear to its popular suite. New products continue to use the croslite material known for its comfort and odor-resistant qualities. Biking shoes and golf footwear are currently in the development stage, and the company will launch a sandal product in the spring that is expected to generate exceptional demand. Management has issued growth guidance of 35-40% for 2008 and pointed out that the growth would be weighted towards the first half. This implies a rough estimate of $2.75 for 2008 which is in line with Baird's estimate. Consensus is at $2.70 which fits in the middle of managements' range.
With new products and an increasingly diverse global footprint, the company will continue to face challenges in planning the manufacturing and distribution channels. Analysts were a bit concerned with the level of inventories the company had built up over the third quarter and these levels will likely remain high through Q4 into the strong spring and summer season. A new contract with Foot Locker will offer even more exposure but will continue to put a strain on distribution. Aside from the one issue faced with the Netherlands location, management appears to be doing a good job of increasing distribution capabilities. As far as manufacturing goes, there are 14 different manufacturing facilities being used (some are third party) which offers flexibility in case of disruptions. The company is currently producing about 6.8m pairs per month and has the ability to ramp to 7.8m without adding any more capacity.
So back to the new shareholder - or should I say shareholders? We are now seeing most of the momentum players shaken out of one of their favorite haunts and a new breed is moving in. This new investor falls under the value category as one can currently pick up the company for roughly 15 times next years earnings. For a company growing at 35-40% this is quite a steal. Even if growth in 2009 slows to 15-20%, the valuation is still attractive.
While I am still waiting for the price action to firm up, I am keeping a close eye on CROX. I believe there will be significant profits made by owning this stock in 2008 and I expect to take a position within the next 6 weeks.
Disclosure: Author does not have a position in CROX