Biotechnology is perhaps the greatest industry of opportunity within the market. There are always a collection of stocks that return large gains in any given year, in all stages of development within the space. I enjoy reading and listening to the various opinions expressed by biotech writers and following companies throughout its journey to greatness or sometimes its path to defeat. As a person who has lost loved ones to the devastating disease of cancer it has naturally become an area of biotechnology that I monitor closely. And over the last couple years we have seen innovation unlike any period over the last decade, in which I can recall, as several companies appear to be inching closer to curing some of the most life-threatening diseases known to man.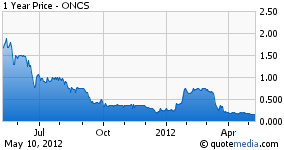 I have always considered Seeking Alpha to be among the best in class of well-written diversified information (see the statistics of those who read SA) in the biotechnology space. I enjoy reading interviews of biotechnology personnel along with the analysis and interpretation of clinical data. Last week I came across an interview conducted by long-time journalist Len Zehr in which he spoke with OncoSec Medical's (NASDAQ:ONCS) CEO, Punit Dhillon. The information in the interview was very impressive for a seemingly under-the-radar company, which then enticed me to look deeper into the inner workings of its therapy. With the biotechnology space advancing at such a rapid rate, there are often companies that are left unknown despite the upside potential. This particular company, OncoSec Medical, does appear to be one of those companies, that could have unrealized potential.
OncoSec is developing its therapy in the oncology space, yet its methods are much different by nature relative to what we consider the norm for cancer treatment. In the last couple of years the rules of oncology have seemingly been completely rewritten. We have seen companies such as Dendreon (NASDAQ:DNDN) and its drug, Provenge, awarded FDA approvals while countless other companies are showing remarkable progress in the field of targeting cancer stem cells or other cells and by the use of immunotherapy. OncoSec is part of the same breed of new, yet under-the-radar companies that are using this type of treatment that centers around the idea of targeting cancer cells, but with a twist of its own. The company uses the process of electroporation, which is the use of electrical currents to increase the porosity of tumors allowing greater penetration of the cancer agent into the targeted tumor(s). The company's novel concept is used for two different approaches to attack cancer tumors, ElectroImmunotherapy (initiating 3 Phase II studies) and ElectroChemotherapy (Phase III in U.S. for recurrent head and neck cancer). The company's platform is based on the hope that electroporation increases the tumor's uptake of anti-cancer agents with the procedure being simple, safe, localized, and targeted, therefore making it effective. In theory it would save on cost and require low dosing, which then reduces and possibly eliminates toxicity. It could also increase the drug's effectiveness as the same dosage normally used could target the one area (the tumor) rather than being diluted into the bloodstream reducing the amount of drug at the site and also exposing the rest of the patient's body to the often-toxic drug. These are two problems that have plagued cancer treatments for the last 20 years, the efficacy versus safety tradeoff. The new breed of companies such as ImmunoCellular Therapeutics (NYSEMKT:IMUC) and Celldex (NASDAQ:CLDX) have learned to save on costs so that its drugs are less expensive to manufacture and sell, along with making cancer treatments less toxic by targeting tumors, a practice that shows significant advantages over traditional treatments such as radiation and chemotherapy. Dendreon's Provenge approval really legitimized this new trend in cancer treatments, though the vaccine was not created with cost in mind, leading to a number of problems despite it being among the most well known of approved drugs in the oncology sector.
OncoSec's process of electroporation (among the newer of cancer targeting techniques) is explained on page 5 of the company's corporate presentation found on the company's website. It starts with the anti-cancer agent introduced directly to the cancerous tissue or tumor. After a localized electrical current is applied, the tumor's porosity increases dramatically which allows the agent to enter the tumor more readily. Once the current is removed, the tumor begins to rapidly reseal with much of the cancer agent still inside allowing it to perform its function more efficiently. In Zehr's interview, CEO Dhillon stated they have seen a 4,000-fold increase in the uptake of the agent, the reason why the agent can then target the cells and treat the tumor more efficiently. Clinicals are still underway with successes in skin, breast, head, and neck cancers. Anytime a technology can increase uptake for an agent by up to 4,000-fold, it's a reason to listen and try to gain additional knowledge because it could hold significant value in biotechnology with its implications.
The first of the company's two approaches using its OMS (OncoSec Medical System) platform is ElectroChemotherapy, a targeted ablation therapy that utilizes OMS to deliver bleomycin (an already-approved chemotherapy drug) directly to a tumor. Ablation therapy is the destruction of small areas of myocardial tissue, usually by application of electrical or chemical energy. The second of its approaches is OMS ElectroImmunotherapy which uses electroporation and DNA cytokine interleukin-12 (DNA IL-12) to seek and destroy cancerous cells by training of the patient's immune system to attack the tumors and other cancer cells. During the interview Dhillon stated, "DNA IL-12 and electroporation are comparable to or exceed rates to other approaches to melanoma, including Bristol Myers (NYSE:BMY) Yervoy and Genetech's Zelboraf, which were both approved last year." The concept of using the body's own immunity system to fight cancer is an area of treatment that has been covered extensively over the last few years with companies such as ImmunoCellular Therapeutics (NYSEMKT:IMUC) and the afore-mentioned Dendreon's Provenge. OncoSec, currently focusing on melanoma with its ElectroImmunotherapy approach, has already tested 24 patients in Phase I with results that showed the therapy has no toxicity issues and according to the CEO, "has the potential to establish a new standard of care for the treatment of late-stage metastatic melanoma." A Phase II study is now underway and could prove to be safer than other products currently in the market. This will add to the already significant data regarding the immune system's ability to treat a wide array of diseases.
The recent performance of the stock has been surprisingly volatile and negative. It has lost 89% of its value over the last year despite announcing some significant and encouraging clinical news. The company announced positive results from its head, neck, and breast cancer trials but is yet to trade with any real momentum, perhaps because it lacks a partner. Overall, the potential to treat a large number of diseases and a known ability to treat a variety of skin cancers, head and neck as well as breast cancer does make OncoSec an interesting company, which should be catching the attention of investors and potential partners with its pipeline advancing nicely.
At this particular time I have not sorted through all of the developments that have led to the stock's decline. It does appear to be mostly financial related. However, a biotechnology stock's value is not usually based on its financials but rather its potential as most of these biotechs are in the development phase rather than the marketing phase of their products. OncoSec's clinical data is promising, and most information that I have read from various publications has been positive such as in the Medical Device Daily Volume 15 No. 83 in which Dhillon explained the reason behind the decision of being a public company:
"OncoSec is a therapeutic oncology company that is leveraging the successful treatment of cancer for more than 400 patients in both early and late stage clinical trials," Punit Dhillon, told MDD. "We built this company based on the proprietary drug technology delivery system for a very targeted delivery of both chemotherapy agents as well as protein therapeutics. We felt that being a public company would help us raise the money needed to execute this product."

He added, "We're a new company because we just formed in the middle of March, but it's not your typical startup because we're leveraging a lot of historical and clinical data, along with clinical experience."
Conclusion:
The biotechnology industry can be a very risky venture for investors that requires a tremendous amount of due diligence. I have recently turned much of my attention to the biotechnology space to capitalize on opportunities that could outperform another potentially flat decade ahead. Despite the time and attention I have invested into biotechnology, there are still a large number of potentially great companies that I have not yet discovered due to the sector being so crowded and diverse. OncoSec is one of these companies that I would have never known if not for reading the CEO's responses to a number of pertinent interview questions. I do feel there is scientific evidence to back the data being explained by the company that further validates its advancements in immunotherapy and chemotherapy. However, I am not suggesting that this particular company will find a partner, complete all trials with success, or return Jazz Pharmaceuticals (NASDAQ:JAZZ)- like gains. I am simply saying that I find the company to be interesting and, after reading a number of interviews and various opinions on the company, I do believe it has a technology that is safe and potentially effective. I do hope it finds the financing needed to move forward with its clinicals. Based on my research, there is a good possibility that it could advance the field of treating skin, head and neck, breast and other cancers with its own technological twist incorporating already proven therapies. Only time will tell, but I find it to be a company with potential that is off the radar of most biotechnology investors. It should be exciting to see how it begins to respond with attention from more investors and potential partners as its trials progress and data is presented. There could be exciting times ahead for shareholders, OncoSec's pipeline and the patients needing another approach to fighting cancer.