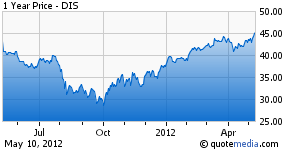 On Tuesday, just five of the 30 Dow Jones Industrial Average stocks closed higher. That number rose to six on Wednesday and credit Walt Disney (NYSE:DIS) for notching a two-day winning streak while the Dow is in the midst of a six-day downturn. After the market closed Tuesday, Disney said its fiscal second-quarter profit rose to $1.14 billion, or 63 cents per share, from $942 million, or 49 cents per share, a year earlier. Revenue climbed to $9.63 billion from $9.08 billion. On an adjusted basis, Disney earned 58 cents a share. Analysts expected a profit of 55 cents on revenue of $9.57 billion.
Disney is considered a bellwether media stock and one of more important consumer discretionary stocks, but Mickey Mouse's strong quarterly results only had a muted impact on rival media firms on Wednesday. The PowerShares Dynamic Media Portfolio (NYSEARCA:PBS), of which Disney accounts for 5.64%, only jumped a penny following Disney's earnings report.
From the outside, it might appear odd that more media stocks weren't responsive to Disney's good cheer. After all, it's fair to say CBS (NYSE:CBS), Viacom (NASDAQ:VIAB), Comcast (NASDAQ:CMCSA), News Corp. (NASDAQ:NWSA) and several other PBS constituents are direct competitors to Disney. To be fair, only Comcast traded lower of that group, but what is clear is that Disney is starting to flex its muscle as a more diverse media play.
Disney's ESPN network continues to help drive revenue growth for the company and no Disney rival has a legitimate competitor to ESPN. Revenue across all segments - media networks, theme parks, studio/entertainment, consumer products and interactive media - jumped during the quarter. Media networks revenue jumped 9% to $4.7 billion while operating income at the company's cable networks, including ESPN, rose $143 million to $1.5 billion, the company said in a statement.
Then there is the movie studio. Just look at what Disney CEO Bob Iger had to say: "We're incredibly optimistic about our future, given the strength of our core brands, Disney, Pixar, Marvel, ESPN, and ABC, and our extraordinary ability to grow franchises across our businesses, such as The Avengers, which shattered domestic box office records with a $207.1 million opening weekend for a global performance of more than $702 million to date."
Perhaps surprisingly, Comcast and CBS have outperformed Disney this year, though by narrow margins and not by enough that Disney should be overlooked by investors seeking media industry exposure. What makes Disney more compelling than its rivals in the back half of 2012 is this scenario: Lower oil prices should encourage more family vacations to Disney theme parks. That's something Comcast, CBS, etc. can't offer investors.
Disclosure: I have no positions in any stocks mentioned, and no plans to initiate any positions within the next 72 hours.