By Scott Martin

The standard advice for U.S. traders looking to play the emerging markets is to trust that companies that have already established themselves in the developed world will keep expanding their reach. But the most recognized brand in the world has a few twists just for emerging markets portfolios.
Coca-Cola (NYSE:KO) needs no introduction. It's a huge company, with a market cap big enough to buy every company in the Philippines or, with a little stretching, Denmark.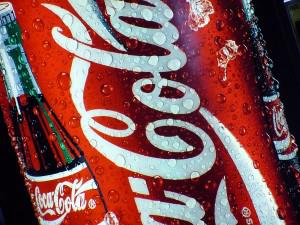 In theory, an investor could simply note that 30% of Coke's revenue -- and 60% of its earnings -- now comes outside its traditional strongholds of North America and Europe and buy into it as an "emerging markets consumer stock."
Naturally, the presence of that other 70% of the company makes this at best a stop-gap solution. Are traders really so hungry for exposure to the middle class that they're willing to pay $77 a share for the equivalent of $2.25 in emerging markets EBITDA and take the U.S. franchise as a bonus?
That's just not how trader psychology works. North America will be the needle that moves Coca-Cola shares for the foreseeable future, and emerging markets are just the high-growth filigree on that needle.
However, Coca-Cola is unique in having proxies based in emerging markets and actively traded. Building Greece-based Hellenic Coca-Cola Bottling (CCH) into a portfolio provides focused exposure to Coke's growing presence east of the eurozone all the way to Siberia. Coca-Cola Femsa (NYSE:KOF) plays a similar role in Latin America.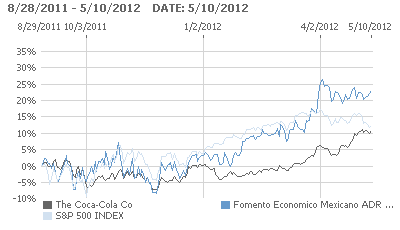 These companies don't own the Coke formula or any of the company's array of other consumer products. They just bottle soda.
But on those terms, Latin America and Eastern Europe are interesting enough opportunities for soda-driven traders to watch.
Based in Mexico, Coca-Cola Femsa is the largest soda bottler in the world, building on its position as a joint venture between Coca-Cola and local favorite drink maker Femsa (NYSE:FMX) to sell across the Latin world.
A surprising fact emerges from this: Local brands like what Femsa has to offer are actually where all the action is.
Coca-Cola reported 5% growth in Latin America last quarter. Hellenic Coca-Cola Bottling routinely brags about growing its business -- Coke and local brands together -- at a rate above 20% a year.
This isn't simply a question of the bottlers outperforming the parent company because over in Eastern Europe, Coca-Cola Femsa reported its unit sales dipping 1% while Coca-Cola managed to eke out 1% growth in the region.
Unlike Hellenic Coca-Cola Bottling, Coca-Cola Femsa doesn't really have a rich shelf of local beverages to sell alongside Coke. The "secret ingredient" here seems to be 100% Femsa -- and yes, that's the stock out of this quartet that's performed best so far this year.