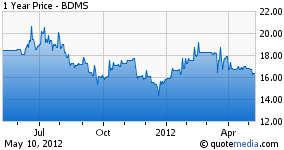 I wrote about Birner Dental Management (NASDAQ:BDMS) a few weeks back and am going over it in much more detail now. I wanted to look at it again and look at a few key drivers.
To understand the key drivers you need to understand the business model. The dental practice management model is designed to allow the dentist to focus on being a dentist rather than managing a dental office.
BDMS partners with a PC (professional corporation) that owns the dental office. They sign a 40 year contract that says the dentist, dental hygienist, and dental assistant are paid by the PC and the remaining money is passed along to BDMS. Birner is responsible for all administrative workers and work ranging from receptionists to ordering supplies and advertising.
This model allows for dentists to focus 100% on the patients. The idea being, if they focus entirely on the patients and their needs the office will grow because the patients will be satisfied.
Working with a model like this requires that the business side of the contract be in tune to what the dentists need and want to effectively treat patients. I think this is often overlooked. If the offices aren't getting the supplies and support they want then they will not be (1) able to treat patients how they see fit and (2) they won't be happy going to work everyday. In either situation the business suffers.
BDMS President, Mark Birner, DDS, is someone who would be able to know what the offices need and want. He is a dentist. This one factor separates Birner Dental Management from many other comparable companies. Most other companies are run by businessmen. When corporate is in charge of ordering supplies for all offices it helps to have someone who knows what the offices want rather than what someone thinks the offices want. This point alone has been discussed in numerous trade publications where doctors or dentists weren't getting the supplies and equipment needed to happily treat patients.
While some may argue that buying cheaper supplies will leave more leftover for the company and shareholders, I would argue it's better to buy what the dentists want and keep them happy. In the short term lower costs wold lead to higher margins and higher FCF, but in the long term it would ultimately hurt the business with lower revenues based on unhappy patients as a result of unhappy dentists.
The fact that the company president is a dentist doesn't make it a good investment, but it certainly is a positive consideration.
Now the key drivers.
In my opinion the key driver for BDMS is revenue per office. I feel this is the most important because it ties in a few important factors.
Total revenue isn't important to me. I think revenue per office is more important because it brings advertising into the equation. If the dentists do a good job the patients will be happy and come back and refer new patients. Advertising is tied in because unlike a single office advertising, when BDMS advertises it is for all 64 offices. It's more efficient.
Revenue per office has increased from around $364,000 per office in 1997 to $986,000 per office in 2011. The median YOY growth was around 3% and the average was 4.9%. While 3%-5% isn't anything to get excited about it's interesting to note that most of this growth wasn't from acquiring larger offices but rather from opening new offices and generating more revenue from existing offices while returning cash to shareholders and buying back stock.
I already said I think revenue per office is the most important driver for Birner. I want to talk about the cost of supplies now. I don't think this is "very" important but I do think it should be looked at to see if the business model is delivering like it should.
Supplies per office / revenue per office tell us if buying supplies in bulk saves Birner money. Supplies per office / revenue per office has declined from an average of 6.8% to 4.1% from 1997-2011. I think this is an important factor to consider because as Birner grows this should continue to decline leaving a greater percentage of revenue left for the corporate side.
So we know they've grown around 3-5% per year for the last 15 years and the business model works. Now I want to try to value BDMS (using diluted share count).
15 year average FCF is $1.55 per share
10 year average FCF is $2.13 per share
5 year average FCFis $2.35 per share
Obviously they're moving in the right direction. It's also interesting to consider that 2011 FCF looks like it fell off a cliff but I think it's because of the way CapEx was reported on their 10-K. In the past, until 2011, it was broken down into maintenance capex and development capex. In 2011 it was just a single number. I don't think it's necessarily important to try and figure out exactly how it was broken up but rather keep it in consideration when looking at FCF now and in the future.
At today's close (5/9/12) of $16.36 that's a FCF yield of 13% or a P/FCF of 7.7. While a 13% yield is nice, it's also worth noting that the current dividend yield is just over 5% and they've increased the dividend every year over the last eight years.
One way to look at all this is that you're getting a FCF yield of 13% + around 5% dividend yield, or 18% and not factoring in any growth or share buybacks.
While doing some research on competitors I came across American Dental Partners (ADPI). They were taken private by a private equity firm in February of 2012. I think this is relevant because BDMS and ADPI both have 10 year median and average FCF margins of around 8.5%. ADPI was bought for $19 per share, an average FCF multiple of 16.7.
I don't think this alone is a reason why someone should buy BDMS but knowing that someone paid around 16x's average FCF helps illustrate that BDMS is undervalued.
Hopefully everything I've written has helped show that Birner is quality business selling at an attractive price, but my goal is to try to determine where BDMS will be a few years out.
Something I haven't mentioned yet is that Birner spent $2.7 million on advertising in 2011. This was up from around $1.3 million in 2010 and $500k in 2009.
I feel this is worth considering because it'll be interesting to see how this plays out. If they see a decent return on this investment it will obviously be good, and if they don't then then they'll probably continue to grow anywhere from 3-5% as they've done over the last 15 years.
BDMS has solid management that has a history of creating value for shareholders in the form of dividends, buybacks, and conservative reinvestment in the business. They've grown primarily from within and are now spending more on advertising while maintaining strong FCF. At $16.36 I think shareholders are in a position to be rewarded in the future. A conservative 12x average FCF multiple puts them around $26 and a 15x multiple (still less than ADPI was bought at) puts them around $32.
Whichever multiple you're comfortable using shows room for satisfactory returns and if it takes a few years you can sleep knowing you own a quality company that has consistently generated value for shareholders.
Disclosure: I have no positions in any stocks mentioned, and no plans to initiate any positions within the next 72 hours.