Iowa Telecommunications (IWA) provides wireline and other services to customers in rural Iowa. For a high yield dividend investor Iowa is attractive for its consistent revenues and cash flow. Let me illustrate: third quarter 2007 revenues and EBITDA were both just 2% over the same period last year. This is a high margin business too: Adjusted EBITDA is over 50% of revenues. We especially like that Free Cash Flow (which we define as EBITDA less interest and capital expenditures and cash taxes) is well in excess of the current dividend. The Company has been using the extra money to pay down debt which is a little high at $485mn. Still debt is manageable, with cash flow after capex and cash taxes covering interest over 3X.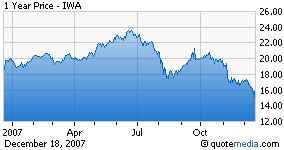 There are issues to worry about: Iowa is losing local wireline business every quarter to wireless and cable technologies. More recently a new competitor has entered its market to worsen the decline. Still, Iowa has been more than offsetting these customer losses with DSL and long distance products. Long term one has to worry what will outstrip what: the loss of wireline customers or the penetration of new services.
For a long term investor, though, the Company provides a highly dependable dividend distribution, and a nearly double digit yield. For the past twelve quarters IWA has declared $0.405 a quarter or $1.62 a year. At yesterday's price of $16.65, the yield would be 9.7%. We've been tracking Iowa for many months, but the stock price has been too high, up to 30% higher than today's level. The good news, though, is that IWA has seen its stock price deflate since the summer when it was over $24 a share. This has been the case for most high yield stocks so we're not unduly concerned about the slump in the stock price. In fact, we estimate the Price to Free Cash Flow for IWA is around 8X, which is cheap, even for a stock with limited upside prospects. Yesterday the price jumped over 10% from its recently depressed levels, but still rates as a BUY at or around $16-17 a share, especially as a dividend hike is not impossible in the near future.
Disclosure: none