Qiao Xing Universal Telephone (XING), a Chinese company that operates in mainland China, is engaged in the hot hyper-growing market of telecommunication terminals and equipment, including the production and sale of mobile phones and accessories.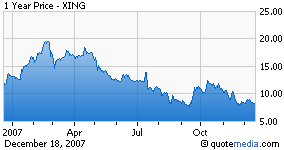 For the second quarter of 2007, the company reported total revenues of $129.7M and a net income of $116.5M, or $3.3 per share. Excluding a one time $96M gain, XING earned $20.5M, or $0.58 per share in this quarter.
Excluding that one-time gain for the second quarter, first quarter numbers are pretty much the same. Generally speaking, the company earns $80M to $100M a year on a total of $450M-$550M in revenue, and it's growing fast. On Tuesday, November 27, Mr. Wu Rui Lin, the company's chairman said: "Firstly, we will continue to take steps to ensure growth of at least 20- 30% per annum in the next five years..."
Let's assume a 'normal' growth of only 10% per year for the company for a second. The company makes $80M per year in net income. What is the 'normal' pricing for such a company? Let's be fair and take earnings-multiplier of 15. What do we get?
We get 15 X $80M = $1.2B
The company's market cap is currently... $295M !! That's right only 1/4 of my modest calculation. Next year the company is expected to report more than $100M in net income, and if you'll allow me to take a more realistic earnings-multiplier for such a 20%-growing company, the calculation should be:
30 X $100M = $3B or $85 a share.
That's right, 10 times yesterday's closing price.
And that, my friends, will be my target for the end of 2008.
Disclosure: Author has a long position in XING