By G C Mays
Agrium (NYSE:AGU) reported first quarter earnings of $155 million or $0.97 per share on revenues of $3.6 billion. This was lower than the $171 million or $1.09 per share earned during Q1 of fiscal 2011. Sales from the company's retail operations were strong while sales from the wholesale business stagnated.
Retail
The company reported sales of $2.45 billion in its retail operating segment during the company's first quarter, a gain of nearly 35%. The largest gain was in the crop nutrient business, which was up by 46%. The company's crop protection, seed and service businesses also showed strong gains year over year.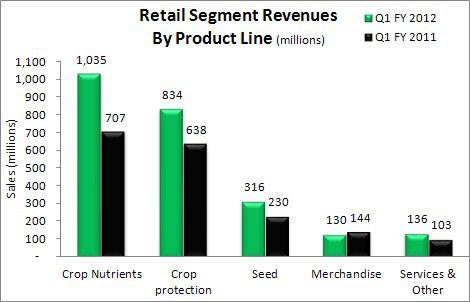 Source: The Mays Report
Merchandising was the only business to show a decline in sales during the quarter, down by 10%. However, gross margins were higher, due to higher margins earned in the recently acquired Landmark animal health and management business in Australia. The merchandise business was the only retail business that had expanding margins compared to the previous year.
(Click to enlarge)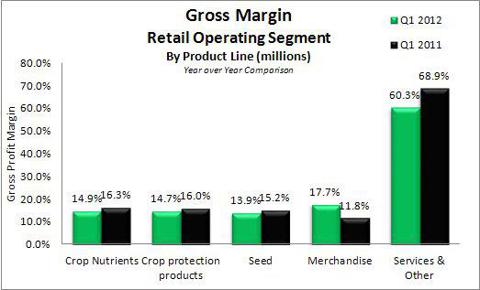 Click to enlargeSource: The Mays Report
Operating margins improved during the quarter as selling expenses declined from 18% of sales to 14%. This is the result of the company continuing to realize synergies from the company's landmark retail acquisition.
Wholesale
The wholesale operating segment painted more a subdued portrait of business activity. Nitrogen was the only fertilizer that the company sold more tons of than a year ago. At this point in earnings season that's no surprise given the record number of corn acres planted. Like CF Industries (NYSE:CF) mentioned in its earnings release, the gist of the increase came from higher sales of ammonia due to mild winter weather. Oddly, both Agrium and CF Industries reported significant increases in the number of ammonia tons sold while Potash Corp (NYSE:POT) numbers were only fractionally higher.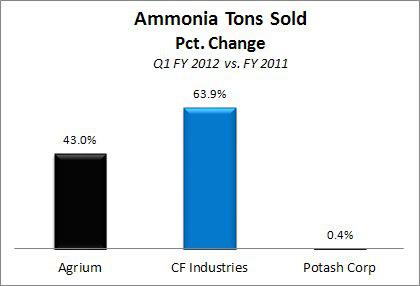 Source: The Mays Report
The segment as a whole reported $1.21 billion in revenues, which is slightly below but basically flat compared to last years record of $1.23 billion. Three of the five business units in the segment reported higher sales.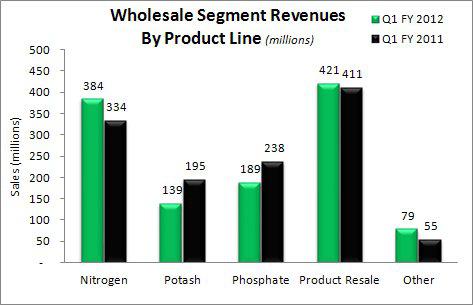 Source: The Mays Report
Potash and phosphate revenues, tons sold and gross margins were all down compared to the first quarter of 2011. As I have documented before, both potash and phosphate tons sold declined due to lower demand from dealers. Lower potash gross margins are due in part to increased per unit costs due to curtailed production while gross margins for phosphate slumped due to higher input costs for phosphate rock and sulfur as well as curtailed production.
Advanced Technologies
The advanced technologies division reported $135 million in sales during Q1 compared to $81 million a year ago. This division accounts for roughly 3% to 4% of sales annually.
The companies average natural gas costs were $3.11 per MMBtu during the quarter. The U.S. benchmark natural gas price (NYMEX) averaged $2.77 for the first quarter. The company incurred losses of roughly -$0.51 per MMBtu due to its hedging program. Investors should expect losses on derivative hedges during a period of declining prices just as gains would be expected during a period of rising prices. When natural gas prices begin to rise, which is inevitable in my view, both realized and mark to market gains on those derivatives will replace the losses. This sort of hedging is a normal part of business operations.
At a recent closing price of $83.15, the stock is trading at 0.82 times sales and 2 times book value, which is lower than the group's respective averages of 2.2 and 2.7. However, my model did not give its seal of approval because of balance sheet liquidity ratios that are well below the median averages for the peer group. The company's solvency ratios (debt to assets and equity, leverage, interest coverage) are inline with other leading companies in the industry with the interest coverage ratio being the sole exception, which at 11.1 is well below Potash Corp., CF Industries and Mosaic (NYSE:MOS).
In some cases both solvency and liquidity ratios can become stressed by recent acquisitions and typically improve as the company integrates the acquisition into its existing operations and pays down debt used to fund the acquisition. In my most recent article on Agrium entitled "Agrium's Acquisition Of Viterra's Retail Business Adds More Accretive Earnings" I wrote,
"In August of 2011 Standard & Poor's Rating Services affirmed its BBB long-term rating and stable outlook on the company. A BBB rating is the lowest investment grade rating available.

Once the company's consummate the deal it will be accretive to Agrium's earnings beginning most likely in the last half of 2012. However, post acquisition debt levels may suggest to management that they slow down the pace of acquisitions until company realizes planned synergies from recent purchases."
All things considered I like the company's long-term prospects and aside from the current balance sheet issues, I like the valuation as well. However, because a stock is cheap doesn't mean it won't get cheaper over the short-term.
Disclosure: I have no positions in any stocks mentioned, and no plans to initiate any positions within the next 72 hours.