Shares of the world's leading beverage company, Coca-Cola Company (NYSE:KO), are up 44% over the past five years. This move is impressive when considering the S&P 500 is down 10% over the same period of time. While the rally in KO has been impressive, there are three reasons why the stock remains a buy.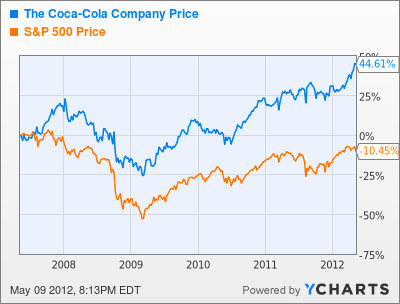 Insider Purchase
As reported by Seeking Alpha contributor InsiderInsights here, director Barry Diller purchased 264,000 shares worth a total of $20.3 million. This purchase is noteworthy for a few reasons, firstly, the size of the transaction is important. Often insiders buy trivial amounts of stock in an effort to show "confidence" in the company. However, a buy of $20.3 million worth of stocks signals that the buyer is serious about the position. Another reason why this purchase is important is because the stock is close to an all-time high. Often, insiders purchase their stock when it is close to the lows because they believe the valuation is cheap. In this case, it appears as if Mr. Diller believes KO is a good value even at these levels.
Options Activity
Option Monster reported on the high level of bullish options activity recently: 5,000 January 2014 70 puts were sold against open interest of just 406 contracts. The large block of 5,000 puts likely represents institutional money. Institutional money is usually smarter, thus worth following. In summary, the recent options activity is a major vote of confidence in KO over the medium term.
Dividend
With the 10-Year Treasury Note yielding under 2%, investors have been in search of yield. This search has played a role in the rally of KO shares. However, despite the stocks run, KO still pays a healthy dividend of $2.04 per share or 2.66%. Importantly, KO has shown a consistent ability to not only pay, but raise the dividend over time. The chart below shows the steady increase in KO's quarterly dividend over the past 22 years.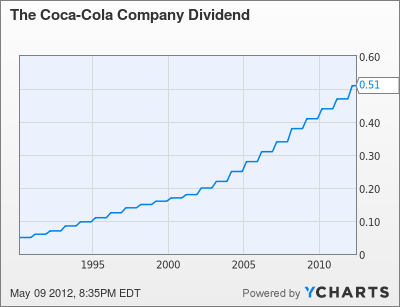 Conclusion
While KO has had a major run over the past five years, it is not too late to buy. The large insider purchases, bullish options activity, and dividend history are all reasons to consider buying KO.
Disclosure: I have no positions in any stocks mentioned, and no plans to initiate any positions within the next 72 hours.