Introduction
I continue to be overwhelmingly confident in the Spanish markets. People have been very quick is suggesting the Spanish economy is heading for disaster but if you really do your due diligence the picture is much healthier then it looks on the surface. On top of this, the European Union has reaffirmed its commitment to help countries in need of its financial support and has followed through with this, most notably in Greece. I find it baffling that people in America are worried about the amount of debt in the European Union, when if you look at the debt levels in United States, a smaller economy then the European Union, they are actually higher.
Therefore, many Spanish companies have been hugely affected by this lack of investor confidence in the Spanish marketplace. The loss of confidence in Spanish companies has led to an unprecedented devaluation of some of the most solid companies in the world, most notably Banco Santander (STD), and Banco Bilbao (NYSE:BBVA). Furthermore, there are many other riskier options such as Gamesa (OTCPK:GCTAF), Bankinter (OTCPK:BKNIY), and Repsol (OTCQX:REPYY). Taking all of these companies into consideration, undoubtedly, the most interest play for Spain currently has to be in Telefonica SA (NYSE:TEF).
Telefonica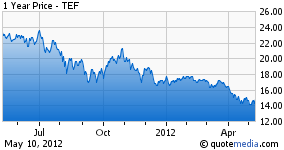 Telefonica's fall from grace has been surprising to say the least. It is a Spanish company which operates within the telecommunication sector. It is part of the larger Telefonica Group, which is comprised of many different regional hubs operating mainly in Spain, Europe, and Latin America. Telefonica is traded on the New York Stock Exchange along with other big Spanish companies such as Banco Santander.
Only 30% of its revenues are exposed to the Spanish market and so it has less exposure to the Spanish debt crisis then most other Spanish firms. Since the debt crisis started, its price per share has more then halved in value. Its main operations are in Latin America so it should benefit hugely from the growth coming out of there.
Dividend
Telefonica's most attractive quality is its dividend which it has already pledged to pay through 2013. It offers a dividend with a projected yield of 11.79% annually, far larger then almost every other company of its size. It is due to pay a cash dividend on the 15th May, in the amount of 53.62 cents per share. Therefore, the secure dividend is a sure fire way to make huge returns very quickly.
Is this dividend payable? Simply put, yes. Management would not be paying dividend if they could not afford it. Also, it has already pledged payment through 2013.
Statistics
Telefonica spent more then $9 billion on capital expenditures in 2011, while maintaining free cash flow of $8.398 billion. Both of these were increase on 2010. It has net incomes of just over $5.4 billion and revenues of $64.944 billion. This indicates it is still a very profitable business and is expanding rapidly through huge spending on capital. Morningstar rates Telefonica's fair value of $21, which is a 50% upside, and gives it a 4-star rating.
Risks Involved
Telefonica has a very high debt to equity so this is potentially problematic. However, it is important to note that many other firms in its industry also have a very high debt to equity. Furthermore, it can definitely pay this off because if the regional hub cannot pay it then the larger Telefonica Group will step in and pay.
Expropriation is also an issue after the reason measures of governments in Latin America to expropriate foreign companies. Nevertheless, Telefonica has continues to stress its operations are in no danger of being expropriated and it continues to maintain healthy relationships with the countries it operates in.
Conclusion
Consequently, Telefonica is a certain buy. This is especially the case as it is set to release very healthy earnings on May 10th and it will pay a dividend on May 15th. This is a solid company with a great future.
All my statistics are from google.com/finance and morningstar.com.
Disclosure: I am long TEF.