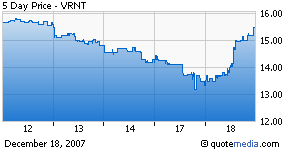 On Tuesday, Verint Systems (NASDAQ:VRNT) surged on much heavier than normal volume. The stocked moved up over 16%, on no news. What was interesting was that at a little bit after noon EST, a huge block of over 400,000 shares was purchased. That's more volume in one trade than we have seen over many of the last trading days combined.
It seems to me that an institution wanted in, and we have seen JP Morgan (NYSE:JPM) upgrade the stock recently. Most institutional investors have been unable to buy the stock due to the aforementioned volume issues, but it seems that one of them bit the bullet, and couldn't resist buying the stock at these levels, even though it meant raising the price.
Disclosure: The author's fund holds a position in VRNT.PK, and is long the stock as of December 18, 2007.