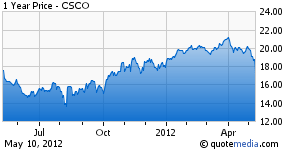 Shareholders inclined to shoot first unloaded positions in Cisco (NASDAQ:CSCO) as downbeat comments from CEO John Chambers derailed record revenue and earnings enthusiasm.
But the damage wasn't limited to Cisco. The entire enterprise hardware and software suite got shelled as investors fled.
As a result, hardware and software plays tied to managing, securing and leveraging big data, such as F5 Networks (NASDAQ:FFIV), Citrix Systems (NASDAQ:CTXS), VMWare (NYSE:VMW) and Salesforce.com (NYSE:CRM) fell sharply.
But while Mr. Chambers expressed worry over Europe and global economic headwinds, public sector spending and conservative IT spend, the company also indicated areas targeting big data, including cloud solutions, were a universal bright light.
Cisco's revenue - despite the challenges outlined in the conference call - rose 7% to $11.6 billion as product sales increased 5% to $9.1 billion and services sales increased 13%. Margins were broadly where they should be, with improvement in Asia offsetting price concessions in Europe. And while Europe remains at risk of decelerating, all was not lost during the quarter. Led by emerging Europe, sales in EMEA were still up 5%. And Asia including Japan was up an impressive 24%.
The biggest weight on the basket came from concerns over conservative IT spend worsening. This was clearly reflected in Cisco's 1% enterprise sales drop.
Mr. Chambers got more specific as the call progressed. He said "at this time, we are not seeing a significant downturn in the environment nor are we seeing new challenges in our own business. We are seeing larger - longer sales cycles, more sign-off and smaller deal size."
Clearly, that's not what investors want to hear when they're considering upcoming quarters.
But, he also noted the transition to bigger equipment continues to benefit from high bandwidth network traffic, with the company's Nexus 10-gig orders up 40% year-over-year. Sales to data centers were up 67%. Wireless sales rose 20%. And, security sales increased 9%.
Despite challenges, areas targeted toward managing traffic, such as F5's product portfolio, or packing in more data, such as VMware's, or using all the data to drive C-level process to practice, such as Salesforce.com, are still growing.
The company even went as far as to cite its partnership with EMC (EMC) and VMware as "going extremely well." Further, they reported "all geographies saw strong cloud architecture growth." And the trend remains global with emerging countries expanding fastest.
Investors extrapolating Cisco's broader worries to these fast growth markets may find themselves reacting. Instead, considering the massive growth in data and IT's focus on leveraging it in new, sales friendly ways could suggest Cisco just gave investors a great opportunity to buy, particularly for those investors who felt they had missed out.