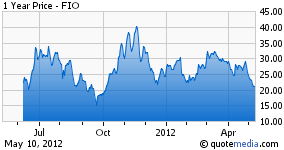 In the world of IT there are few hardware development companies making as much noise as Fusion-io Inc. (NYSE:FIO). With the likes of IBM (NYSE:IBM), HP (NYSE:HPQ), Super Micro (OTC:SCMI) and Dell (NASDAQ:DELL) as FIO's primary OEM (original equipment manufacturers) partners and a stellar research and development department it would be simply confusing if they were not screaming to the hills with messages of grandeur, but we digress. Fusion-io is a great company backed by solid management, a growing and loyal employee base (growing from 348 Dec. 31 2010 to 554 Dec. 31 2011) and a keen sense of direction with product lines that will see them into a dominating position among the IT elites in the years to come.
Founded in 2007, FIO is a Company that works tirelessly in developing methods for a practice coined 'virtualization;' more currently known as 'data decentralization.' In avoiding the label 'cloud' company FIO has incorporated the use of both hardware and software integration that will bring the 'cloud' closer to data-centric processing. With less to no idol processing time, effectively increasing efficiency while lowering energy consumption, FIO products will not only revolutionize the IT industry but also make it greener. While bringing the 'cloud' closer to their consumers FIO also intends to release an innovative SDK (software development kit) that will harness the true efficiency and power of their flash based ioMemory hardware for those seeking to develop next generation applications that is light years ahead of their competitors.
Starting with FIO's intuitive management software, 'ioSphere,' those who invest in ioDrive and ioMemory will be able to consistently monitor their hardware for efficiency, energy consumption and overall health of the server's infrastructure. Unlike competing software produced by the likes of Microsoft (NASDAQ:MSFT) ioSphere makes easy work of monitory high volume transaction events and enterprise level data processing. Next is FIO's revolutionary ioDrive and ioMemory powered data decentralization platforms, which unlike it's competitors, use a strong MLC architecture that allows for more effective storage among multiple bit levels. As the first company to effectively use MLC (multi-level cell) units to break the one billion IOPS landmark (yes, one BILLION in and outs per second) they have sought out and garnered the attention from IT elites such as HP, DELL and IBM. This is where the company now derives a significant majority of its revenue by not only being in the OEM partnership but also because of the extensive custom development FIO has done for HP's io-Accelerator 'Blade System' and IBM's need for high IOPS PCIe based SSD (solid state drive) drives. Couple all of this with the release of their more "consumer level" ioFX product line, which was developed for more professional workstation environments, and we can now see that this company will be heavily sought after in the years to come.
The recent plummet in FIO's stock price is unwarranted and unjustified when they are growing their top line figures at such a substantial rate. Many market participants have heard the phrase "throw the baby out with the bath water" and this is precisely what FIO is experiencing. During the course of the last 30 days we have seen FIO trade down almost 30% from $29 to $21. During this same time frame we have seen an earnings report, which contributed to approximately 10% of this decline. This is one of the most unwarranted suppression of a stock price that I have personally seen in quite some time. We're talking about a company that is expecting to grow revenue for their full fiscal 2012 year a full 75% from fiscal 2011. The 4th quarter revenue of their fiscal 2012-year is expected to come in flat compared to their 3rd quarter at $94M but compared to a year ago it is expected to have grown by 30%. FIO has done an excellent job maintaining a substantial gross profit margin in excess of 50% of revenues. FIO participates in a growing market with unparalleled technology that will continue to allow this company to grow revenues at a significant pace.
I consider FIO to be an excellent long-term investment as part of the speculative portion of their portfolio, and would recommend it to investors looking for a high growth technology firm. Due to the volatility of this stock price I would recommend investors make their overall position out of 3 or 4 separate purchases.
Disclosure: I have no positions in any stocks mentioned, but may initiate a long position in FIO over the next 72 hours.