The biotech sector attracts a certain type of investor, one that is often not afraid of a little educated speculation in the stock market. In horse racing, a good wager involves investigating a horse's race history, its physical attributes, its unique talents, its training and the ability of its jockey. Other factors considered include the length of the race and the competition in the field. Of course odds, speculation and "gut feelings" play a role as well. When considering success in the biotech sector is often a race to the finish line with a successfully approved drug, the analogy isn't much of a stretch. So in the race for biotech success, which is the company with the best combination for my wager? Isis (ISIS).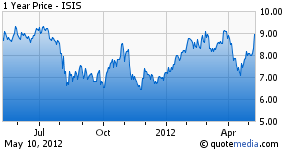 Isis has had its share of promise unrealized in its history, dropping from its $20 share price days. Yet to get a successful drug to market, some long term investors are getting anxious for a result. Milestone payments have kept Isis' bottom line afloat, but getting to market is key to moving from its $8-$9 share price to serious growth. Earlier this year, Regeneron (NASDAQ:REGN) showed what making it to market with a unique formulation can do. The stock nearly tripled upon the approval of its Eylea. Eylea wasn't just news to buy and sell, it has offered solid market returns and sales beyond conservative estimates. When a longer shot finally wins the race, it can be a nice payout for the investor, but blindly betting on a biotech without doing your due diligence is no strategy for investing. So what does Isis have going for it?
Ahead of the Kynamro Jump
Kynamro (mipomerson), its Genzyme (NYSE:SNY) partnered Familial Hypercholesterolemia drug, is the first but not only word when mentioning Isis' direction. Familial Hypercholesterolemia (FH) affects approximately 12 million patients worldwide. With all endpoints met in its clinical trials, the data supports success of the drug with a limited safety concern.
(Click to enlarge)

Due to the high number of patients in the U.S. with homozygous dominant and heterozygous FH, the FDA Special Protocol Assessment requested a 12 month study of the drug. Genzyme initiated the FOCUS FH study expanding the data for both types of FH in the U.S.
Genzyme submitted the NDA to the FDA in March for which the company will receive a $25 million milestone in Q2 2012 upon its acceptance. Full FDA approval will net Isis another $25 million. Marketing launch worldwide is scheduled for 2015/1016 upon approval. With the strength of Genzyme/Sanofi's global marketing ability, the reach for Kynamro could be as big as any drug. The PDUFA will be in January 2013 and a launch in Europe is possible for Q4 2012. Due to the nature of FH, the attitude of regulatory commissions may be more favorable than in some sectors. Isis will likely see increased volatility moving into Q4.
The Pipeline and The Platform
The patent cliff is ushering in a time in which next generation therapies will be on the forefront of the pharmaceutical industry. Isis is taking steps to capitalize on this, just as many others are doing in the sector. What makes Isis' therapies unique? Like Vertex (NASDAQ:VRTX) and its recent success Kalydeco for Cystic Fibrosis (CF), Isis focuses on the underlying genetic target of diseases. Its unique anti-sense platform targets the root cause of the disease: The machinery of a cell's own protein synthesis. Unlike Kalydeco, Isis' target diseases affect more individuals. The CF mutation targeted by Kalydeco only affects 1,200 individuals in the U.S. Regardless, VRTX still saw solid growth from this drug winning the race.
The maturity of the Isis platform is another mark in the plus column. All the eggs are not in the Kynamro basket. Isis has over 1,500 patents. The company develops drugs in multiple realms: Cardiovascular, inflammatory, cancer and severe and rare diseases. For any discovery and development stage biotech, a solid number of prospects in Phase II trials and beyond offers more support to speculation. Isis currently has 11 drugs in Phase II trials or beyond. It also has the added designation of orphan and fast track status for a number of those drugs in the U.S. and EU. Isis plans a launch in 2016, upon approval, of the following key pipeline drugs.
ISIS-APOCIIIRx - This drug inhibits the aPOC-III protein, reducing triglycerides, inflammation and atherosclerosis. Phase II trials began in early May. The drug is slated to treat individuals with excessively high triglycerides over 1000mg/dl, of which there are over 200,000 in the U.S. alone for whom no other treatment has been affective. Phase III studies are planned for 2013. Commercialization may also bring label extensions for wider ranging indicators.
ISIS-TTRRx - This GlaxoSmithKline (NYSE:GSK) partnered drug inhibits the TTR protein in patients with genetic TTR amyloidosis. The only current treatment for the disease is a liver transplant, which only slows this fatal disease. 50,000 patients worldwide have this condition. Phase I studies showed an 80% reduction in TTR protein in a four week dosing course.
ISIS-SMNRx- Isis has partnered with Biogen Idec (NASDAQ:BIIB) for this drug which treats Spinal Muscular Atrophy, a fatal condition in which not enough of a vital cellular protein is made due to genetic mutation. No medical treatments are currently available. Currently in Phase I, it has indicated that Phase III trials will begin in 2014 with the support of its orphan/fast track status in the U.S.
Powerful Partnerships
Isis could not have grown into the development darling it is today without solid partnerships. Large pharma is buying into Isis' patented IP. Genzyme/Sanofi is perhaps its most prime partner with Kynamro, but its list of collaborators reads like a who's who of key players. Within its cancer division, Isis has two partnership drugs with Oncogenix (NASDAQ:OGXI). Positive data has been reported from Phase II studies of OGX-427 for the treatment of prostate bladder cancers. Teva (NYSE:TEVA) joins Oncogenix and Isis on Clusterin, a cancer treatment in Phase III. In its severe and rare division, Isis has Biogen and Glaxo as partners. A new partnership with private Xenon Pharmaceuticals was announced this week for the development of Xenon-701. The drug will treat anemia of inflammation in cancer patients and includes upfront payments.
Financials and Management
Like in horse racing, your horse is only as good as its owner, trainer and jockey allow it to be. Stanley T. Crooke, CEO, has been an outspoken champion of Isis' fleet of drugs and this management has helped cultivate key partnerships. "With a large and maturing pipeline," he assures, "we expect to have exciting news to report pretty much every quarter." News sells stocks and Isis shouldn't be short on news in 2012-2013.
Q1 showed a greater operating loss due to increased cost of a maturing pipeline, which was expected in its guidance. Despite this, revenues increased nearly 10% from Q1 2011 to $23.3 million, beating estimates. The stock recently crossed its 50 day moving average and looks to have some momentum moving into summer.
(Click to enlarge)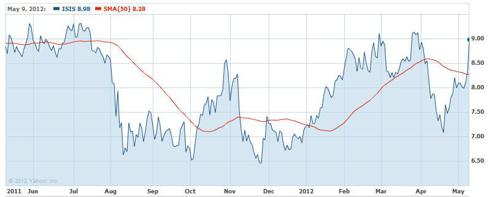 Courtesy of Yahoo Finance
Isis In The Long Run
To continue the analogy of horse racing, Isis' race is not the front page news Kentucky Derby sprint like that of the anti-obesity race competition between Vivus (NASDAQ:VVUS), Arena (NASDAQ:ARNA) and Orexigen (NASDAQ:OREX). Isis is running against itself in its severe and rare division and though the competition is lacking, the race is longer. The field for most its drugs contains more attainable finish lines against limited competition for its diverse targets. Its cholesterol/triglyceride contenders have found unique genetic niches for potential success and could run against the Lipitor (NYSE:PFE) replacements in the big race as an added bonus.
Isis' formula for winning is a solid science platform that is applicable to many conditions and is, for my money, the direction personalized medicine is moving toward. Why else would Roche (OTCQX:RHHBY) make such a stark bid for Ilumina's (NASDAQ:ILMN) genetic sequencing capabilities? Still, as many analysts rate Isis a "hold" as a "buy" right now. Based on its lack of delivery thus far and the nature of the sector, it is understandable. The market, like an odds maker, is more skeptical of emerging prospects and rightfully so.
There is inherent risk that Kynamro will not be the success as hoped. There is the potential for expenses to climb with the pipeline maturity. The expansive patent portfolio alone however makes Isis a valuable commodity for a large biotech in the event of drug failure. For now, the odds and potential payout one way or another makes Isis worth the bet in my opinion. With bigger partners to help nurture the development of unique drugs and strong leadership to direct, my money is on Isis to deliver in the long run.
Disclosure: I am long ISIS.