Why own just any stock in the market, when you can own Apple (NASDAQ:AAPL)? While Apple's stock has been volatile over the last couple weeks, it is hard to find a better performing stock in the S&P 500 and its tracking exchange traded fund, SPY, over the last several months.
(www.thestreet.com)
Apple shares generally consolidated around $450 a share in December of 2012, before taking off after the company's blockbuster first-quarter earnings report.
Apple's recent second-quarter earnings report was very impressive as well. In addition to beating on the top and bottom line, the company also easily surpassed most analyst estimates for shipments of iPhones and iPads, shipping nearly 35 million iPhones, double what the company shipped last year.
Still, despite Apple's impressive recent earnings report, the stock has pulled back nearly 15% from its all-time high of around $675 a share during the recent sell-off, to around the $550 level.
The premium in Apple's puts has also risen as the stock has pulled back fairly quickly, while the premium in Apple's calls has fallen.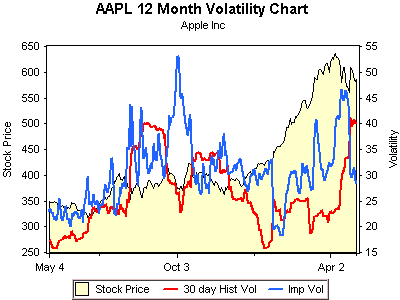 (www.optionsxpress.com)
As we can see, current volatility levels in Apple's stock are significantly lower than these levels averaged over the last month.
As I wrote in my previous article on Apple, where I recommended shorting the stock at the $650 level, Apple's call option premiums were trading at near all-time highs, just a couple weeks ago.
Still, now nearly 20% more call options are outstanding than put options, suggesting traders and investors remain bullish.
While I remain skeptical of Apple as an investment longer term because of the company's large market cap and huge market share in tablets and smartphones, the current strength of Apple's fundamentals is hard to argue with after the second-quarter earnings report.
Now that premiums in Apple call options have dropped nearly 30% in the last month, and the stock has pulled back nearly 20%, I think a trader should get long now by buying a January 2013, $500 strike call for $100, and selling a January 2013, $685 call option, for $25.
This trade enables a trader or investor to make $100 over the next six months if Apple shares are at $685 or higher on expiration. The risk to the downside is $75, if Apple shares were at $500 a share or less on expiration.
To conclude, option strategies always involve risk. Still, today traders and investors can use the options market to get long Apple with less risk and less capital.
While Apple and most of the broader indexes, such as the S&P 500, have fallen in the last couple weeks, the U.S. economy continues to grow at 2%-2.5%, and Apple's iPhone 5 launch should provide a nice catalyst for the stock in the back half of the year.
Disclosure: I have no positions in any stocks mentioned, and no plans to initiate any positions within the next 72 hours.