iShares MSCI Spain (NYSEARCA:EWP) jumped up the International Momentum Table this fall, jumping from number 20 on September 25 to number six last week. The fund's ascent comes on the heels of a rally that began in mid- September and brought EWP's share price to an all time high on December 10. EWP's 15.48% market return for the three months ending December 14 outperformed 99% of the funds in Morningstar's European stock category.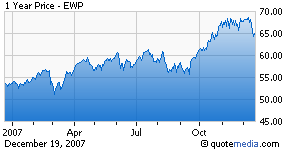 iShares Spain invests in the major stocks based in that country, the ninth-largest economy in the world and one of the fastest-growing economies in the European Union. Thanks to thorough market-liberalization reforms implemented in the late 1990s, Spain during recent years has undergone an intense economic modernization that helped narrow the gap between that nation and such traditionally more economically developed neighbors as England and France. Spain's economy has now expanded for 11 consecutive years—with the most impressive growth coming during the years after 2002, when the country officially traded in its peseta for the euro. Last year the Spanish economy registered record GDP growth of just under 4%—substantially higher than the 2.8% growth of the EU as a whole (though far lower than such emerging EU economies as Latvia, which grew 10.5%).
The Spanish economy still appears healthy and robust, but signs have emerged that the economic landscape could be shifting. The potential problems have a familiar ring to American investors: property values plummeting after an intense multi-year housing boom, financial markets struggling to cope with bad debts, and rising oil and food costs sending inflation to worrisome levels.
While many countries are coping with deflating housing bubbles, the situation in Spain stands out. Home values tripled during the last decade, forcing millions of Spaniards to take on large debts. If home prices fall 10% next year, as some analysts predict, developers and homeowners are likely to face serious economic woes. Moreover, Spain's weakening construction industry makes up 16% of its economy and 13% of its jobs. All these factors led the International Monetary Fund recently to reduce its 2008 growth forecast for Spain to 2.7%.
So if Spain's economy seems to be stumbling, why are investors buying up Spanish stocks? In part, EWP's recent rally can be attributed to U.S. financial firms' bargain hunting. American companies, which expect any Iberian economic downturn to be temporary, have gobbled up chunks of Spanish lenders in hopes of buying defaulting loans on the cheap. "Investors are trying to get a foothold in Spain because they expect bad loans to skyrocket," Santiago Minguez, a Spanish professor of finance, told BusinessWeek.
Nobody knows what's in store for the Spanish economy, but most observers expect it to lapse into a brief siesta. The estimated 2.7% growth for 2008 is a slowdown from recent years, but it's still healthy. What's more, major Spanish banks—several of which are EWP top holdings—are well-positioned to deal with bad credit. They generally have cash provisions far greater than most EU or American banks and make a large portion of their profits in foreign markets, particularly Latin America.
EWP number two holding Banco Santander (STD), which gained 17% year to date through December 14, is a good example. It's the largest bank in Spain and through a series of acquisitions is expanding its empire throughout Europe, Latin America and even the U.S. Morningstar analyst Erin Davis worries that the bank's expansion strategy is overambitious and unsustainable, but she thinks the firm's "impressive profitability," substantial cash reserves and low number of nonperforming loans give it an edge over competitors.
Investors in EWP may want to keep an eye on Telefónica (NYSE:TEF), the third-largest wireless phone operator in the world. Shares in the firm recently took up more than a fifth of the fund's assets and contributed hugely to its recent rally. Telefónica last month announced a 39% rise in third-quarter profits powered by a rapidly expanding subscriber base. Such performance helped the stock deliver a 57% year-to-date gain through December 14. The firm faces stiff competition, however, and finds itself strapped for cash after a series of expensive acquisitions.
EWP might have difficulty gaining much more ground on the emerging market funds at the top of the International Momentum Table—each has outperformed EWP year to date through December 10. But if investors continue to remain optimistic in the face of Spain's economic hardships, EWP could inch its way farther up the table and even into the ETF Momentum Tracker International Portfolio.