Uranium stocks started the year on a tear, rallying over 22% in the first three weeks of 2012. At this point, though, they've given up all their gains since the year started. The chart below of (NYSEARCA:URA) - an ETF tracking uranium miners - illustrates.
(Click to enlarge)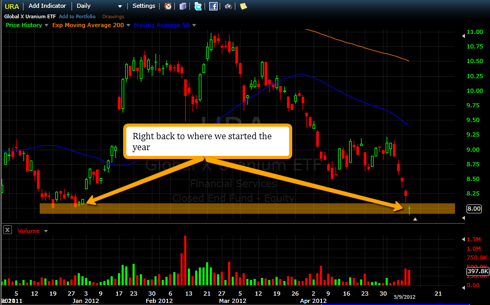 So what caused this, and where do we go from here? Let's start by understanding what's caused the sell off:
1. The stock market as a whole has been weak of late. The Dow is in the midst of its longest slump since August. As uranium stocks tend to have a higher beta - even a major uranium miner like Cameco Corp (NYSE:CCJ), which currently has a market cap of over 8.6 billion and issues dividends, has a beta of 1.6 - the broad sell-off in stocks helped push uranium stocks lower.
2. Francois Hollande has won the presidential elections in France. As part of his political negotiations he has proposed to reduce France's reliance on nuclear power from its current role of generating 75% of the country's energy needs to 50% by 2030. In a previous article I wrote that Hollande's election could lead to a temporary decline in uranium stocks, and that this would be a great opportunity to buy the dip for those who missed out on the rally in Q1 of 2012.
For those concerned about nuclear power, it is important to focus on demand coming from the East. The actions of the Western economies are less important. Energy, like wealth, is flowing East and it is demand from Eastern countries - namely China, Korea, and India - that will drive the bull market in uranium and nuclear power. These countries are still committed to nuclear power (China has many nuclear reactors planned) and that is what counts. So long as they are interested, demand for uranium will remain strong and price will need to rise to satisfy it.
I believe that the West will eventually get on board with nuclear, as the alternative is simply a decline in energy and prosperity - an outcome I'm sure many will find unacceptable once it is realized that this is the situation we face now that oil production has peaked. As renewables like solar and wind lack the energy density to fill the gap created by oil, the only way "peak oil" does not become "peak energy" is if the world embraces atomic energy.
In light of the situation at hand, I've loaded up on all my favorite uranium stocks of late - especially Uranium Energy Corporation (NYSEMKT:UEC), which constitutes my single largest position, but also major producers like Cameco, up and coming ISR uranium miners like Uranerz (NYSEMKT:URZ), and some tiny miners with market capitalizations under $100 million. I did not intend my portfolio to be so heavily weighted toward uranium stocks, but in light of the sharp sell-off we've seen, I simply find them to be among the best value deals out there. Uranium is currently selling at just over $50 per pound. I believe it will go back to its 2007 highs of above $130, and that promising uranium stocks will more than double in a short amount of time as a result. My current plan is to sell half my position on any uranium stock that doubles, and to exit entirely at the top of the market - which I find to be at a minimum somewhere around the previous all-time highs in uranium.