As oil prices continue to rise resulting in consumers paying upwards of $4 per gallon at the gas pump, natural gas continues to increase its appeal to global wide consumers.
However, despite the anticipated rise in demand, natural gas has seen a significant drop in price. This year, it has been reported that natural gas is selling at 10 year lows. This drop in price is largely attributed to the high supply of natural gas in the United States. It has been estimated that the United States contains 2,214 trillion cubic feet of drillable natural gas, an estimate that is 33% higher than the government's 2008 estimates.
As a result of the United States' increased natural gas reserves, along with the mild winter that resulted in a reduced amount of natural gas being expended for consumer's to heat their homes, natural gas in the United States is experiencing a significant surplus for the start of 2012.
This surplus along with the ten year lows on price has caused many companies who have been heavily reliant on fossil fuels, to begin to look into an increased use of natural gas. Trucking companies, which consume approximately 17% of the United States fossil fuel annually, have begun to look for ways to transfer their reliance from oil to natural gas. Many long distance trucking companies have begun to look into developing natural gas refueling stations on the interstate highways in an effort to utilize more trucks that are fueled by natural gas.
As the storage of natural gas reserves continues to mount, government officials have also begun to take notice of the growing supply. Just recently, former Pennsylvania governor and the first secretary of Homeland Security, Tom Ridge published an opinion column urging car makers to start converting the design of their vehicles to run solely on natural gas.
What all of these factors indicate is that natural gas is beginning compete in consumer demand with oil. This balancing out of fuel dependence should in my opinion, result in energy companies that have a diverse holding portfolio in natural gas and oil, to experience significant gains in the coming year.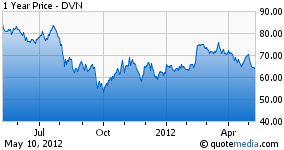 A company that is a model for balance in the holdings of oil and natural gas is Devon Energy (NYSE:DVN), a company that current has an exposure of 59.6% to natural gas and 40.4% to oil.
Devon's balanced position in both oil and natural gas holdings will, in my opinion, allow it to sustain its profitability in the oil market all while continuing to capitalize on the growing natural gas demand.
Devon's competitor, Cheniere Energy (NYSEMKT:CQP), recently announced it had received final federal approval for its building of a state of the art natural gas production facility in Sabine Pass, Louisiana. This move has significantly strengthened Cheniere's position in natural gas production.
With the federal approval, Cheniere will not only be able to continue its production of domestic natural gas, but will also be able to export natural gas to countries that are experiencing a significant increase in demand.
Furthering bolstering Cheniere's position was its announcement that Blackstone Financial (NYSE:BX) would be investing $2 billion in the development of the Sabine Pass facility, a partnership that alleviates the risk and cash flow concerns of Cheniere.
If the reduced financial exposure was not enough to support Cheniere's improved financial position, Cheniere investors immediately agreed with the Blackstone partnership experiencing a 20% rise in share price shortly after the partnership was made public.
Chesapeake Energy (NYSE:CHK) has also made preparations for the increase in natural gas demand by commanding a 90.4% exposure to natural gas and only a 9.6% exposure to oil. This is a strong statement on where Chesapeake's executives feel the fuel market is heading.
Sandridge Energy (NYSE:SD) has remained more balanced with 53.8% exposure to natural gas and 46.2% exposure to oil.
In the forefront of the rise in natural gas demand is China. Currently China is the fourth leading country in natural gas demand consuming 109 billion cubic meters a year. However, despite their modest demand currently, it has been projected that by 2015 China's demand for natural gas will double.
As a result of the increase in Chinese natural gas demand, it was reported that in January, 2012 Chinese imports of natural gas rose 66.7%. This rise should place natural gas companies such as Devon in a position to provide for a substantial amount of the Chinese demand. This relationship should continue to become more profitable as China's demand increases.
While other companies continue to attempt to solely profit off the continued rise in oil prices, the high profit margins in my opinion are unsustainable. As a result of the volume of natural gas reserves, the shrinking market price and consumer's shifting away from oil dependence, it is my opinion that natural gas will continue to command a larger share of the energy market. As a result Devon, with its balanced position in both the oil and natural gas, is in a solid position to maintain its profit margins in the rising skyrocketing oil market and continue to experience gains in the natural gas sector. This profitable combination should allow Devon to exceed its current 52 week high by at least 25% when fourth quarter results are announced.
Disclosure: I have no positions in any stocks mentioned, and no plans to initiate any positions within the next 72 hours.