After making a multi-year high at around $25 levels, GigaMedia Limited (NASDAQ:GIGM) appears to be consolidating side-ways for the past two months. This period witnessed the company announcing a slew of new deals. We believe that these deals will help GIGM in continuing with its strong growth (a CAGR of 37.4% in total operating revenues between 2002 and 2006).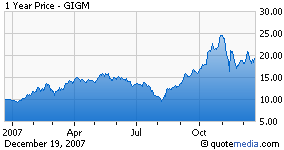 GIGM develops online entertainment software. In terms of revenue, the FunTown game portfolio owned by GIGM is the world's largest online MahJong game site. The company also runs the popular EverestPoker site, a poker room. The company also operates a broadband ISP in Taiwan. The company has been giving good earnings performance through its history – met or surpassed the expectations in the previous 10 quarters. The third quarter results also came in good despite the seasonal sluggishness.
On December 14, GIGM announced an investment in game development studio Neostorm Holdings Limited. On December 11, the company announced an investment in XLGames Inc. On November 16, the company announced that it has secured a three year exclusive license from Electronic Arts to operate the NBA Street Online in Taiwan, Hong Kong and Macau.
The investment in the South Korea based XL Games Inc. and Neostorm will strengthen GIGM's pan-Asian gaming platform. Asia remain one of the growth markets for GigaMedia. In Q3, the company witnessed an approx 120% YOY growth and a 39% sequential growth in Asian online games. Neostorm's pipeline include four online casual titles with the launch date for three of them expected in 2008. Its exclusive three year license with Electronic Arts, announced on November 16, to operate NBA Street Online in HK, Macau and Taiwan would help the company to tap the Olympics fervor in these markets. With basketball being the most popular game in Taiwan, GIGM has found a suitable addition to its FunTown portal. The MMORPG Hellgate London is expected to be launched by the second or third quarter of 2008. Holic, another MMORPG, is expected in the second half of 2008.
With GIGM in a growth mode, especially in the Asian online games platform, we believe it will continue to make further investments in game development studios and will also license big title games. The recent initiatives indicate that GIGM is all set to move northwards from current levels. There is a traditional upturn in online gaming during fall and winter seasons. We believe that now is the appropriate time to buy the stock.
Disclosure: none