Take-Two Interactive (NASDAQ:TTWO) reported 4th quarter earnings Tuesday night and handily beat bottom-line estimates despite merely matching estimates on revenue (see conference call transcript). I see this as a good sign--TTWO's new management is making the company more efficient and the results are showing in EPS.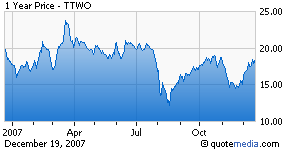 So why the selloff after hours? In my opinion, many of the headlines got it wrong by focusing on a weak outlook. The outlook for Q1 is much lower than expected, but the full 2008 guidance is in line. There is a very simple explanation for this--Grand Theft Auto 4 [GTA4] won't be released until Q2. In my opinion, therefore, there are no real red flags for 2008, and any significant dip in the stock before the release of GTA4 would be a buying opportunity.
In my opinion, TTWO has more going for it than GTA4. First, TTWO has new hits in Carnival Games and Bioshock (the latter led me to consider buying the stock--see my previous blog post) and sequels are sure to follow. Second, after the Activision (NASDAQ:ATVI) deal, speculation is higher than ever that TTWO could be acquired. Finally, the stock has a huge short interest, so a big move could result in a big squeeze. If management can execute their plan, TTWO could be a steal at $18.
Disclosure: I am long TTWO and ATVI