LookSmart Ltd.'s (LOOK) board has approved a modified Dutch auction self-tender offer for up to $20 million of its common stock.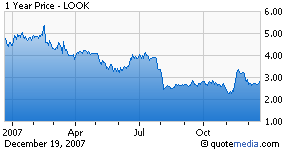 The San Francisco internet directory service expects the offer will commence in January and will remain open for at least 20 business days.
The offer range will be disclosed on the date of commencement.
Looksmart intends to finance the repurchase from its existing cash, cash equivalents and short-term and long-term investments balance, of about $52.9 million as of Nov. 30, including $18.5 million in net proceeds generated by the sale of FindArticles in November.
Disclosure: Author has a long position in LOOK