Ever since its April 19th earnings report, SanDisk (SNDK) stock price has plunged on concerns due to lower earnings guidance. This guidance has been triggered by the plunge in the price of flash memory drives on the open market. Despite the risks of commodization of flash memory drives, the 28% sell off since April has made SanDisk undervalued on both a fundamental and technical basis. As a result, I believe that SanDisk is a long term buy.
Fundamentally, the April sell-off of SanDisk has overshot to the downside the impact of bad guidance. Prices of NAND flash data has fallen, but the demand for flash data is still high. Sales of smart phones are tablets are still growing and further growth from emerging market consumers can boost additional need for flash memory. With continuous technological improvements of flash memory and solid state drives, their uses are growing outside of mobile devices at the expense of traditional hard drives. SanDisk can use this trend to eat away market shares from hard drive makers such as Seagate (NASDAQ:STX) and Western Digital (NYSE:WDC) in the long run.
On a valuation side, SanDisk is cheap. It's forward P/E has plunged from 18 to 11 in the past month. On a growth basis, the stock is at a good value with a PEG ratio of just 0.67. Even with the recent plunge in earnings, the company's operating and profit margins exceed 15% and 10% which double industry averages.
Click to enlarge.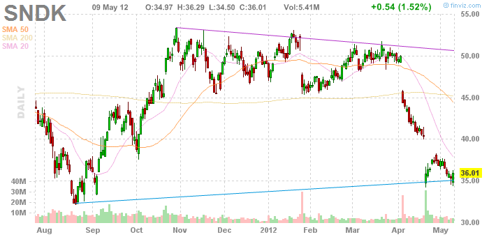 Technically, SanDisk is brutally oversold. Its 14 day RSI measures at an oversold level of 27 and an upward break above 20 (though still low at 26) of the stock's full stochastics. The stock has formed a double bottom formation at slightly below $35 per share and has just bounced off its lower Bollinger Band. A bullish MAC-D in a bearish market environment is also a bullish divergence for SanDisk.
Overall, the recent sell off of SanDisk is overblown has created a buying opportunity for the stock. The growing demand of for mobile devices and the gradual replacement of traditional hard drives with solid state drives are long term bullish catalysts for the company. The stock is falling knife and may fall more if the market continues its current retreat, but at this point the long run (over one year) upside reward outweighs downside risk.
Disclosure: I have no positions in any stocks mentioned, but may initiate a long position in SNDK over the next 72 hours.