Goldman Sachs (NYSE:GS) continues to be the favorite investment bank for many, but market instability and its premium valuation has analysts debating its prospects for the future.
The firm beat expectations with earnings per share [EPS] of $7.01, or net income of $3.22-billion in the fourth quarter, wrapping up what was a record year. However, it said it was cautious about the market in the near-term.
UBS analyst Glenn Schorr thinks that while Goldman is not immune to the lower earnings environment, it is still in the best position to weather tough times and produce healthy returns. He pointed to its expertise as a distressed investor, strong risk management, an expanding franchise, and its variety of principal investments.
Goldman should generate "pretty healthy" book growth, and a "best-in-class" return on equity given its business mix and geographic footprint, Mr. Schorr told clients in a note.
He rates the shares a "buy," but lowered his price target to $250.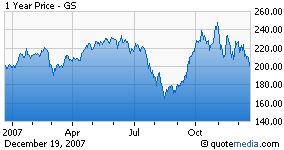 Citigroup's Prashant Bhatia noted that Goldman had a lot of moving parts in the quarter, including a $0.65 per share gain on the sale of an energy entity, the reversal of leveraged buyout writedowns worth another $0.40, principal investment gains of $0.80 and a lower compensation ratio worth $2 per share. These totalled $3.85 in EPS.
The analyst also pointed out that Goldman's core fixed income trading revenue of $2-billion dipped 60% compared to the third quarter of $5.2-billion and was the lowest in two years.
"While client activity levels were down sharply, it was surprising to see such a level of decline, especially since [Goldman] has side-stepped many of the mortgage/CDO related issues relative to peers," Mr. Bhatia said in a report.
He had forecasted fourth quarter earnings of $7 per share, while the consensus was $6.61.
The analyst thinks Goldman is in a good position for growth, but feels the current premium valuation versus its peer is discounting these prospects.
Mr. Bhatia said:
In general, [Goldman] is not burdened with balance sheet issues and is likely to be very well-positioned to capitalize on distressed credit-related opportunities. However, [Goldman] is trading at roughly a 40% premium to the peer group in terms of price to tangible equity which, in our view, already reflects its excellent long-term growth prospects.
He has a "hold" rating, and $230 price target on the shares.