Up until the financial crisis, just about everything seemed to go right for Ireland. They had faced a massive crisis at the end of the 1980s, with budget deficits reaching 13% of GDP and unemployment at 20%, leading to mass emigration.
However, the National Economic and Social Council (NESC), set up in 1973 as an independent economic advisory body with social partners (employers, employees, farming organizations and independent experts on its panel) came up with some sort of a strategy to put the country on more solid economic footing.
The turn-around was to a significant extent based on a 1986 policy paper from the NESC which Charles Haughey, elected in 1987 as new prime minister, started to implement. A few of the components:
One part was not new (it was already embarked upon in the 1970s), but accelerated, was to entice foreign multinationals to establish themselves in Ireland in key growth sectors (like pharmaceuticals, software and electronics, later also financial services). Since Ireland joined the European Union in 1973, Ireland could be used as an export platform to the rest of the EU. Another key element was the low corporate tax rate (10-12.5%) and other financial assistance and grants (from, amongst others, 'Enterprise Ireland,' a state agency providing financial, technical and social support for start-ups)
A host of technical colleges provided the skilled workforce in these industries
A central element of the packages was a centralized wage bargain that broke the wage-price spiral
Public finances were put on a sounder footing in what many still consider as the only example of 'expansionary austerity,' as the sharp fall in interest rates more than compensated the effects on growth from reducing public spending
Up to 4% of GDP in EU subsidies from the structural funds were used mainly for improving infrastructure and education
In about 15 years, Ireland transformed itself from one of the poorest to one of the richest countries in Europe with economic growth rates (especially in the 1990s) sometimes in double digits. By 1996, foreign firms accounted for 47% of the workforce employed in manufacturing and international traded services.
Growth slowed somewhat in the first decade of the new century but still easily surpassed that of most, if not all, other EU countries. However, the source of the growth shifted towards the domestic construction sector and consumer spending, leading to Ireland's downfall.
The end was swift. A credit infused housing bubble of rather epic proportions had been brewing and this came to a head with the international financial crisis of 2008.
However, unlike Spain, Ireland has faced up to it's real estate bubble problems with considerable speed.
Ireland, where home prices have fallen a record 49 percent since peaking in 2007, is making more progress as it deals with the legacy of a bust that crippled its economy, once the most dynamic in Western Europe. The state purged lenders of 74 billion euros ($98 billion) of mostly toxic commercial mortgages by creating a bad bank, and poured enough cash into the financial system to make it among the best capitalized in Europe. Building virtually halted overnight in 2008 after debt markets seized up globally. [Bloomberg]
The way Ireland went about that was by creating a 'bad bank' in the form of NAMA (National Asset Management Agency), which issued bonds to buy up commercial real estate loans from banks to the tune of 74 billion euros (face value), paying 32 billion for them. It is now renting out properties to make them more attractive for investors as the mortgage market is frozen. Mortgage lending dropped to 2.46 billion euros last year from about 40 billion euros at the market's peak in 2006.
About 15 percent of Irish homes were vacant in 2011 [Bloomberg]
Unlike Spain, where construction still continues (despite 2 million empty buildings), construction came to a complete standstill in Ireland, providing a big shock to the economy as it comprised 20% of the economy in the heydays. The implosion of the construction sector and the banks, together with a steep fall in house prices sunk the economy with record speed.
Banks had to be bailed out (the government has put some 62 billion euros (40% of GDP!) in the banking system already and this, together with the economic crash, put the public finances (which previously showed a budget surplus and low debt) into disarray. Such was the crisis that Ireland had to be bailed out to the tune of 67.5 billion euro by the EU (via the EFSF) and IMF.
Austerity champion
Ireland has gone through some rather savage austerity, cutting wages and spending left right and center. It has often been hailed as a poster child for the 'expansionary austerity' doctrine, the belief that cutting public spending and debts will boost confidence and thereby grow the economy.
This indeed did happen in the late 1980s, but interest rates were very high and they came down sufficiently to provide sufficient compensation for the austerity measures. That case is pretty unique in the data though, and this time around there is little to suggest we can expect something similar, despite 10 year bond yields (technically, 9 year bonds) did come down quite a bit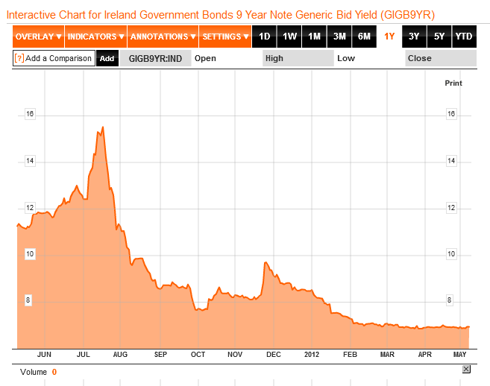 However, growth is, after a deep recession in 1008-2010, basically flat. While this is better than other countries embarking on steep austerity (Greece, Portugal), it isn't quite what was hoped for.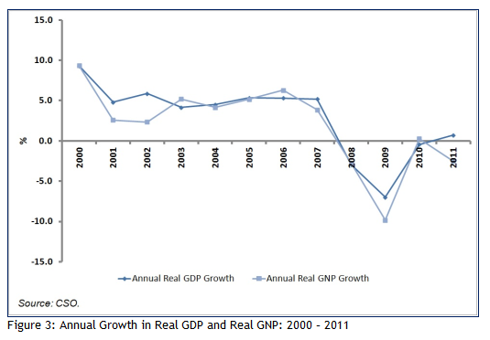 The bright spot is Irish competitiveness. In rather sharp contrast to other peripheral euro zone countries, Ireland enjoys a (modest) current account surplus (0.8% of GDP figures from The Economist). While this is at least partly an effect of the deep recession (which reduces imports), at least the Irish economy doesn't suffer from the lack of competitiveness that the rest of the euro zone periphery is 'blessed' with.
Ireland also has made the most progress with 'internal devaluation'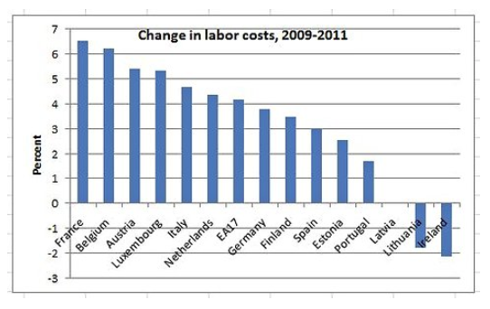 Public finances are still a very big mess though, the budget deficit was a whopping 13.1% of GDP last year. Even if one detracts the 3.7% of GDP in bank support (which is a one-off, hopefully), the deficit is still 9.4%. The good news is that this is lower than the 10.6% target in the bailout program set for last year.
Public sector debt, at 108.2% of GDP last year, will rise further and with the interest rates as high as they are and growth basically still absent, there is little chance of Ireland going back to the markets any time soon.
So although Ireland did, in fact, react swiftly to the economic problems, there is little evidence that they're back on track. The only bright spot is competitiveness and net exports. With a small, open economy, this matters quite a lot though. Ireland will float on the waves of the world economy for quite some time if the internal dynamics of deficits, debts, house prices, and the balance sheets of banks and households doesn't spoil that party (or an explosion elsewhere in the euro zone does).
Investment opportunities
So we're moderately positive about Ireland, but significant risks remain. If you want to invest in Irish stocks, on way to do that would be the ETF filled with Irish companies, the iShares MSCI Ireland Capped Investable Market Index ETF (NYSEARCA:EIRL) its top ten holdings:
The EIRL ETF has performed reasonably well this year. It has oscillated between $17 and $23.5 the last two years, mostly on the back of the euro crisis ebb and flow, but it has had a decent run since December last year.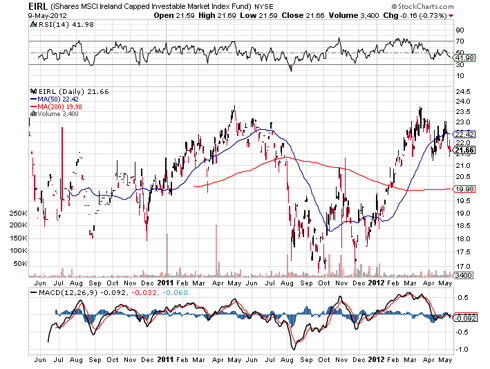 One can also buy these companies individually as they're all listed in the US.
Disclosure: I have no positions in any stocks mentioned, and no plans to initiate any positions within the next 72 hours.