A protected covered call or collar search performed using PowerOptions tools, seeking to find the highest returning position for profitable companies with a maximum potential loss of 8% and a stock price in an uptrend, produced digital video recorder company TiVo (NASDAQ:TIVO) as shown below:

On the tail of TiVo were bio-pharmaceutical company Onyx Pharmaceutical (NASDAQ:ONXX), semiconductor image-sensor company OmniVision (NASDAQ:OVTI) and athletic apparel company Lululemon (NASDAQ:LULU).
A protected covered call may be entered by selling a call option against a purchased or existing stock and using some of the proceeds from selling the call option to purchase a protective put option. The TiVo protected covered call position has a potential return of 4% (39% annualized) and a maximum potential loss of 6.3%, even if the price of TiVo's stock goes to zero, the maximum loss (at expiration) that can be sustained is 6.3%.
The highest returning positions as shown above were found by selecting to sort by the highest returning positions. Profitable companies were included by searching for companies with a Price-to-Earnings ratio (P/E) greater than zero. Stock price for companies in an uptrend were included by selecting to search for companies with a 100-day moving average stock price greater than the 200-day moving average. The 8% maximum loss parameter was selected, as a loss of 8% or less can often be recovered fairly easily using option income generating investment methods.
TiVo provides products for recording television related content. TiVo's most notable assets at this point are its patents related to digital recording of video. The company has bagged some pretty big prey with its intellectual property. DISH Network (NASDAQ:DISH), EchoStar (NASDAQ:SATS) and AT&T (NYSE:T) have all had to pony up and pay TiVo for using its intellectual property.
TiVo's stock price is currently around $10 and has been in a trading range between $8 and $12 for the last two years as shown below: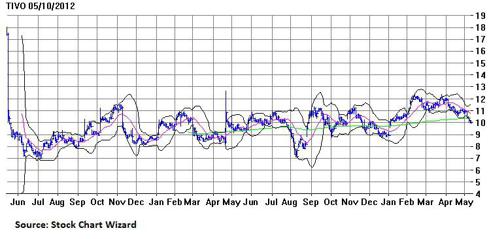 TiVo has about $4 per share of cash in the bank and a P/E ratio of 11. Obviously, the stock market doesn't put much credence into the company's future earnings potential. The company has some relationships with Multiple System Operators (MSO) and markets a DVR for DIRECTV's (DTV) customers, but with consumers watching an ever increasing amount of content online and the company's patents eventually expiring, the potential earnings growth for the company looks pretty bleak. On top of that, the potential for acquisition of the TiVo by another company does not look promising. The list of potential acquirers is pretty short, and I wouldn't even want to speculate on companies potentially acquiring TiVo.
In the company's Q4 2012 earnings call held on February 23, 2012, the company noted total subscription base grew 11%, even with the company cutting back on its marketing efforts. TiVo cut back on marketing due to potential supply issues related to hard disk drives and flooding in Thailand. However, the company indicated issues related to hard disk supply do not appear to be a problem. On a global basis, the company noted they are focusing on expansion in Europe. Additionally, the company is planning for a trial with Verizon (NYSE:VZ) related to a lawsuit for the end of the year.
TiVo hasn't announced the date for its next earnings call, but it should occur somewhere around the end of May which is probably why the company popped up as the highest potential return protected covered call in the table above. The implied volatility for companies often increases near an earnings release and with TiVo's earnings release potentially around the corner it's implied volatility has spiked up. A current investor in TiVo might consider entering the protected covered call listed in the table above, as it enables positioning for potential earning a return, yet provides protection in case the company release bad news. The specific call option to sell is the 2012 Jun 10 at $0.65 and the put option to purchase is the 2012 Jun 9 at $0.27. A profit/loss graph for one contract of the TiVo protected covered call is shown below: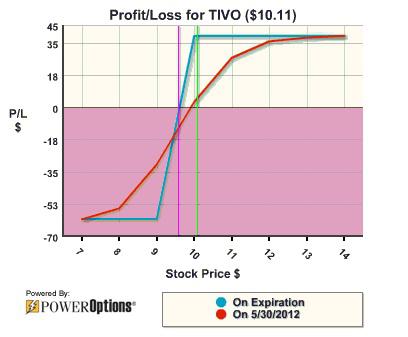 For a stock price less than the $9 strike price of the put option, the value of the protected covered call remains unchanged (at expiration). And, if the price of the stock increases to around $11 or $12, the position can most likely be rolled in order to realize additional potential return.
Disclosure: I have no positions in any stocks mentioned, and no plans to initiate any positions within the next 72 hours.