Perhaps the beginning of retail, as we know it, began in 1962. It was then that the world's largest retailers - Wal-Mart (NYSE:WMT), Kmart (NASDAQ:SHLD), and Target (NYSE:TGT) - all launched discount concepts and the first new stores (Bentonville, AK; Grand City, MI; and Roseville, MN). During that fifty year history, the retail market has transformed considerably and the leading chains have evolved into value brands differentiated by repeatable sources of income and growth.
In the same year that these evolutionary retail giants were born, there was also a new landlord making their debut into the world of retail brick and mortar. Few would have imagined that this infant shopping center developer would become today's "gold standard" for real estate and "the most elite dividend REIT."
All That Glitters Is Not Gold
In real estate investing, the "gold standard" is measured by dividends - not just the quantity (highest yield) but the quality. Mortgage REITs are distinguished by higher yielding dividends known for their volatility and higher risk composition; conversely, the quality of the dividend is often diluted by higher leverage (borrowing money to magnify returns) that leads to high volatility and uncertainty. Many mortgage REITs, including Annaly Capital Management (NYSE:NLY), Chimera Investments (NYSE:CIM), American Capital Agency Corp. (NASDAQ:AGNC), and Armour Residential REIT (NYSE:ARR) are connected to debt-laden deals with bumpier dividend performance. (This snapshot illustrates average mortgage dividend yields from 1992-current):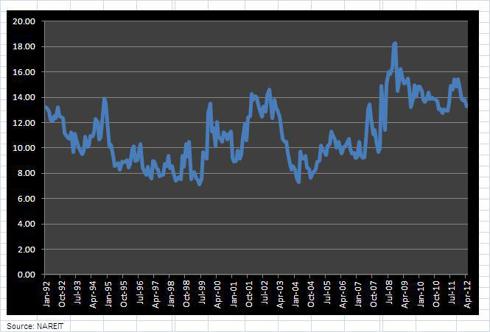 Federal Realty - The Gold Standard
This year Federal Realty (NYSE:FRT) celebrates 50 years of being a proven leader in the ownership, operations, and redevelopment of high-quality retail real estate in the country's best markets. Federal Realty has a portfolio (excluding JV's) containing approximately 19.2 million square feet located in strategically selected metropolitan markets in the Northeast and Mid-Atlantic regions of the U.S., as well as California.
Federal Realty is considered the "gold standard" REIT as it has paid quarterly dividends to shareholders continuously since its founding in 1962, and has increased its dividend rate for 44 consecutive years, the longest in the REIT industry. (This snapshot is a 10 year dividend history):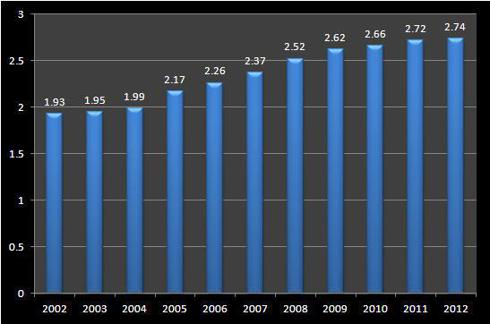 Federal Realty's extraordinary track record is built around its high-quality portfolio that consists of "best in class" tenants in densely populated trade areas.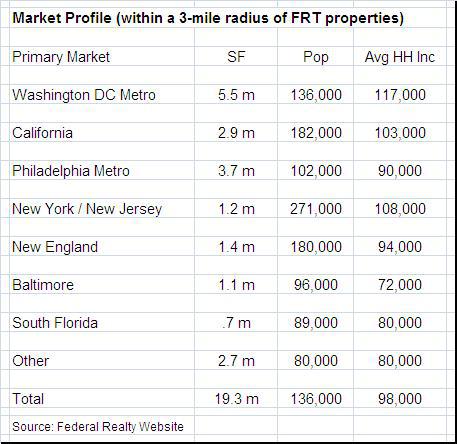 Federal Realty has a market capitalization of around $6.433 billion and the shares are trading at a 20 percent premium ($101.00) to NAV estimates of $83.88 (using a 5.75 percent cap rate). Federal Realty's best in class portfolio, strong fundamentals, and well-covered dividend warrant the premium pricing.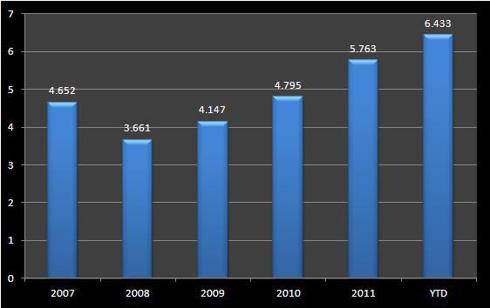 Federal Realty recently reported first quarter results that included 1Q12 FFO per share of $1.04, $0.02 above the Street's consensus of $1.02. The company's overall portfolio was 93.8 percent leased at quarter-end, up 40 bp from 93.4 percent leased at the end of 4Q11. Same-store net operating income on a GAAP basis was 5.5 percent (excluding redevelopment and expansion), while same-store NOI was up 5.9 percent including redevelopment and expansion properties.
Federal raised its 2012 FFO per share guidance range to $4.24-4.29 from $4.19-4.25. Guidance assumes spreads in the range of 10-15 percent, and same-store NOI of 3-4 percent.
Raymond James maintains an Outperform rating on Federal Realty and the core growth plus robust development recommendation was explained as follows:
We believe the company's high-quality real estate, well-covered dividend, and value creating initiatives should provide investors with relative safety and attractive upside. The company's strong SSNOI growth guidance of approximately 3-4 percent for 2012 will likely be one of the best growth rates in the sector this year as occupancy driven NOI growth will likely subside across the sector (as the big boxes are full and small shop demand remains weak) and the oversupply of retail space prevents any meaningful increases in rental rates (outside of the highest quality portfolios).
Crowning the Dividend Champion
Clearly Federal Realty is a dividend sustainer and the REIT's 44-year track record of performance is the essence of the intelligent investment choice. Pound for pound, Federal Realty is the gold standard for REIT investors and the safety and durability of the dividend is the primary differentiator that makes the REIT such an attractive fixed-income alternative.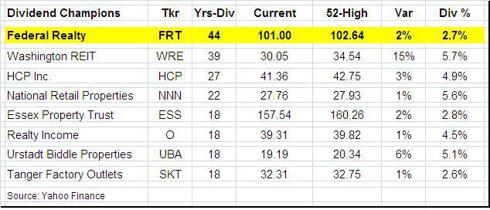 Alan Greenspan once said that "gold still represents the ultimate form of payment in the world." In the world of real estate investing, I suppose Federal Realty represents the ultimate form of dividend payment in the U.S. By owning shares in the 50-year old REIT, an investor is promised to obtain (1) sound principal preservation, (2) sustainable dividends, and (3) capital growth - in that order.
Federal Realty's extraordinary track record of consistency and reliability are elite ingredients that deserve to be included in a risk-averse income portfolio. This recipe for success, built on sound principal preservation, is certain to "deliver something special" for a legacy brand that will continue for many years to come.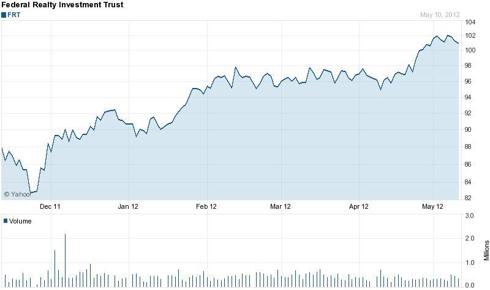 Disclosure: I have no positions in any stocks mentioned, and no plans to initiate any positions within the next 72 hours.